Lore & Bio
"Coffin cannot contain me."
How long has it been since he lost his true name? He himself did not clearly remember his torn soul and body.
He could only vaguely remember the armor, the flags, and the gloomy faces of his comrades. Yes, he remembered that campaign: fear and misery, like a pair of pale hands pulling him down from his saddle. He still clearly remembered himself and his brothers, being thrown into the deep black hole of Death, remembering that he was bitten until there was nothing left but the sound of Soul Chasers' ears.
In that place deeper than the darkness, time has abandoned them. Thought has abandoned them. Reason also abandoned them. Hunger is the only thing that survives. They lunged at each other with fingernails and teeth. And then, the Quest of Souls arrived, sounding far away at first, and then, becoming immortal and unstoppable. The chorus was suddenly lifted, forming a wall of sound that blocked all of his thoughts, until no other thoughts remained. When he was possessed by the Soul Pursuit, he also opened his arms to the God of Death with his body destroyed.
However, Death did not kill him. Death wants to make war. In a vast and deep space, he is tasked with resounding the Soul Pursuit throughout the world, causing death to swallow all life. He became Undying, the vanguard of Death, to live and die and come back to life every time his body fell. He forever walked weary feet on the endless road of death, with the sound of the Soul Pursuit never ending.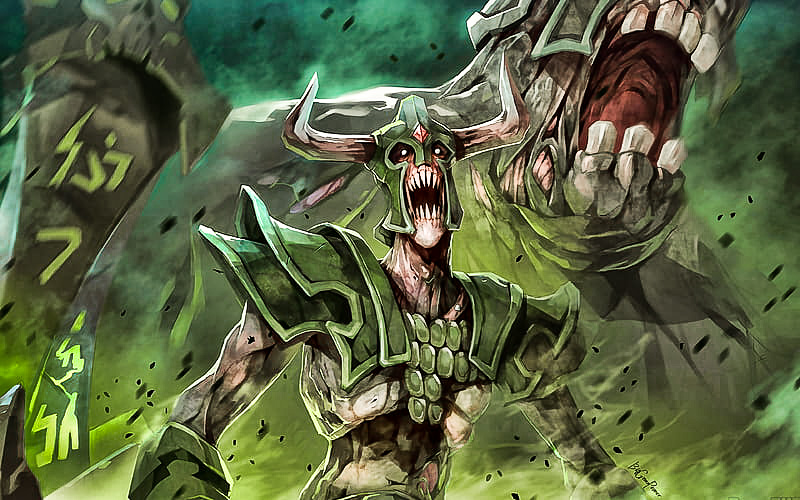 Attribute & Stats
Level: 0 1 15 25 30
Health: 200 640 1420 2220 2540
Health regen: +0.25 +2.45 +6.37 +10.37 +11.97
Mana: 75 399 867 1347 1539
Mana regen: +0.25 +1.6 +3.56 +5.56 +6.36
Armor: 1 2.67 5.47 9.47 10.8
Damage Block: 16 (50%)
Magic Resistance: 25%
Status Resistance: 0%
Damage: 35‒43 57‒65 96‒104 136‒144 152‒160
Attack Rate: 0.59/s 0.65/s 0.75/s 0.89/s 0.93/s
Attack Range: 150 (600)
Attack Speed: 100 (1.7s BAT)
Attack Animation: 0.3+0.3
Projectile Speed: Instant
Movement Speed: 300
Turn Rate: 0.6
Collision Size: 24
Vision Range: 1800 • 800
Legs: 2
Gib Type: Goo
Ability Upgrades:
Upgradable by Aghanim's Scepter - Decay

Upgradable by Aghanim's Shard - Flesh Golem
Abilities & Talents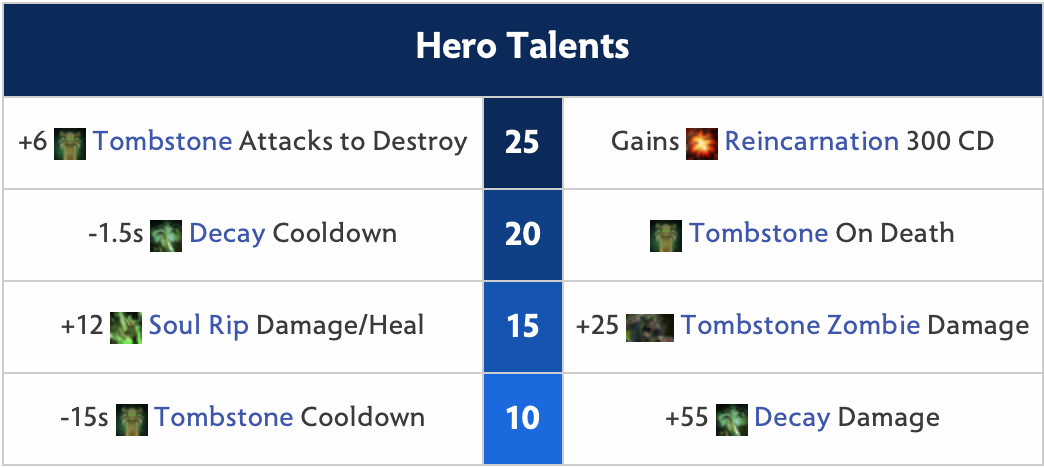 Skills building guide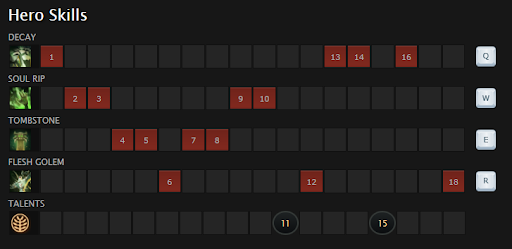 Many of you will make the mistake of Undying's main source of damage. In pub games, I often see them max Decay (Q) first, really, this skill only increases his tanking ability and the initial poke but not the finishing ability. consumes, and consumes a lot of mana.
Undying's main source of damage is from Tombstone (E) and Soul rip (W), so these two skills will be raised in parallel, moreover with Soul rip (W), you can guarantee the ability to deal damage /heals in lane and in combat, combines well with Tombstone's zombies (E). Ultimate get the correct level.
Abilities

Decay
Cost: 70/90/110/130 mana.
Cooldown: 10/8/6/4 seconds.
Cast range: 625 distance.
Effect: deals 20/60/100/140 damage to the target area, if there is an enemy champion in that area, he will steal that champion's Strength stat for 1 duration.
Steal Strength: 4 for each enemy champion affected.
Steal time: 40 seconds.
Impact radius: 325

Soul Rip
Cost: 50/75/100/125 mana.
Cooldown: 24/18/12/6 seconds.
Casting Range: 500
Effect: drains some of the life energy of nearby units (including allies) to deal damage if it's an enemy, or heals if it's a designated ally.
Maximum number of units: 10/12/14/16
Damage/Heal: 18/22/26/30 per unit he drains life man.
Radius of energy withdrawal: 1300
Tombstone Heal: 2/4/6/8

Tombstone
Cost: 120/130/140/150 mana.
Cooldown: 60 seconds.
Casting Range: 600
Effect: summons a tombstone, from this tombstone will create zombies that attack targets that are enemies in the affected area and continue to spawn zombies until the time expires. or destroyed. Zombies will gain attack and movement speed based on the amount of health their target has lost.
Zombie creation time: immediately upon casting and every 3 seconds.
Impact duration: 15/20/25/30 seconds.
Zombie spawn radius: 600/800/1000/1200
Health: 3/4/5/7 hits from champions and 6/8/10/14 against other units.
Armor: 5
Note: each zombie generation, this tombstone will give each enemy standing in the affected area a zombie stalking and then every 3 seconds. Gravestones do not create zombies when enemies are out of sight. Undying can buff the health of tombstones.

Flesh Golem
Cost: 100 mana.
Cooldown: 75 seconds.
Effect: transform into a giant zombie spreading disease on the battlefield. During this time or until death, enemies around him will have their Movement Speed slowed, take 1 % more damage if attacked from any damage source, and when an enemy is attacked. When an enemy falls, he heals for 1 more health based on % of his maximum health. Effect decays on enemies far from Undying.
Maximum bonus damage taken: 20%/25%/30%
Minimum additional damage taken: 5%/10%/15%
Max Movement Speed Slow: 20%
Minimum movement speed slow: 5%
Heal per nearby dead unit: 6% max health against champions and 2% max health against other units.
Effect duration: 30 seconds or until death.
Upgraded by Aghanim's Scepter:
Bonus Effect: decay now grants 10 Strength.
Effective items guides
Early game

Arcane Boots
Arcane Boots: Arcane Boots boost Undying's meager mana pool while also supplying mana to his allies.

Magic Stick
Magic Stick: During ganks, the Magic Stick heals health and mana.

Observer Ward
Observer Ward: Undying and his teammates may efficiently gank adversaries thanks to Observer Ward's vision.

Infused Raindrops
Infused Raindrops: Undying may utilize Infused Raindrops to regenerate mana at a low cost in the early game, when he wants to spam spells. The magic damage block also increases his tankiness, allowing him to cast more Decays and Soul Rips during battles.
Mid game

Magic Wand
Magic Wand: The Magic Wand bestows abilities as well as a means of restoring health and mana.

Mekansm
Mekansm: Undying and friends benefit from Mekansm's qualities, such as health restoration and armor.
Late game

Guardian Greaves
Guardian Greaves: Guardian Greaves provides greater armor and health restoration for the squad, as well as a mana-free active ability.

Aghanim's Scepter
Aghanim's Scepter: Aghanim's Scepter increases strength steal by a significant amount, improving overall teamfight survival. It also helps Dirge stay relevant later in the game, when his Decay isn't as strong.
Situation items

Soul Ring
Soul Ring: The Soul Ring generates mana on demand and provides some strength and health regeneration.

Blade Mail
Blade Mail: Blade Mail provides armor and returns damage to foes, dissuading them from attacking Undying. It's exceptionally powerful when used in conjunction with his Flesh Golem form, since Undying gains additional health during the change.

Spirit Vessel
Spirit Vessel: Spirit Vessel may heal Undying and allies, or it can be used in conjunction with Soul Rip to boost damage output in battles.

Pipe of Insight
Pipe of Insight: Undying and teammates get magic resistance from Pipe of Insight, allowing them to stay alive longer in teamfights.

Crimson Guard
Crimson Guard: Crimson Guard assists Undying and teammates in fending off physical attacks.

Shiva's Guard
Shiva's Guard: Shiva's Guard satisfies Undying's tankiness and mana requirements.

Scythe of Vyse
Scythe of Vyse: Undying benefits greatly from Scythe of Vyse disable and mana restoration.

Radiance
Radiance: Radiance slows Undying's farming speed and wears out foes in teamfights.

Black King Bar
Black King Bar: Decay and Soul Rip are not disabled by Black King Bar, which prevents disable-heavy teams from shutting them down.

Holy Locket
Holy Locket: The Holy Locket provides various benefits, including enhanced health and mana, partial HP regeneration, and other stats. The active ability may restore up to 300 health and mana with the maximum number of charges. Undying additionally benefits from the 35 percent heal amplification because it increases the amount of outgoing healing from Soul Rip, Mekansm, and the enhanced Guardian Greaves, allowing for massive burst healing.

Lotus Orb
Lotus Orb: Undying benefits from Lotus Orb, and Echo Shell makes disables and nukes more damaging to the caster than to the target.
Enemies & Allies
Allies

Nature's Prophet
Undying's Tombstone will happily chew through treants, earning you some additional money in the process.

As a result of the aforesaid relationship, skirmishes tend to be strongly filled with troops, enhancing Soul Rip.

Spectre
Spectre must pursue kills and rely on movement speed for combat mobility, and he has no method of dealing with the Tombstone zombies.

Undying can employ Haunt against Spectre since the potency of Soul Rip can be amplified by adjacent illusions.

Spectre will be easier to shut down in lane due to early game Decay.

Ogre Magi
Undying uses Decay to siphon strength from heroes, and Ogre Magi's high strength growth will let Undying take more and more strength with each use, making Undying stronger.

Due to the Strength theft from Decay, Undying is generally incredibly tanky, and has high health, making it tougher for Ogre Magi to destroy him.

Centaur Warrunner
Decay can be useful against Centaur Warrunner, as lowering Centaur's health makes Double Edge more risky.

Return does not affect his zombies.

Winter Wyvern
The Zombies generated by Undying's Tombstone are too much for Winter Wyvern to manage. Zombies will usually be faster than her in most cases.

In Cold Embrace, Undying can obtain one or two simple Decay stacks on an ally. The damage will still be dealt to the ally.

Sven
Undying may utilize Decay to diminish Sven's maximum health as well as the amount of damage his ultimate can do.

Tombstone's produced zombies, together with Flesh Golem, substantially slow Sven down. It would be a waste to use Sven's strong but sluggish right-click on Tombstone.

Bristleback
Undying's Decay is a harmful ability to use against Bristleback since it weakens him and diminishes his tankiness.

Undying's Tombstone, when combined with Flesh Golem, may substantially slow down Bristleback.
Counters

Alchemist
Alchemist can farm Tombstone zombies with Greevil's Greed and gain a significant gold advantage

Earthshaker
Due to their increased echo damage, Zombies summoned from Tombstone will magnify the damage of Echo Slam.

Gyrocopter
Gyrocopter can easily clear the undead with the Flak Cannon.

Luna
Luna possesses Moon Glaives and Lunar Blessing to aid her in defeating Tombstone, and this is amplified if Luna has Manta Style.

It's not a smart idea to defend against Luna using Tombstone Zombies, because Eclipse will only affect the Undying.

Necrophos
Necrophos is a formidable foe to face off against. Regardless of how much strength Undying gains from Decay, once Undying's HP drops below a certain level, Necrophos may finish him off with Reaper's Scythe.

Undying will take more damage from Heartstopper Aura if he gains strength through Decay, as it deals damage depending on a hero's maximum health.

Silencer
Arcane Curse may effectively deter Undying from using his spammable abilities in a team battle, since the penalty duration of Arcane Curse forces Undying to take additional damage and slow.

Undying may be silenced for up to 6 seconds with Last Word and Global Silence, stopping him from gaining strength and healing an ally or himself.
Items Counter

Manta Style
Manta Style: Manta Style may be used to take out the Tombstone.

Orchid Malevolence
Orchid Malevolence: Orchid Malevolence is an excellent counter to a spellcaster like Undying.

Scythe of Vyse
Scythe of Vyse: Undying is crippled by Scythe of Vyse since he relies on his talents to stay alive in a team battle.

Crimson Guard
Crimson Guard: With its active, Crimson Guard reduces the damage done by Tombstone's zombies in team fights.
Favorable Matchups

Broodmother
With a large number of Spiderlings, Broodmother can easily ensure that Soul Rip deals maximum heal/damage.

With Poison Sting, Broodmother and her Spiderlings may slow down opponent heroes, allowing Undying and his zombies to catch up.

Crystal Maiden
Undying's mana difficulties may be solved with Arcane Aura. When laning, Undying might have enough mana to harass opposing heroes and perform abilites during ganks and team battles.

The AoE movement speed and attack speed of Crystal Nova and Freezing Field are both decent. This is a good match for Tombstone and Flesh Golem.

Morphling
Morphling may perform Morph on Undying with Aghanim's Scepter, allowing him to plant another Tombstone of his own and letting the team have two of them at the same time.

Naga Siren
When Naga Siren's Song of the Siren has an effect on enemy heroes, Tombstone zombies will spawn beside them. In a conflict, this essentially increases the amount of zombies.

Ensnare makes a fleeing hero more vulnerable to zombie assaults by preventing them from running.

Pugna
Decrepify can be used to protect the Tombstone in the same way that Pugna's Nether Ward can be protected.

Warlock
Undying's AoE abilities have their damage increased by Fatal Bonds.

Upheaval is a powerful AoE slow that may keep opponent heroes from approaching Undying's Tombstone and damage it. Upheaval also makes escaping zombie attacks nearly impossible.

The Warlock Golem may be used to divert opposing heroes' attention away from the Tombstone. Undying's Flesh Golem slowly synchronizes nicely with Warlock Golem as well.

Winter Wyvern
Undying can use Winter's Curse to gather together and cripple a whole opponent team at once, allowing Undying to take strength from all foes at once and generate additional Tombstone Zombies before they are slain.

Lich
Chain and Frost Blast Undying may use Frost to slow down his opponents, allowing him to steal strength more readily. These slows also work well with Tombstone and Flesh Golem.

Witch Doctor
Undying's nuking skills make it simple to kill Maledict-affected enemies.
Game plan
Early game
Undying can go dual lane or solo hard lane, you should pay attention to the physical damage because during the match, Undying's armor depends a lot on equipment due to the amount of Agility per level is too low. In lane, you use Decay (Q) to poke the enemy's blood so that you can stick 2-3 to get a decent amount of health and damage, helping the turret be better. If you have the support of your teammates, you can easily defeat the enemy when their health is too low due to the influence of Decay (Q).
When the enemy is active, release Tombstone (E) then stand with them with Decay (Q) and Soul rip (W), make sure they don't die or get injured if you are strong enough (this method is based heavily on the stats you steal). Tombstone skill (E) you should put it in the woods or in a hidden corner to avoid the enemy breaking the tombstone. When you reach level 6 and raise your ultimate, ganks or chaotic fights are always what you look forward to the most.
Mid game
The requirement when picking Undying is that you must always be present with your teammates for him to maximize his ability, because basically, his skill set is not at all for solo dueling, but for fighting. : gank, combat, push. Town portal scroll is an indispensable item in your inventory right now. When fighting, it is still the fact that you use Tombstone (E), Decay (Q), Soul rip (W) at the right time, at the right place, at the right time and with the right object, the opponent will have a hard time resisting the team when a zombie is standing there, the little zombies are just rushing out to bite. Very effective when pushing or teamfight.
Soul rip (W) is a skill that deals great damage as well as heals a lot for yourself or your teammates with a very short cooldown when maxed out (6 seconds), can be used to finish, save yourself or a teammate. During this time, ensuring your mana stat is extremely important for you.
Late game
If you already have Aghanim's Scepter equipped, the longer you stay in combat with the Flesh golem (R), the more beneficial your team will be. Most of the team fights at the end of the game, you should use your skills and equipment to support your teammates, the ability to recover depends on the number of fallen units, but help them deal a lot of damage. In teamfights, multiple kills will ensure this. To win is the most important thing, so don't be selfish and use Soul rip (W) ks or damage enemies :mrgreen: :mrgreen: . Undying def/push is quite easy thanks to Tombstone (E). He lives and dominates through combat, you should remember that to be able to play this hero well.