Lore & Bio
"Some say that this world will end in red fire. To me personally, that sounds great."
The confrontation between Lina the Slayer and her sister, Rylai the Crystal Maiden, which began when the two were quarreling with each other in childhood, has become a legend widely circulated around the world. . Lina has always had the upper hand, however, at the same time, Rylai has always been sincere and innocent, having controlled Lina's "fire" temper with her intelligence and sociability.
After the two destroyed more than half of the house with ice and fire once, their parents were furious and realized that only separating the two could make them peaceful. As an older sister, Lina was sent to the far South to live with a patient aunt. From then on, she resided in Desert the Misrule - a kingdom always filled with scorching heat. Having said that, the climate of this place makes Lina the Slayer feel extremely happy and comfortable.
She came, causing this sluggish and boring country to suddenly erupt into a big shock. Many men want to pursue her, but they all have to leave struggling with damaged confidence, burned fingers or only one eyelash.
Lina is extremely confident and arrogant, nothing can make the "fire" in her stop burning.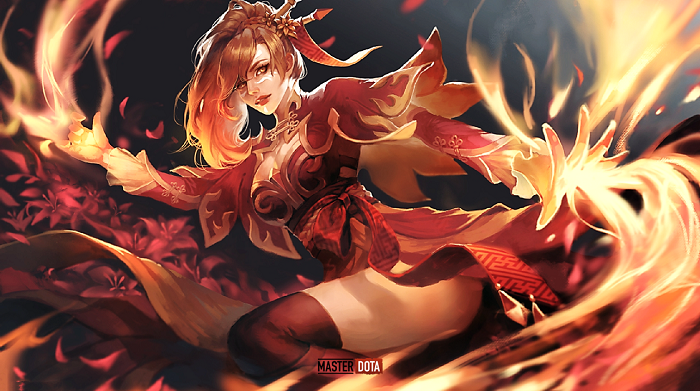 Attribute & Stats
Level: 0 1 15 25 30
Health: 200 600 1260 1980 2260
Health regenv+0.25 +2.25 +5.61 +9.21 +10.61
Manav 75 435 1047 1635 1887
Mana regenv +0 +1.5 +4.09 +6.54 +7.57
Armor: 0 3.83 8.73 14.23 16.32
Damage Block: -
Magic Resistance: 25%
Status Resistance: 0%
Damage: 21‒29 51‒59 102‒110 151‒159 172‒180
Attack Rate: 0.63/s 0.77/s 0.95/s 1.16/s 1.24/s
Attack Range: 670 (800)
Attack Speed: 100 (1.6s BAT)
Attack Animation: 0.65+0.6
Projectile Speed: 1000
Movement Speed: 290
Turn Rate: 0.6
Collision Size: 24
Vision Range: 1800 • 800
Legs: 2
Gib Type: Fire
Ability Upgrades:
Upgradable by Aghanim's Scepter;
Upgradable by Aghanim's Shard.
Abilities & Talents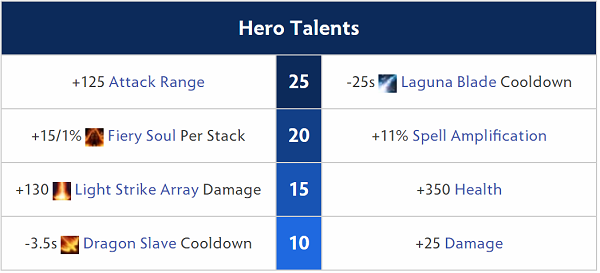 Skills building guide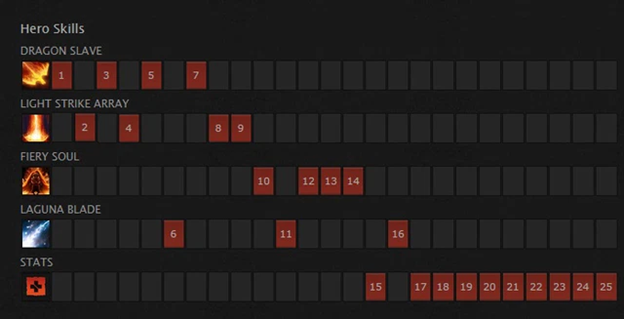 Always get 1 point of Light Strike Array (W) at first level to be able to get fb from allies support or runes, max Dragon Slave(Q) first as this is easier skill to use than Light Strike Array (W) and very long range. Light Strike Array (W) is maxed 2nd after Dragon Slave (Q), takes 1 point of Fiery soul (E) at early ranks to increase chase and gives a bit of attack speed to finish if skills Others are on cooldown or can be ignored. Ultimate get the correct level.
Abilities

Dragon Slave
Cost: 90/105/125/140 mana
Cooldown: 8.5 seconds.
Cast Range: 600 range.
Effect: Launches a blast of flame in a straight line, dealing damage to all enemy units it passes through. Deals 110/180/250/320 damage.
Maximum flight range: 800
Flame Track Width: 275
Finish Width: 250
Does not penetrate magic immunity state

Light Strike Array
Cost: 90/100/110/125 mana
Cooldown: 7 seconds
Casting Range: 625
Effect: Creates an explosion at the target location, dealing 80/120/160/200 damage and stunning all enemies inside the explosion.
Effective radius: 225
Stun Duration: 1.6/1.9/2.2/2.5 seconds
Note: there is a 0.6 second delay when using the skill, so if you feel you're not aligning correctly, you have 0.6 seconds to press the S button to cancel (mana and cooldown will not be counted) to properly align
Does not penetrate magic immunity state

Fiery Soul
Effect: each time Lina casts a spell, she gains attack speed and movement speed, stacking 3 times for a duration.
Effect time: 10 seconds
Attack speed increased: 40/55/70/85
Movement speed increase: 5%/6%/7%/8%

Laguna Blade
Cost: 280/420/680 mana.
Cooldown: 70/60/50 seconds.
Casting Range: 600
Effect: hurls powerful spells at a designated enemy target, dealing 450/650/850 damage.
Does not penetrate magic immunity state, is blocked by Linken's Sphere
Upgraded by Aghanim's Scepter:
Damage: 450/650/850
Damage type: pure damage
Bonus Effect: Allows dealing damage through magic immunity (Spell immunity)
Effective items guides
Early game

Magic Stick
Magic Stick: Lina is squishy, and she has a lot of high-cost, low-cooldown spells, thus Magic Stick comes in handy. Obtaining the Magic Stick will considerably boost her early staying power.

Boots of Speed
Boots of Speed: Lina may use Boots of Speed to get into position to land her abilities while staying out of danger zones.

Bottle
Bottle: Lina's go-to selection while she's in the middle lane is a bottle.
Mid game

Phase Boots
Phase Boots: Lina's damage output is increased by Phase Boots' attack damage, which works in tandem with Fiery Soul.

Arcane Boots
Arcane Boots: Arcane Boots is a viable option, especially for a Lina who is more concerned with assistance.

Bloodstone
Bloodstone: Lina's mana problems may be solved with Bloodstone, as well as her low HP pool. She can retain her full stacks of Fiery Soul without running out of mana throughout the following team battle if she has enough charges.

Eul's Scepter of Divinity
Eul's Scepter of Divinity: Lina's positioning is further enhanced by Eul's Scepter of Divinity, which considerably increases her mana regeneration due to her high base Intelligence and Intelligence growth. It can also be utilized to reliably set up Light Strike Array.
Late game

Blink Dagger
Blink Dagger: Lina can use Blink Dagger to remain in the background and then blink in at the right time to cast her Light Strike Array before the adversary notices it and evades it.
Situation items

Aghanim's Scepter
Aghanim's Scepter: Lina's Laguna Blade damage is roughly increased by another ability point, her durability is increased due to the increase in her characteristics, and her damage remains relevant even against Black King Bar users in the mid or late game thanks to Aghanim's Scepter.

Drum of Endurance
Drum of Endurance: Drum of Endurance boosts her own placement and all characteristics at a cheap cost, while also benefiting her squad.

Shadow Blade
Shadow Blade: Shadow Blade is helpful for carrying Lina since it allows her to cast Light Strike Array while remaining invisible and offers her a means of escape.

Scythe of Vyse
Scythe of Vyse: Scythe of Vyse provides a critical disable for her squad, as well as assisting her in landing Light Strike Array. Additionally, its attribute enhancements will increase her survivability and dramatically improve her mana regeneration.

Crystalys
Crystalys: When used as a semi-carry Lina, Crystalys delivers a significant damage increase and may be upgraded to Daedalus.

Black King Bar
Black King Bar: Lina's Black King Bar is occasionally picked up when she's carrying, particularly against teams with a lot of disables.

Shiva's Guard
Shiva's Guard: Lina's mana regeneration issues and poor armor value are alleviated by Shiva's Guard, while the aura and active ability of Shiva's Guard boost her team.

Rod of Atos
Rod of Atos: Lina gains a bigger mana pool, which becomes more crucial as teamfights get more mana-intensive and Laguna Blade becomes more mana-intensive, as well as a huge boost to her low HP pool with Rod of Atos. Its active effect can also help her land her stun, and it has a short enough cooldown to do it virtually as soon as Light Strike Array returns from cooldown.
Enemies & Allies
Allies

Ancient Apparition
Lina creates Shadow Blade (which she later improves to a Silver Edge), making it difficult for Ancient Apparition to use his skills.
Due to his low health pool and lack of mobility, Laguna Blade can easily dispatch Ancient Apparition.

Clinkz
Lina's damage burst may easily kill Clinkz before he uses Skeleton Walk to save them.
Burning Army is easily defeated in all levels of the game because of the Fiery Soul attack speed increase.

Crystal Maiden
Lina may simply nuke her down because she is a hero with poor health and mobility.
Because Crystal Maiden's Freezing Field is a channeled ability, Lina may simply cancel it with her Light Strike Array.

Dazzle
Laguna Blade can rapidly dispatch Dazzle before he can perform Shallow Grave.

Enchantress
Enchantress has a low health bar and is unable to withstand Lina's strong spell damage.
Fiery Soul effectively counters Untouchable, exposing Enchantress' vulnerability to physical damage owing to her poor armor.
Lina is capable of clearing creeps and can rapidly dispatch Enchantress' minions.

Meepo
If Meepo tries to gank Lina with Earthbind & Poof, Light Strike Array captures him and his clones.
Before Meepo and his clones can flee with Poof, Laguna Blade can easily kill them.

Mirana
Against Dragon Slave and Light Strike Array, Moonlight Shadow is useless.
Lina's damage burst may soon kill Mirana's comrades, unless she uses Moonlight Shadow to save them.
Counters

Anti-Mage
Blink allows Anti-Mage to climb on top of Lina and use his Mana Break to inflict damage.
Anti-Mage becomes tanky against Lina's massive magic damage thanks to Counterspell.
Laguna Blade can be blocked and reflected with a well-timed Counterspell.
Lina, who has a large mana pool and swiftly depletes it during engagements, is vulnerable to Mana Void.

Faceless Void
If not timed appropriately, Time Walk will easily rewind Lina's burst damage (particularly Laguna Blade).
Faceless Void's ultimate will be aimed at squishy heroes like Lina during Chronosphere.

Lifestealer
Lifestealer is protected from all of Lina's abilities by Rage (except an upgraded Laguna Blade).
Because Lina has no powers to assist her escape, Open Wounds is a wonderful way to hold her in place.

Nyx Assassin
Due to Lina's high intellect, Mana Burn deals a lot of damage to her. Lina is unable to cast her complete combination due to the mana burn.
Because of its slow cast animation, Spiked Carapace may easily be utilized to negate Lina's abilities, and if Laguna Blade is reflected, it can kill Lina outright.

Phantom Lancer
If utilized appropriately, Doppelganger may easily avoid Light Strike Array.
Because Phantom Lancer is a natural Diffusal Blade 1 bearer, he may swiftly deplete Lina's mana pool while still doing tremendous damage with his illusions.

Silencer
Lina is discouraged from activating her abilities by Arcane Curse, which prevents her from accumulating Fiery Soul stacks.
Lina is vulnerable to Last Word and Global Silence for the same reason, as well as halting her combos and preventing her from casting spells.

Slark
Light Strike Array's stun may be dispelled by Dark Pact, which can be performed during the cast animation.
Slark is able to close the distance on Lina thanks to Pounce.
When Slark's HP is low, Shadow Dance stops Lina from killing him with her Laguna Blade.
Items Counter

Infused Raindrops
+0.8 Mana Regeneration
Minimum Damage Threshold: 50
Magical Damage Blocked: 120
Number of Charges: 6
Effect: Lina's magic burst damage may be mitigated early on using Infused Raindrops.

Black King Bar
+10 Strength
+24 Damage
Duration: 9/8/7/6
Effect: Black King Bar prevents Lina from using her abilities to kill you until she gets an Aghanim's Scepter.

Eul's Scepter of Divinity
+10 Intelligence
+2.5 Mana Regeneration
+20 Movement Speed
Cast Range: 550
Damage: 50
Duration: 2.5
Effect: Eul's Scepter of Divinity can dodge her abilities.

Blade Mail
+28 Damage
+6 Armor
Damage Returned: 80%
Duration: 4.5
Effect: Lina's burst damage may be reflected back to her using Blade Mail.

Linken's Sphere
+16 Strength
+16 Agility
+16 Intelligence
+7 HP regeneration
+5 Mana regeneration
Cast Range: 700
Buff Duration: 16
Effect: Laguna Blade is thwarted by Linken's Sphere.

Lotus Orb
+5.5 HP regeneration
+1.75 Mana regeneration
+10 Armor
+250 Mana
Duration: 6
Cast Range: 900
Effect: Laguna Blade is able to be reflected by the Lotus Orb.
Favorable Matchups

Shadow Demon
Light Strike Array may be set up using Disruption.
Lina's damage is substantially amplified by Soul Catcher, providing her even greater burst damage.

Sven
Storm Hammer is capable of ensuring a flawless Light Strike Array.
Lina's extended range makes her an excellent lane partner for Sven to harass the opponent.

Pugna
Lina's magic damage output may be greatly increased by using Decrepify. The slow serve serves as a warm-up for the Light Strike Array attack.

Bane
The combination of Nightmare (and later Fiend's Grip) is ideal for Light Strike Array.

Grimstroke
For double Laguna Blade, Soulbind is an ideal setup.
Game plan
Early game
In the early game, farming and controlling runes are important. If you get the right runes for ganking (Haste, Double Damage, Invisibility) you can reverse the gank right away (remember to buy the bottle early) and farming at this stage is very important because between and At the end of the game, you will have to gank continuously, there is no chance to farm.
When in lane, you can sometimes use Dragon Slave (Q) to poke the enemy's health and eat minions, but don't overdo it because your mana is not water, even pushing the minion high you need to have full vision to be able to play aggressive, so ask your teammates to buy wards or buy them yourself when you reach lvl6 you can instantly kill the guy in the lane with your combos.
Mid game
This is the stage where you and your teammates do long ganks and turrets, and do a few small teamfights as well. In the teamfight you should watch to stun those who jump at your teammates (easiest) or try to stun multiple targets, then use Dragon Slave (Q) and Laguna Blade (R) to finish, before the fight you can poke enemy health with Dragon Slave (Q). During this phase, remember to fully ward and use Smoke of Deceit to gank if necessary, the goal is to beat the enemy as much as possible so that the carry can farm comfortably or end the game early.
Late game
This phase is the phase of teamfights and total turret push when both sides already have quite a bit of equipment, what you do now is very simple: use effective stuns and finish 1 target as quickly as possible. with your damage skills and then run away (with enough items, your attack speed is 0.34 seconds for 1 shot). Lina's attacks are also quite poor now (that's the nuker, semi-carry), remember to use the skills intermittently to keep the stack of Fiery Soul (E) to the maximum.