Lore & Bio
Even for creatures of magic, a Dragon with two heads is still considered a monster. Possessing the power of Ice and Fire, cunning and ferocious, the creature named Jakiro has always flowed through the air at will, burning the ground or freezing the battlefield, turning anything that dared to confront. with it, become desolation.
It is said that the Pyrexae Dragon always gives birth to two eggs at the same time. The ferocity of this Dragon made them famous all over the world, right from birth, the two baby Dragons had to start trying to kill its brother/sister. Only the stronger one can survive. This is also the method to ensure the strength of the Dragon Pyrexae.
And then, in the unexpected incident of nature, Jakiro-the monstrous Dragon, hatched from an egg, contained in it all the power of the Dragon Pyrexae. Deep within it's tough Dragon scales, lies the power of Ice and Fire. And since Jakiro was born, none of its enemies can safely survive.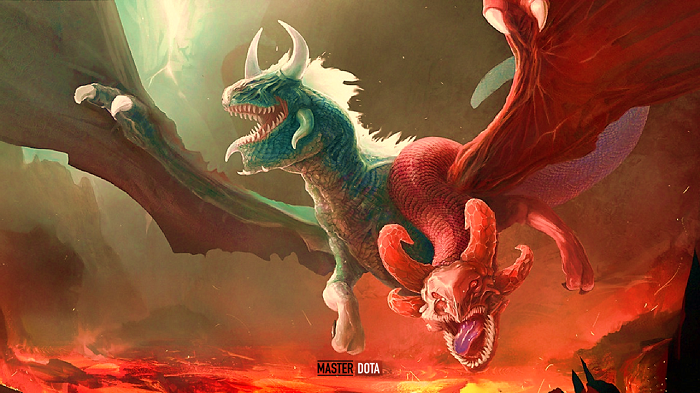 Attribute & Stats
Level: 0 1 15 25 30
Health: 200 740 1520 2320 2640
Health regen: +0.25 +2.95 +6.87 +10.87 +12.47
Mana: 75 387 891 1395 1599
Mana regen: +0 +1.3 +3.4 +5.5 +6.35
Armor: 1 3.5 6.3 10.3 11.63
Damage Block: -
Magic Resistance: 25%
Status Resistance: 0%
Damage: 27‒35 53‒61 95‒103 137‒145 154‒162
Attack Rate: 0.59/s 0.68/s 0.78/s 0.92/s 0.96/s
Attack Range: 400 (800)
Attack Speed: 100 (1.7s BAT)
Attack Animation: 0.4+0.3
Projectile Speed: 1100
Movement Speed: 290
Turn Rate: 0.6
Collision Size: 24
Vision Range: 1800 • 800
Legs: 2
Gib Type: Default
Ability Upgrades:
Upgradable by Aghanim's Scepter;
Upgradable by Aghanim's Shard.
Abilities & Talents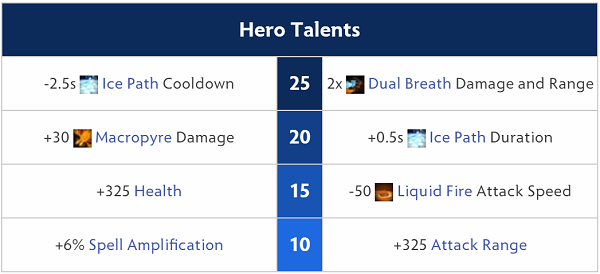 Skills building guide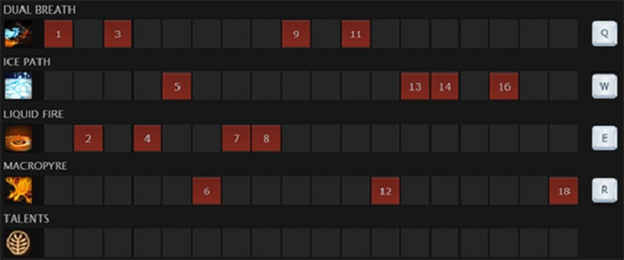 There are always 2 basic ways to increase Jakiro's skills:
With the first method, you are the support to stick to the lane, disrupt the enemy's health and destroy the turret with Liquid Fire (E) (very weak), this increase saves a large amount of mana for Jakiro.
With the 2nd method, you are a roamer, continuously moving between lanes to assist in knocking down the enemy (only knocking but not pushing) by stunning and shock damage from Ice Path (W) with Dual Breath (Q), this method is quite mana-consuming, but when roaming, of course, who doesn't carry a few mana potions.
Abilities

Dual Breath
Cost: 135/140/155/170 mana.
Cooldown: 10 seconds.
Cast Range: 550 range.
Effect: Releases 2 streams of fire and ice in a cone, dealing 20/40/60/80 damage, slowing 28%/32%/36%/40% movement speed and 28/32/36/40 Attack speed of all enemy units hit.
Impact time: 5 seconds
Width of starting flame trail: 200
Finish flame trail width: 250
Flame track length: 750

Ice Path
Cost: 90/100/110/125 mana
Cooldown: 12/11/10/9 seconds
Casting Range: 1200
Effect: spews a band of ice that deals 50 damage and stuns all units it passes through or touches for 1/1.4/1.8/2.2 seconds while it doesn't melt.
Duration: 1/1.4/1.8/2.2 seconds
Width: 150
Delay time: 0.5 seconds
Note: that there is a 0.5 second delay when using skills, so if you feel you are not aligning correctly, you have 0.5 seconds to press the S button to cancel (mana and cooldown will not be counted) to correct. than.

Liquid Fire
Consumption: no
Cooldown: 20/15/10/4 seconds
Casting Range: 600
Effect: fires a ball of fire at 1 target (can be used on buildings) then explodes to nearby targets, dealing 12/16/20/24 damage per second and slowing attack speed. of hit targets.
Blast radius: 300
Effect time: 5 seconds
Attack speed reduced: 20/30/40/50

Macropyre
Cost: 220/330/440 mana.
Cooldown: 60 seconds.
Casting Range: 900
Effect: spews a plume of lava in the target direction, dealing 100/140/180 damage per second for the duration of the lava trail if touched by an enemy.
Duration: 7 seconds
Width: 225
Length: 900
Upgraded by Scepter:
Cast Range: 1800
Damage: 125/175/225
Length: 1800
Duration: 14 seconds

Liquid Frost
Stun enemies for 0.4
Apply a frost debuff that slows enemy movement speed by 20%
Cause enemies to lose 20 + 2.5% of max health/second for 4 seconds.
Effective items guides
Early game

Boots of Speed
Boots of Speed: Jakiro's movement speed is increased significantly by the Boots of Speed, allowing him to catch up to fleeing heroes or escape danger himself. They can upgrade to Arcane Boots later on to aid Jakiro with his mana.

Magic Stick
Magic Stick and Magic Wand: As opponent heroes perform abilities, the Magic Stick and Magic Wand grant charges, which are exchanged for a burst of health and mana regeneration.

Wind Lace
Wind Lace: Wind Lace improves Jakiro's slow movement speed and evolves into Eul's Divinity Scepter. Once created, it's also a good idea to get another for increased speed.

Town Portal Scroll
Town Portal Scroll: Jakiro is transported across the map using the Town Portal Scroll. Use it after death to rapidly return to the lane and avoid missing out on the creep experience. Carrying one after the laning phase might be useful as an escape device as well as a quick means to assist ally heroes across the battlefield.
Mid game

Arcane Boots
Arcane Boots: Arcane Boots increases Jakiro's mana pool, allowing him to perform more abilities. The active ability allows Jakiro and adjacent teammates to keep using their abilities. Jakiro may upgrade his Arcane Boots to Guardian Greaves in the late game to further help his squad.

Tranquil Boots
Tranquil Boots: Tranquil Boots are a sidegrade to Arcane Boots that provides high HP regen and movement speed rather than mana. To cure any mana concerns, combine with Soul Ring.

Eul's Scepter of Divinity
Eul's Scepter of Divinity: Eul's Scepter of Divinity offers Jakiro an active ability that lets him to land his abilities more quickly and provides intelligence and mana regeneration at a low cost. Jakiro will have ample time after using Cyclone to set up Macropyre and timing Ice Path to ensure maximum stun duration on the opponent target. Jakiro can also use the active to remove debuffs or silences from himself.

Rod of Atos
Rod of Atos: Rod of Atos' long-ranged root may be used to set up Ice Path and Jakiro's other abilities, making it a viable alternative to cyclone. Jakiro's efficacy is additionally aided by the extra stats.
Late game

Blink Dagger
Blink Dagger: Blink Dagger makes it easier for Jakiro to start teamfights, as well as allowing him to traverse about the map faster and dodge approaching foes. However, receiving injury will impair your ability to blink for 3 seconds, preventing you from escaping. It may also be upgraded into Arcane Blink in the late game to give cooldown reduction and, more crucially, cast point reduction, which is very useful for Jakiro's abilities.

Force Staff
Force Staff: When contrasted to the Blink Dagger, the Force Staff is more of an escape tool because Jakiro may utilize it while receiving damage. Allies can also use it on Jakiro if they want to track down a kill or get away from danger.

Meteor Hammer
Meteor Hammer: Meteor Hammer is an extremely inexpensive and powerful item for Jakiro's game plan since it does two things: it allows for more complicated Macropyre combinations with Eul's Scepter of Divinity symbol, as well as enabling more destruction of enemy structures in tandem with Eul's Scepter of Divinity and Ice Path, like Nyx Assassin's combination, flawlessly sync when channeled just after the cast point.
Enemies with Status Resistance should be avoided, since they will be able to flee and counter this tactic.

Aghanim's Shard
Aghanim's Shard : Jakiro has a new ability called Liquid Frost, which may be utilized to delay foes, siege towers, and deliver Max HP damage at no mana cost and with a short cooldown.
Situation items

Veil of Discord
Veil of Discord: The active Magic Weakness of Veil of Discord enhances the magical damage taken by foes from Jakiro's and his teammates' abilities.

Aether Lens
Aether Lens: The increased cast range of Aether Lens aids Jakiro in keeping a safe distance during battles. Because practically all of his abilities touch the whole space between him and the maximum cast range, the area in which adversaries can be hit is substantially increased.

Kaya
Kaya: Kaya increases Jakiro's damage output while preserving mana, letting him employ more abilities in a single fight.

Boots of Travel
Boots of Travel: Boots of Travel may be obtained late in the game for a support Jakiro to provide pressure to opponent lanes that are left undefended. This item may be acquired instead of Arcane Boots by a mid Jakiro, allowing him to retain a global presence throughout the match by simultaneously presenting a persistent threat to opponent map dominance while also helping him to fast farm his other items. The fast movement speed compensates for the longer cast periods.

Glimmer Cape
Glimmer Cape: The Glimmer Cape increases Jakiro's and friends' survival by providing invisibility and spell resistance.
Enemies & Allies
Allies

Axe
Axe is a hero that is extremely weak to magical nuke damage and disables, and Jakiro's spells are ideal against him.

Broodmother
Broodmother and her Spiderlings must be extremely cautious versus Jakiro during the laning stage, as Jakiro can wipe out Broodmother's Spiderlings, stopping her from pushing and accumulating a significant amount of gold.

Chen
Because of Jakiro's damage over time, Chen is forced to utilize Hand of God too soon, perhaps squandering a chance to save his comrades during the teamfight.
Chen's jungling work can also be hampered by Macropyre.

Chaos Knight
Jakiro can easily kill Chaos Knight's Phantasm illusions with his AoE damage.
Chaos Knights seldom purchase a Black King Bar, leaving them vulnerable to an Ice Path into Macropyre combo.

Meepo
Jakiro's abilities are all Region of Effect, meaning they may easily affect all Meepos in a given area.

Nature's Prophet
Nature's Prophet's gameplay may be ruined by Jakiro's skill arsenal: Dual Breath and Liquid Fire can remove treants from Nature's Call while also delaying Nature's Prophet, Ice Path can sabotage Nature's Prophet's Teleportation attempt, and Macropyre can quickly clear treants from Nature's Call.
Counters

Anti-Mage
Anti-Mage is able to track down Jakiro, who has no method of escaping.
Anti-Mage is protected against all of Jakiro's magical attacks using Counterspell.
Because of Jakiro's huge mana, Mana Void is particularly powerful against him.

Clockwerk
Because all of Jakiro's spells have very long cast periods, Battery Assault prohibits him from casting them.
Because he has limited mobility and no escape, Jakiro is an ideal target for Clockwerk's Hookshot + Power Cogs combination.
If the opponent Clockwerk traps one of his own comrades or one of Jakiro's teammates in the cogs, it offers Jakiro the perfect opportunity to punish Clockwerk and his ally or to save Jakiro's ally.

Lifestealer
All of Jakiro's spells are immune to Lifestealer when he is enraged. The attack speed and slow effects of Dual Breath and Liquid Fire are not affected by magic resistance.

Oracle
Oracle can make allies spell immune using Fate's Edict, allowing him to save comrades from Jakiro's spells.
Jakiro may be disarmed and prevented from pushing with his Liquid Fire by casting Fate's Edict.
Oracle can use False Promise to liberate teammates trapped in Jakiro's Ice Path.

Rubick
By eliminating creep waves, Fade Bolt can reduce Jakiro's early pushing power.
Rubick can use all of Jakiro's spells to Spell Steal.
Because Rubick has no cast time on stolen abilities, Ice Path is an excellent spell for him to steal. This makes Rubick's version of Ice Path far more dependable than Jakiro's.
Rubick's farming method of choice is Macropyre.

Silencer
Jakiro is unable to perform any spells due to Silencer's Last Word and Global Silence.
With his Glaives of Wisdom, a carrier Silencer may easily take down a support Jakiro.
Items Counter

Black King Bar
All of Jakiro's spells are negated by Black King Bar.

Orchid Malevolence
In a team fight, Orchid Malevolence might render Jakiro worthless.

Pipe of Insight
The additional magic resistance provided by Pipe of Insight considerably decreases the damage from Jakiro's spells.
Favorable Matchups

Dark Seer
Vacuum is an excellent spell for assisting Jakiro in landing his deadly AoE spells.

Faceless Void
With Jakiro's Dual Breath, Time Dilations build slowly. This allows them to pursue heroes who are escaping.
The Chronosphere is an excellent setting for Jakiro's spells.

Kunkka
Torrent stuns foes for 1.6 seconds and slows them for an additional 1.75 to 4 seconds, allowing Jakiro to quickly cast any of his spells.
Landing an Ice Path is a breeze using X Marks the Spot. The opponent will be incapacitated for a lengthy time if Kunkka responds with a Torrent of his own.
If Kunkka has Aghanim's Scepter, Ghostship has a huge stun radius and delivers a lot of damage, and it can collect foes into a cluster. When used with Macropyre, Jakiro may quickly finish off vulnerable adversaries who have been weakened by Ghostship's first impact.

Magnus
Skewer may also gather foes into a group, however they will merely be delayed, therefore time is crucial to guarantee that Jakiro's spells fall correctly.
Reverse Polarity collects adversaries into a compact cluster, making it simple for Jakiro to unleash his whole spell arsenal on his foes.
Game plan
Early game
You should always determine from the beginning of the game whether you are going to roam or stick to the lane to protect the carry, then you will determine the most appropriate way to raise the skill. With lane, you should use Liquid Fire (E) reasonably, don't let it hit the creeps, it will push the creeps on your side and make it difficult for the carry to last hit, remember that Liquid Fire (E) is only to shoot enemy champions or turrets.
With Jakiro roaming, the Ice Path (W) has a very good length (1100) so you can hide from the forest and spit it out to increase the surprise (align to avoid missing) then run out and use Dual Breath (Q) to deal damage and immobilize the enemy. Before doing that, remember to notify that lane teammate to save lives, otherwise the sticky rice will burn or not, if you can't eat your life, you will have a terrible level.
Mid game
This is when both teams are trying to push the enemy's outer turrets, always keep the Town Portal Scroll in your body to make sure you can push and promptly support the turret and nearby teammates. Remember to fully ward to push as well as gank enemy heroes. Depending on the situation, you and your teammates can mobilize a total push to end the game early if you find that in the late game your team can't win against the opposing team.
Late game
At this stage, all heroes on both sides have quite a lot of equipment in general and support like you in particular, so warding in this stage will be easy to forget. Keep this in mind, try to reserve at least 1 slot to store wards, because just a little negligence will lead to your team losing the soldier, even losing at that time.
In total combat, use Ice Path (W) and Macropyre (R) to hit the most enemy champions or to block and divide the enemy squad. With the equipment mentioned in the guide, use Sycther of Vyse to make anyone jump on your team's carry or use Force Staff to rescue depending on the situation, or initiate a fight using Blink Dagger, shoot Liquid Fire (E) and Duel Breath (Q) at the enemy carry to slow its attack speed and stride. That's all you have to do with your gear and skills in teamfights.