Lore & Bio
" Even on this fallen field, I dedicate my powers to the lofty Skywrath."
Dragonus, a high-ranking mage in the Ghastly Eyrie's court, leads a troubled life. He despises the current Skywrath queen with all his heart, despite being sworn by birth to protect whoever sits within the Nest of Thorns. As a young man, he was a friend and companion to Shendelzare, the eldest Skywrath princess and first in line for the Nest. He had loved her deeply and unwaveringly, but as his studies advanced, his thoughts turned to arcane knowledge and the mastery of Skywrath sorcery.
Obsessed with aetherial matters, he overlooked the mundane signs of courtly treachery that hinted at a plot against Shendelzare, and thus missed the opportunity to foil it. He interrupted his studies to learn that his dearest and oldest friend had been lost to him when a quick and violent coup rocked the court. Dragonus was helpless as the ruthless younger sister of Shendelzare now owned the Nest of Thorns. Acting against the Nest would leave the Skywrath Mage helpless because the magic of the Skywrath Mage only serves the scion of Skywrath, who is its sole beneficiary. He clings to his position because he thinks it is his best chance of one day elevating his true love to her proper position. Only the goddess Scree'auk, through whose power Shendelzare was transformed from a physically crippled being into an embodiment of pure vengeful energy, is aware of his secret at the moment.
While he longs to return his beloved queen to the Ghastly Eyrie, his most desperate wish is to bring Shendelzare back to full physical healing. Being a noble and good-hearted being, the hypocrisy of his role at court tortures him. However, the worst torture of all is imagining the hatred that Vengeful Spirit must harbor for him.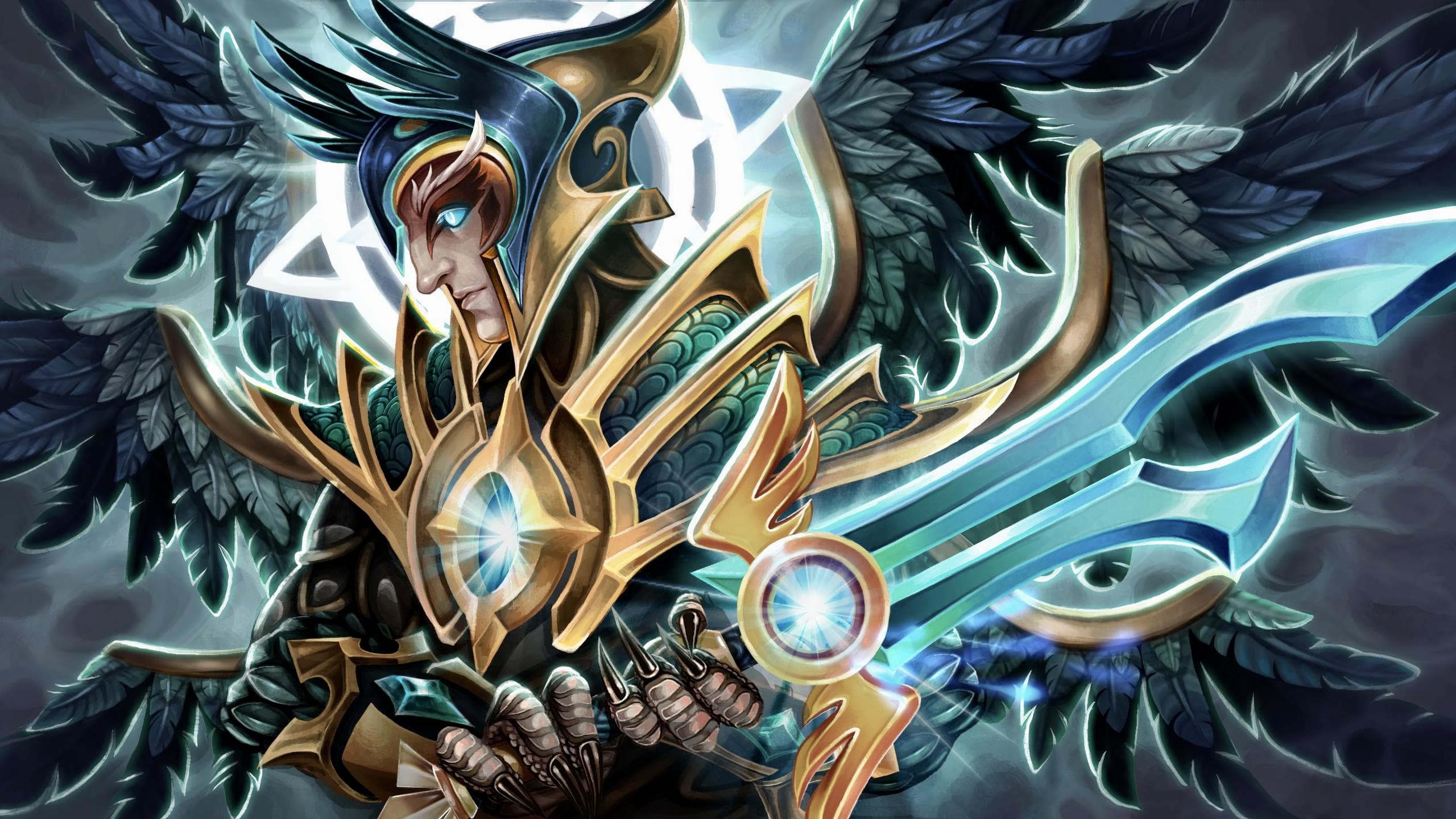 Attribute & Stats
Level: 0 1 15 25 30
Health: 200 620 2280 1820 2060
Health regen: +0.25 +2.35 +5.15 +8.35 +9.55
Mana: 75 375 1059 1659 1959
Mana regen: +0 +1.25 +4.12 +6.77 +7.9
Armor: -2 0.17 2.03 5.37 6.37
Damage Block: -
Magic Resistance: 25%
Status Resistance: 0%
Damage: 16-26 41-51 98-108 151-161 173-183
Attack Rate: 0.59/s 0.66/s 0.73/s 0.85/s 0.88/s
Attack Range: 625 (800)
Attack Speed: 110 (1.7s BAT)
Attack Animation: 0.4+0.78
Projectile Speed: 1000
Movement Speed: 325
Turn Rate: 0.6
Collision Size: 24
Vision Range: (G) 1800 • 800
Legs: 2
Gib Type: Default
Ability Upgrades:
Upgrade by Aghanim's Scepter: - Arcane Bolt.
Concussive Shot.

Ancient Seal.
Upgrade by Aghanim's Shard : - Mystic Flare.
Abilities & Talents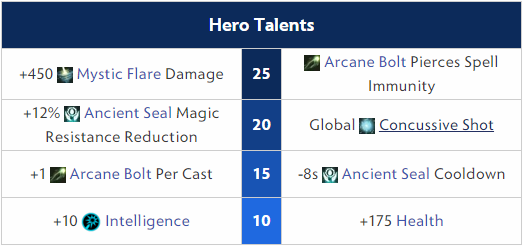 Skills building guide
Concussive shots are fired at level 1 due to their slowness, which doesn't get slower as you advance through the levels. Up until levels 12, 13, and 14, it is not leveled again. Since Arcane Bolt is your primary nuke and has a short cooldown, you should max it out first. You should pick it up at levels 2, 3, and 5 and 7. Due to its silence and maxed second, which scales well, ancient seal can be obtained at level 4. It can also be obtained at levels 8, 9, and 10 for its amplify damage. Although Mystic Flare has a significant damage potential, it might not be dependable. You can still take it at the standard 6, 11, and 16. As always stats at 15 and from 17 onward.
Abilities

Arcane Bolt
Mana: 90
Cooldown time: 5/4/3/2
Cast animation: 0.1+0.9
Cast range: 875
Effect: Based on Skywrath Mage's intelligence, it fires a slow-moving bolt of arcane magic that inflicts damage on an enemy unit.
Note: Every time an Arcane Bolt is cast using Aghanim's Scepter, a second Arcane Bolt is cast on a different random target within the search radius.

Concussive Shot
Mana cost: 80/85/90/95
Cooldown: 15/14/13/12'
Cast animation: 0.1+0.3
Radius: 1600
Damage: 250
Duration: 4
Effect: The closest hero is struck by a long-range shot fired by Skywrath Mage. It slows and causes damage in a field of effect upon impact.

Ancient Seal
Mana cost: 80/90/100/110
Cooldown time: 14
Cast animation: 0.1+0.97
Cast range: 700/750/800/850
Duration: 3/4/5/6
Effect: The targeted unit is sealed with an ancient rune by the Skywrath Mage, which silences it and makes it more susceptible to spell damage.

Mystic Flare
Mana cost: 300/550/800
Cooldown time: 60/40/20
Cast animation: 0.1+0
Cast range: 1200
Radius: 170
Duration: 2.2
Effect: Skywrath Mage summons a precise and destructive mystical field that obliterates his enemies using his most powerful magical ability. Deals enormous damage over several seconds that is evenly distributed among all Heroes nearby.
Effective items guides
Early game

Arcane Boots
Arcane Boots: Should be acquired as soon as possible because they increase Skywrath's mana pool's size and enable him to occasionally replenish some of it (as well as that of his allies).

Magic Stick
Magic Stick: Can quickly replenish some of Skywrath's mana and health. Given his extremely low health, the health replenishment is essential, and the mana replenishment could, in an emergency, allow him to cast one or two more spells.

Null Talisman
Null Talisman: Gives strong early game stats and magic damage for a low cost; multiple Null Talismans are advised for Arcane Bolt buffing.
Mid game

Magic Wand
Magic Wand: Gives the same advantages as a magic stick, plus additional features and more charge storage. It is inexpensive and efficient to construct one of these if Skywrath is given low farm priority.

Rod of Atos
Rod of Atos: Strength and Intelligence increase the health and mana pools of the Skywrath Mage, who can also trap enemies inside Mystic Flare.

Witch Blade
Witch Blade: Provides him with armor, intelligence, and a passive skill that scales into the late game and works well with Arcane Bolt.

Eul's Scepter of Divinity
Eul's Scepter of Divinity: Provides a defensive tool, a disable, and much-needed movement speed, intelligence, and mana regeneration. For enhancements to the aforementioned stats, including a more potent defensive tool, Wind Waker can be built.
Late game

Aghanim's Scepter
Aghanim's Scepter: Skywrath Mage's damage output is effectively doubled, making him much more effective against multiple opponents.

Scythe of Vyse
Scythe of Vyse: A hard disable is excellent for setting up kills for both his spells and his allies, and it grants a sizable bonus to intelligence and mana regeneration.
Situation items

Ghost Scepter
Ghost Scepter: Stops physical attackers from targeting Skywrath Mage, and with some extra gold, she can upgrade into Ethereal Blade icon.png for a potent nuke and damage-amplifying ability.

Force Staff
Force Staff: Can be used by Skywrath Mage and his allies as a means of escape or to reposition and set up spells.

Bloodstone
Blood Stone: Greatly increases the mana pool and survivability of the Skywrath Mage (through raw HP and spell lifesteal). When combined with Spell Lifesteal, the item's active provides strong mana restoration to keep up with his high mana consumption as he deals high spell damage to enemies, ultimately extending his fighting time.

Shiva's Guard
Shiva's Guard: Gives Skywrath Mage a significant amount of intelligence and strong resistance to physical damage, and Freezing Blast keeps enemies within his spell-casting range.

Veil of Discord
Veil of Discord: Gives cheap stat bonuses and makes enemies more vulnerable to the Skywrath Mage's nuking attacks.

Dagon
Dagon: Enhances the Skywrath Mage's capacity to decimate targets by boosting his magic damage and intelligence, though the mana and gold costs might be a problem.

Aether Lens
Aether Lens: Extends the cast range of Skywrath Mage's spells, replenishes mana, increases safety radius, and allows him to better follow up on Concussive Shot. He can construct an Octarine Core to increase his health, mana, and ability to cast spells more frequently.

Blink Dagger
Blink Dagger: The Skywrath Mage's ability to position himself for casting spells is greatly improved, allowing him to cast spells with already long ranges. If he can activate it before taking player damage, it can help him sneak up on enemies and kill them with little to no warning or flee from pursuing enemies. Can build into Arcane Blink, which Skywrath Mage can use to increase the duration of Ancient Seal and lessen the excessive mana requirements of his spells.

Kaya
Kaya: Skywrath Mage's damage output is increased, and his much-needed mana regeneration is amplified (and spell lifesteal, if he has such an item such as Bloodstone). Can develop into Kaya and Sange for increased survival, Yasha and Yasha and Kaya for improved mobility, or Ethereal Blade I for increased offense.
Enemies & Allies
Allies

Faceless Void
Easy Mystic Flare setup is provided by Chronosphere.

Damage caused by Time Lock by Void is enhanced by Ancient Seal.

Undying
Undying and Skywrath Mage minimap icons. Early on, Undying is a risky combination. By repeatedly using Arcane Bolt and Decay to drain your health and strength, they can easily overcome almost any obstacle. However, if you manage to survive and don't give them any kills, they should eventually run out of mana and die when they don't receive experience or gold.

Centaur Warrunner
All of Centaur Warrunner's spells are enhanced by Ancient Seal. particularly Double Edge.

Hoof Stomp is a 2-2.75 second stun that, on later levels, prepares the player for a full-duration Mystic Flare. Additionally helpful is Warrunner's Stampede's 100% slow.

Given Skywrath Mage's weak point, having a tanky initiator is crucial.

Pugna
Pipe of Insight and Glimmer Cape will be easily destroyed when Decrepify and Ancient Seal are used together. However, Fate's Edict's full magic resistance prevents it from ever being broken.

Silencer
Silencer's abilities and Ancient Seal work well together, extending the duration of Arcane Curse for him.

Additionally, Concussive Shot and Skywrath can stack slows for a quick kill with Mystic Flare.

Legion Commander
Concussive Shot and Overwhelming Odds work well together, enabling both heroes to easily run after an adversary.

Skywrath can easily acquire a Mystic Flare target due to Duel's duration.
Counters

Anti-Mage
The magic resistance provided by Counterspell allows Anti-Mage to largely neutralize the magical damage done by Skywraith Mage.

Black King Bar and Manta Style, which can negate Ancient Seal and Concussive Shot, are frequently built by anti-mages.

Mystic Flare's high mana cost makes it a simple target for Mana Void.

However, until he learns to break silences, Anti-Mage is vulnerable to Ancient Seal early in the game, making Skywrath's solo kill potential even lower.

Huskar
Huskar has a respectable health pool, and the increased attack speed brought on by Berserker's Blood gives him an advantage. However, Berserker's Blood functions proportionately to lost health.

Huskar can out damage Skywrath or take him down alongside him because of how little armor and agility gain he has.

Abaddon
A full-duration Mystic Flare may be prevented by the removal of silences, slowing, and stuns caused by Aphotic Shield.

Abaddon's minimap cannot be destroyed by borrowed time, and the damage from mystic flare even heals him.

Pugna
Due to his low health, Skywrath Mage will be practically useless in battle if he chooses to cast spells due to Nether Ward's damaging effects. However, if the ward is destroyed, Skywrath's powerful burst will quickly decimate Pugna's low health, and Decrepify won't do you any good.

Nyx Assassin
Due to his low health and lack of armor, Skywrath Mage is a relatively easy target for Nyx Assassin. He will also typically take the full force of a Vendetta attack.

At all game levels, Mana Burn is annoying because it uses Skywrath Mage's high intelligence growth against him.

Nyx receives some defense from the Spiked Carapace against the spells of Skywrath.

Wraith King
Skywrath frequently needs to exhaust his entire mana supply in the early to midgame to kill a hero, but Wraith King's Reincarnation enables him to kill Skywrath after the first death because Skywrath Mage has probably already used up all of his mana.
Items Counter

Black King Bar
Black King Bar, Pipe of Insight and Glimmer Cape: Reduce or eliminate your damage.

Blade Mail
Blade Mail: Reflects a lot of damage back to you.

Manta Style
Manta Style and Lotus Orb: Break the ice and Concussive Shot slowly.

Orchid Malevolence
Orchid Malevolence: Prevents the Skywrath Mage from casting spells, and this last one is particularly deadly for the Skywrath Mage because it increases the physical damage he takes.

Infused Raindrops
Infused Raindrop: Blocks a portion of the magic damage that the Skywrath Mage can deal.
Favorable Matchups

Timbersaw
Timbersaw's vulnerability to magical burst damage is increased by Ancient Seal, which also prevents him from using Timber Chain to flee for up to 6 seconds.

Typically, he doesn't construct early items to deal with silences.

Even a Pipe of Insight won't provide him with the significant sustain he typically receives from attacks because Reactive Armor does not activate in response to magic damage or spells.

Storm Spirit
Storm Spirit creates items that are ineffective against silences, much like Timbersaw.

You'll probably be silenced by an Orchid Malevolence icon.png at first. But if you seize an Eul's Scepter of Divinity, you may break his silence and change the course of events in your favor.

The ultimate defenses against Storm Spirit are root and silence. The Rod of Atos is the core item for the Skywrath Mage, who also has a silencer in his toolkit. If he extinguishes one, you cast the other, making him susceptible to both.

He spends 4050 gold to build Black King Bar, which doesn't help him effectively snowball.

Enchantress
With her strength gain being the lowest in the game, Untouchable is useless against frequent Arcane Bolts.

A jungle Enchantress can make the job of the Skywrath Mage easier by weakening lanes.

She is even more vulnerable to the magic nukes of Skywrath and his allies thanks to Ancient Seal's magic amplification.

Alchemist
With numerous Arcane Bolts during the laning phase, Skywrath Mage can easily harass Alchemists. Additionally, the self-stun turns into a simple setup for Mystic Flare if Alchemist is in the middle of casting an Unstable Concoction and lacks the ability to remove Ancient Seal.

A well-farmed Alchemist with Radiance and Manta Style, however, can easily send illusions to harass and drive out a Skywrath Mage.

Vengeful Spirit
With the Ancient Seal, Skywrath Mage ought to be able to defeat the Vengeful Spirit.

Due to her dependence on her abilities, Vengeful lacks any natural defenses against silences.

She is easily bullied out of the lane by Skywrath Mage due to her limited attack range.

Winter Wyvern
Mystic Flare is the ideal setup for Cold Embrace.

Spellcaster Winter Wyvern may not be able to make much of an impact due to Ancient Seal's 6-second silence.

Winter Wyvern will need to approach a teamfight in order to cast Winter's Curse on Skywrath Mage because of his propensity to retreat from combat. He won't do much if she decides to cast it on one of his allies because of his slow attack speed and damage.
Game plan
Early game
In the early game, you should lane with a carry in the safe lane as soon as possible. Your man pool isn't the best, so concentrate on using your auto attacks to harass the enemy and save your combo for when you're going in for the kill. When casting your ult on a fleeing enemy hero, try to cast it behind them with them just on the edge so they have to run through it to get away. You should also try to apply a slow to targets inside the AoE. Alternatively, if they are pursuing something, you might want to cast your ult in front of them with them once more on the edge of the ability so they have to run through it to catch it. Be careful when doing this because they might change their minds while being pursued or running away, and if they do, you will take much less damage from it than if you had simply put them in the middle.
Mid game
In the mid game, try to roam the map with a stunner or disabler to try to score some kills. In team fights, try to stay on the periphery of the action, use your spells on cooldown, and only auto attack when it is safe to do so. Keep in mind that you are a weak hero with a big range on your spells and a 600 range. Keep your AoE extended and make them endure it. Put your ancient seal on the targeted individuals and slow them all. Use your scythe to remove opponents from the conflict (if a tide hunter is approaching to ravage, get rid of him before he stuns everyone) or to keep opponents under your mystic flare.
Late game
Stop roaming and stay with your team in the late game; if you go it alone, you'll be dead in a flash. Instead, concentrate on giving your all in the crucial late game team fights.