Lore & Bio
"You can't fight what you can't see."
The stories told about Gondar, no one knows whether they are true or made up. It is said that he was abandoned as a feral cat, learning hunting skills simply to survive, that he was a lucky abandoned child who survived the war, possessed by the hunter Soruq. bring him back to nurture and teach him skillful skills with the sword, or join him to explore the dark forest. However, there are also those who believe that Gondar was once a young thug who roamed the poor neighborhoods, grew up with a bunch of pickpockets and thieves, and was trained in how to steal and cheat.
Gathered around campfires in the wilderness, those hunted by Gondar whispered rumors about his work, and with growing fear they said: who had pursued the tyrant Goff year after year and caused Goff to die in anger, it was Gondar who took Goff's head and staff as proof. It was he, who infiltrated the rebel camp at Hightseat, and finally brought back the bandit nicknamed the White Cape to face trial. And it was he, who ended the myth of the great hunter Soruq, to make him pay for daring to kill Prince's powerful assistant.
The legend of Gondar is still going on, and every day there is an unbelievable story, the more it goes on, the more difficult it is for Gondar's victims to be killed. However, as long as the price is high enough, the hunted cannot escape, even the most powerful will have to tremble in the dark by the name of Gondar, the Bounty Hunter.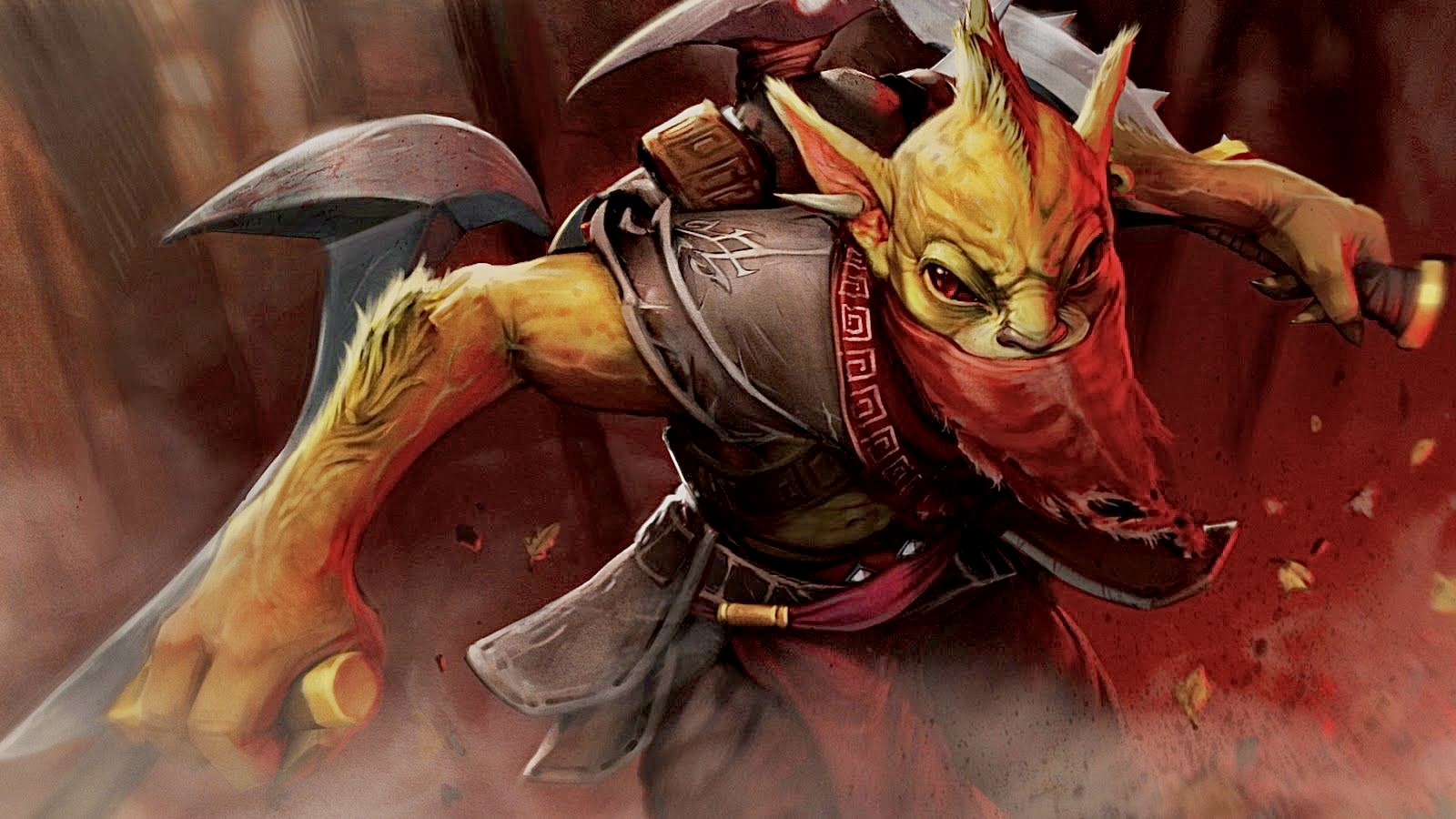 Attribute & Stats
Level: 0 1 15 25 30
Health: 200 600 1300 2040 2320
Health regen: +1.25 +3.25 +6.75 +10.45 +11.9
Mana: 75 339 651 1023 1167
Mana regen: +0.5 +1.6 +2.93 +4.48 +5.06
Armor: 4 7.5 13.57 19.9 22.4
Damage Block: 16 (50%)
Magic Resistance: 25%
Status Resistance: 0%
Damage: 30‒38 51‒59 87‒95 125‒133 140‒148
Attack Rate: 0.59/s 0.71/s 0.93/s 1.15/s 1.24/s
Attack Range: 150 (600)
Attack Speed: 100 (1.7s BAT)
Attack Animation: 0.59+0.59
Projectile Speed: Instant
Movement Speed: 320
Turn Rate: 0.6
Collision Size: 24
Vision Range: 1800 • 1000
Legs: 2
Gib Type: Default
Ability Upgrades:
Upgradable by Aghanim's Scepter.

Upgradable by Aghanim's Shard.
Abilities & Talents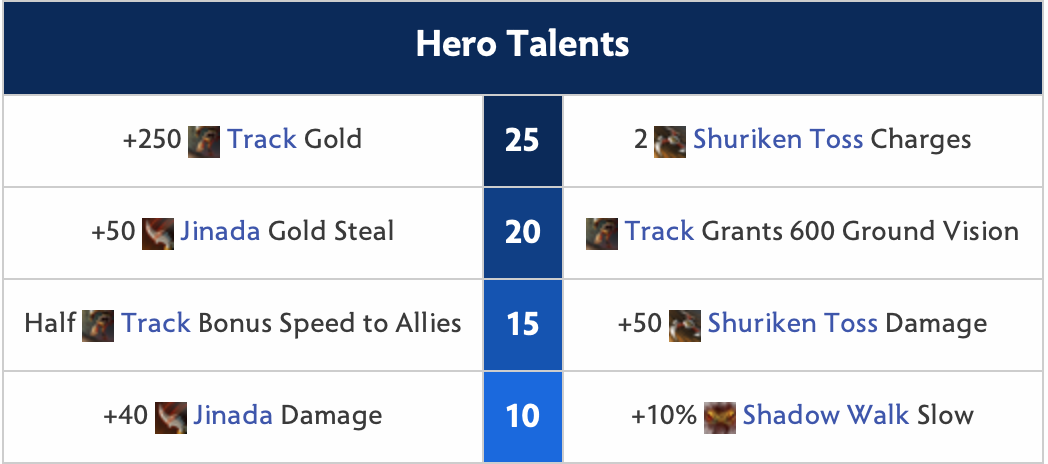 Skills building guide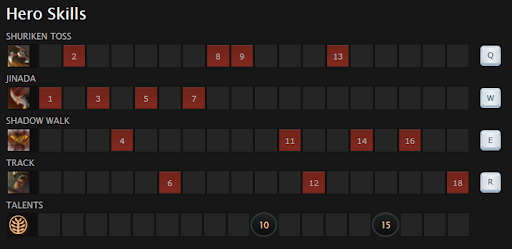 Maximize Shuriken Toss (Q) first to take damage as well as finish the target from a distance, but in the first 2 levels you should raise Jinada (W) and Shadow walk (E) first for safety reasons as well as last hit more easily. Ultimate of course get the correct level.
Abilities

Shuriken Toss
Cost: 90/115/135/155 mana.
Cooldown: 10 seconds.
Casting Range: 400
Effect: Throws a shuriken at the specified target, dealing mini-stun and 150/225/300/375 damage to the target and bouncing to targets hit by the track dealing the same effect and damage.
Bouncing Range: 900 radius around the target.

Jinada
Cooldown: 12/10/8/6 seconds.
Effect: BH's next basic attack deals 150%/175%/200%/225% damage and slows the target he attacks for 1 period.
Run Speed Slow: 25%
Attack Speed Slow: 25
Slow duration: 3 seconds.

Shadow Walk
Consumption: 50 mana.
Cooldown: 15 seconds.
Effect: Turns invisible after a very short time. His basic attack when breaking his stealth deals 30/60/90/120 bonus damage.
Stealth Duration: 20/25/30/35 seconds or destroy status.
Delay Time: 1/0.75/0.5/0.25 seconds.

Track
Consumption: 50 mana.
Cooldown: 4 seconds.
Casting Range: 1200
Effect: BH marks 1 enemy, they will be revealed for the duration of the skill's effect. During this time, BH and allied champions gain movement speed when near the affected target. If an enemy dies during the spell's duration, BH and nearby allies gain 1 gold.
Movement Speed Bonus: 20%
Bonus Gold: 200/275/350 for BH and 40/80/120 for allies.
Impact time: 30 seconds.
Effect Range: 900 radius around the target.
Note: the target is only revealed, not the surrounding vision.
Effective items guides
Early game

Boots of Speed
Boots of Speed: As an offlaner, Boots of Speed are essential for survival, and as a roamer, they are essential for getting in position for ganks. Purchase them as soon as possible.

Orb of Venom
Orb of Venom: Orb of Venom is an excellent early-game companion to Shadow Walk, since the combined slows may lower a target's movement speed by up to 53%.

Urn of Shadows
Urn of Shadows: When Bounty Hunter first starts roaming, Urn of Shadows is an excellent item to grab since it increases his HP pool and offers him some mana restoration. Successful ganks earn charges, which may be utilized to increase damage in subsequent ganks or to heal in between ganks.

Magic Stick
Magic Stick: Magic Stick is highly recommended for Bounty Hunter because to his limited HP pool and low cooldowns on his abilities (and a high mana cost, in the case of Shuriken Toss). A fully charged Magic Stick may restore a significant portion of Bounty Hunter's health while also providing enough mana for him to cast many spells. For the same reasons, Magic Wand is extremely strong, providing Bounty Hunter with extra abilities as well as a bigger charge storage capacity.
Mid game

Arcane Boots
Arcane Boots: Arcane Boots improves Bounty Hunter's mana pool and restores mana to the team, allowing everyone to perform more abilities on the battlefield.

Drum of Endurance
Drum of Endurance: Drum of Endurance provides comprehensive attribute boosts as well as enhancing the movement speed of Bounty Hunter and his companions, facilitating ganks.

Solar Crest
Solar Crest: Bounty Hunter's durability is improved by Solar Crest's armor and characteristics, as well as greater mana regen. When used on a gank target, the active decreases their armor by a significant amount while also slowing their mobility and attack speed.
Late game

Lotus Orb
Lotus Orb: Lotus Orb protects Bounty Hunter and friends in team combat by dispelling and reflecting targeted abilities.

Guardian Greaves
Guardian Greaves: Guardian Greaves restores health and mana to you and your friends, removes debuffs, and the Mend and Guardian Aura abilities are very useful in teamfights. Track kills may also be farmed pretty rapidly.
Situation items

Bottle
Bottle: Both as a roamer and on Bounty Hunter, Bottle is quite useful. Because of his cheap mana cost and limited HP pool, he benefits greatly from the regen, and his mobility with Shadow Walk allows him to bottle runes as required.

Vladmir's Offering
Vladmir's Offering: Bounty Hunter can lifesteal with Vladmir's Offering, allowing him to sustain himself by fighting creeps. The additional mana regen makes him a more self-sufficient roamer, while the increased damage and armor strengthen his offensive and defensive skills. When starting on adversaries in-lane, be wary of purchasing this item because the lifesteal aura may reveal your location.

Orchid Malevolence
Orchid Malevolence: Orchid Malevolence dramatically expands Bounty Hunter's mana pool while also providing him with tremendous mana regen, allowing him to go longer between visits to the fountain. The quiet is a useful ganking weapon since it prevents adversaries from retaliating during a gank and, because of the damage amplification towards the conclusion of the silence, it may assist in securing a kill.

Bloodthorn
Bloodthorn: Bounty Hunter's attack speed is increased by Bloodthorn, an upgrade from Orchid Malevolence. The quiet will not only prevent the adversary from retaliating with spells, but it will also grant him critical strikes and pinpoint precision, allowing him to secure even more kills.

Desolator
Desolator: Desolator is a potent beginning item since it greatly enhances the damage taken when Jinada and Track are used to strike a victim. In a gank, the armor decrease allows friends to increase their damage, assuring a quick kill.

Blink Dagger
Blink Dagger: Bounty Hunter's already impressive mobility is considerably enhanced by Blink Dagger, who can hunt and flee across inaccessible terrain, especially when paired with Track. It may be used with Shadow Walk to allow for devastating initiations and pursuit, preventing targets from fleeing even in the most favorable conditions.

Aether Lens
Aether Lens: Aether Lens is a useful utility item that helps Bounty Hunter perform spells. It increases his mana pool size while also offering mana regen. Bounty Hunter may now cast his spells from a safer distance thanks to the improved cast range.

Scythe of Vyse
Scythe of Vyse: Scythe of Vyse is a powerful utility item that dramatically increases the disabling potential of Bounty Hunter. The Hex is an incredibly strong hard disable that may instantaneously disable a target from range, in addition to providing him all-around characteristics and considerably enhancing his intellect and mana regen.

Dagon
Dagon: With its active talent, Dagon grants intellect to Bounty Hunter while also considerably enhancing his burst damage.
Enemies & Allies
Allies

Sniper
Sniper is a sniper who relies on distance. In the early game, Bounty Hunter may utilize Shadow Walk to get close, and Jinada can do a lot of damage and slow down Sniper.

Bounty Hunter's speed is increased thanks to the track, and Shadow Blade is created. Shadow Blade is rendered ineffective, allowing Bounty Hunter to slay him with a few blows.

Nyx Assassin
As soon as Nyx Assassin receives his Vendetta, he plans to begin ganking. Tracking him prohibits him from ganking and, as a result, from fulfilling his role in the game.

Nyx Assassin has a lot of armor and life regen, therefore Shuriken Toss' nuke damage is quite effective against him.

Shadow Fiend
By ganking his midlane using Shadow Walk, Jinada, and Shuriken Toss, a Bounty Hunter may completely demolish a Shadow Fiend's game.
A Shadow Fiend frequently flees to the jungle if his lane goes poorly. Take half of his experience by following him with Shadow Walk.
Shuriken Toss is an effective technique to disrupt Shadow Fiend's long cast animation in Requiem of Souls due to its ministun.

Pudge
With Track, Bounty Hunter can keep a close eye on Pudge, making it tough for Pudge to hook Bounty Hunter or his teammates.

Due to Shadow Walk, it's tough for Pudge to keep up with Bounty Hunter in order to apply Rot on him.

If Bounty Hunter is not the target, Shuriken Toss cancels Dismember from a fair range.
Counters

Bloodseeker
Due to the potential for massive damage, Rupture can turn Bounty Hunter's mobility against him, preventing him from fleeing with Shadow Walk.

Because Thirst offers True Sight, it can prevent Bounty Hunter from leaving with Shadow Walk if his health is low enough.

Death Prophet
Death Prophet's Silence enables her to stop Bounty Hunter from using Shadow Walk to flee.
If Bounty Hunter is unable to flee using Shadow Walk while under the influence of Silence, she will be able to use Crypt Swarm and Spirit Siphon to blast him down.

Luna
Despite the fact that Luna is the type of hero that Bounty Hunter can handle because Shadow Walk protects him from Eclipse, Luna is a wise woman who will always purchase Dust of Appearance, allowing her to provide vision for him to her team and possibly kill Bounty Hunter with Eclipse.

Rubick
Rubick may take Bounty Hunter's Track and use it against his invisibility, as well as award his team with additional money if the tracked hero is slain, making him a viable counter to Bounty Hunter.

Slardar
Corrosive Haze grants True Sight to its victim, revealing the location of the Bounty Hunter regardless of Shadow Walk.

Guardian Sprint boosts his movement speed significantly, allowing him to pursue Bounty Hunter even if Slardar is being monitored.

Spectre
When Spectre's ultimate Haunt is used, she may quickly expose Bounty Hunter's whereabouts. By striking Bounty Hunter with Spectral Dagger, she may semi-reveal(visible but not targetable) him.

Spirit Breaker
Charge of Darkness by Spirit Breaker partially reveals Bounty Hunter, removing his element of surprise for the duration of the charge. Due to the fact that Charge of Darkness displays Bounty Hunter's location, Spirit Breaker's friends can gank Bounty Hunter when he is alone.

Venomancer
Bounty Hunter's mobility is substantially reduced by Venomancer's magical damage-over-time poisons.

Venomancer and his teammates may gank Bounty Hunter when he is roaming alone with Venomous Gale, Plague Wards, and Poison Nova with True Sight equipment.
Items Counter

Dust of Appearance
Dust of Appearance: The standard counter to Bounty Hunter's Shadow Walk is Dust of Appearance. This equipment may easily assure a kill on a Bounty Hunter early in the game if he is invisible, since he may not have a way to securely remove his invisibility (thus receiving the 20 percent movement slow).

Sentry Ward
Sentry Wards: Sentry Wards can serve as a deterrent if he is aware of their location, or as a trap if he is unaware.

Gem of True Sight
Gem of True Sight: The Gem of True Sight is an effective barrier to his wandering.

Guardian Greaves
Guardian Greaves, Lotus Orb, Black King Bar, Eul's Scepter of Divinity, and Manta Style: In addition to their other effects, Guardian Greaves, Lotus Orb, Black King Bar, Eul's Scepter of Divinity, and Manta Style are effective in removing Track.
Favorable Matchups

Invoker
Invoker may use Track to snipe heroes with Sun Strike.

Nature's Prophet
If a monitored enemy is suspected of being separated from their squad, Nature's Prophet can transfer them to a nearby location.

Tinker
Bounty Hunter may utilize Track to aid Tinker's Heat-Seeking Missile pick down fleeing opponents.

Spectre
With the touch of two buttons, Spectre's Ultimate Haunt lets her join Bounty Hunter's ganks, letting her go from farming to ganking and back in a matter of seconds.

Zeus
Thundergod's Wrath and Lightning Bolt show heroes who are otherwise invisible, allowing Bounty Hunter to track them down.
Game plan
Early game
Early game, you can last hit/deny minions easily with your hand damage. When you reach lvl4 or higher, you become extremely annoyed with the poke game with Jinada (W) + Shadow walk (E): stealth, watch Shadow walk's cooldown time (E) is almost done, then slash the enemy , then hit it 2 3 more times and then go invisible again, with 1 cockroach blood hero, you only need to do this 2 3 times and it will run out of health, if you dare to stand still, eat the Shuriken toss (Q) face and die, but if the opponent invests Sentry ward early, you can't do this.
You need to reach lvl 6 early and have a certain amount of items before you can start your gold hunt. You can roam/gank early if you can, but be careful as this can easily cause you to lose your level if the gank fails.
Mid game
This is the stage where the supports, gankers of both teams do a lot of roaming and ganking, and also an opportunity for BH. You easily locate the enemy's position thanks to Track (R), making them passive, creating safe conditions for teammates to farm, gank, and counter gank. You can go to individual targets with thin armor, cockroach blood. With the ultimate having a very fast cooldown and a very good amount of bonus gold, why not use it continuously, especially on targets that teammates are hitting, that is equivalent to the amount of money when eating 1 network already.
When you have Orchid malevolance, you can lock 1 target, beat the torture and finish it off to earn money, but you should pay attention to the opponent's moves, if they have invested Sentry ward, you should Keep a certain distance from them to avoid unfortunate situations. You can deal a fair amount of damage to Track (R) targets at this stage thanks to Shuriken Toss (Q). Don't forget to follow the Town portal scroll.
Late game
You are quite important in this phase (seriously) because you will be the source of vision for the whole team, leaving the opponent in a passive state, and with just a little mistake, the opponent will regret it immediately. ie (unless your team is too broken, they are too green).
In teamfight, choose the most dangerous target but don't have bkb to use Orchid on its face or when the enemy initiator rushes on your team, then try to knock it down or let your teammates kill it while you aim Track (R) helps you and your allies have a very terrible speed in combat and no one can escape, the most important thing is that you have to choose a good position to have Can Track (R) get the most targets and Orchi on the right target.