Lore & Bio
" A light to guide my way. A light to burn my foes."
The Hoven, a place where black pools collect the tarry blood of the uplands and the king-mage Sutherex sits in benign rule, is located at the foot of the Bleeding Hills. Clinkz gained a reputation for his proficiency with a bow while serving as a sworn protector of the Hoven lands. The demon Maraxiform emerged from sixth hell in the three hundredth year of the king-mage to claim the forest. The king-mage responded by enacting an unbreakable spell that promised Life Without End to anyone who killed the demon.
Wadding into the battle without being aware of the spell, Clinkz got himself and the demon caught up in a mortal conflict. Only after the last arrow was loosed, ending the demon in the torrential fire of hell, Clinkz himself was deprived of life in that fire, leaving a creature with only bones and fury, taking the breath of hell with him into the eternity.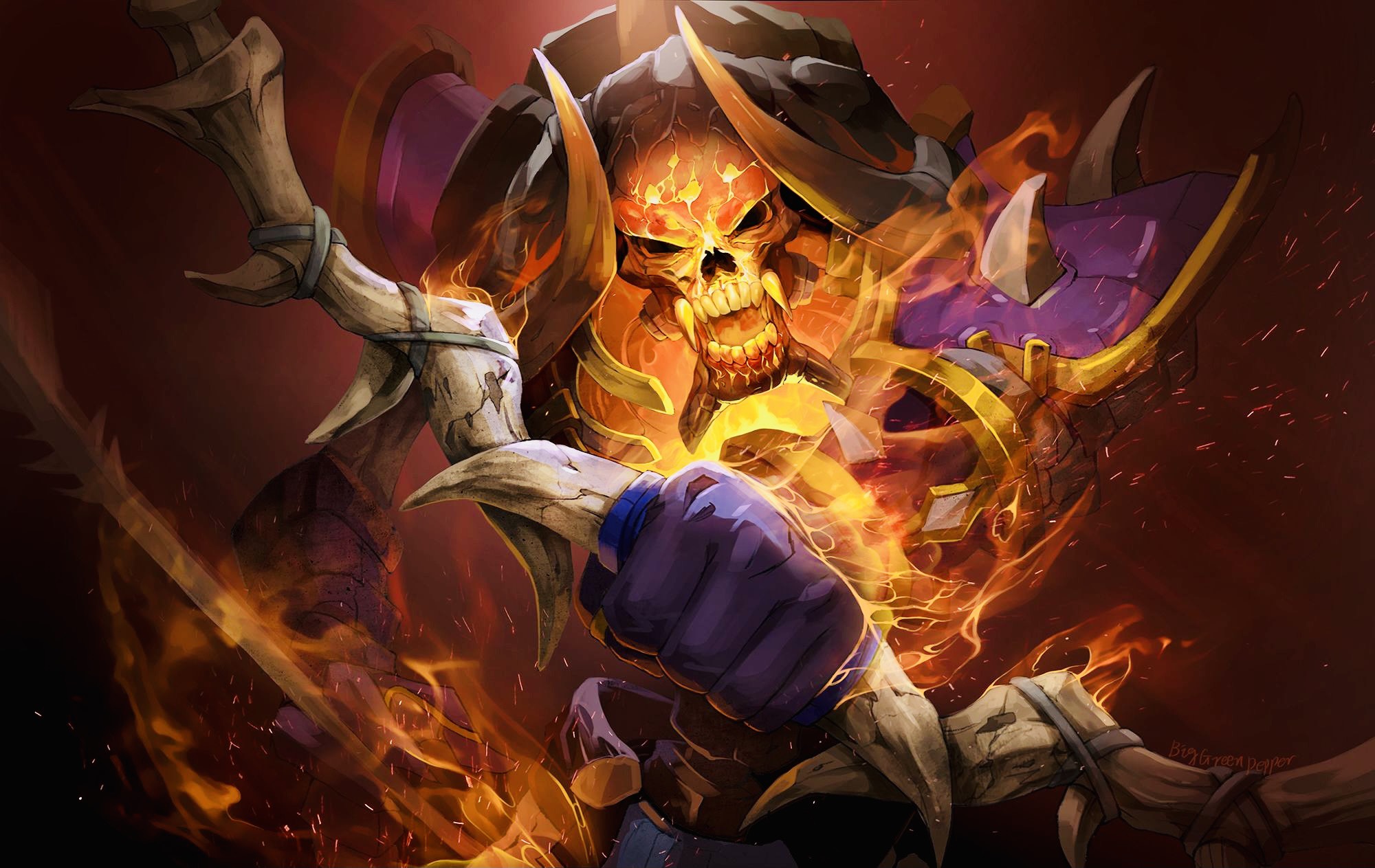 Attribute & Stats
Level: 0 1 15 25 30
Health: 200 520 1080 1720 1960
Health regen: +0.25 +1.85 +7.85 +9.05
Mana: 75 291 651 1059 1215
Mana regen: +0 +0.9 +2.44 +4.14 +4.79
Armor: 0 3.67 9.5 15.67 18.08
Damage Block: -
Magic Resistance: 25%
Status Resistance: 0%
Damage: 15-21 37-43 72-78 109-115 123-129
Attack Rate: 0.59/s 0.72/s 0.92/s 1.14/s 1.23/s
Attack Range: 600 (800)
Attack Speed: 100 (1.7s BAT)
Attack Animation: 0.4+0.3
Projectile Speed: 900
Movement Speed: 290
Turn Rate: 0.6
Collision Size: 24
Vision Range: (G) 1800 * 800
Legs: 2
Gib Type: Default.
Ability Upgrades:
Upgrades Burning Army.

Upgrades Skeleton Walk.
Abilities & Talents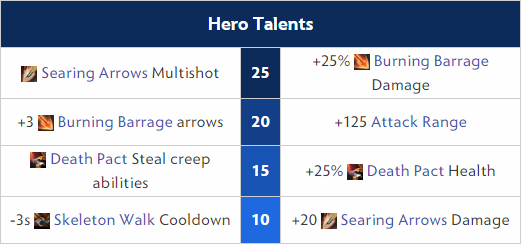 Skills building guide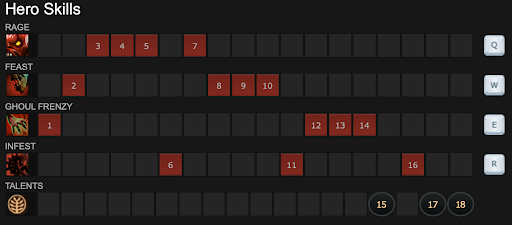 First, max Searing Arrow. Clinkz's early game damage output is frequently underappreciated, which easily leads to free kills. Then max Strafe It provides a massive amount of attack speed, which can easily burst down any hero at that point in the game if you have good positioning. Finally, max the Skeleton Walk. Although your invisibility skill scales reasonably, movement speed is really outclassed by damage burst.
Abilities

Burning Barrage
Mana Cost: 40/55/70/85
Cooldown: 30/26/22/18
Cast Animation: 0.2+0
Cast Range: 750/800/850/900
Damage: 65%
Effect: All opponent units are struck by multiple piercing arrows that Clinkz channels and fires in the targeted direction.
Note: Searing Arrows must be wrapped well before applied.

Searing Arrows
Mana Cost: 10
Cast Range: 600
Damage: 24/36/48/60
Effect: Adds fire to Clinkz's arrows to increase damage.
Note: Searing Arrows can be cast on structures but not on wards and ally units because their cast range depends on the caster's assault range.

Skeleton Walk
Cast Animation : 0+0
Mana: 75
Speed Bonus: 15%/30%/45%/60%
Cooldown: 20/19/18/17
Effect: Clinkz moves through units invisibly until he attacks or uses items.
Note: Upgrade Aghanim's Shard.

Burning Army
Mana: 150
Cooldown time: 80
Duration: 30
Cast range: 1200
Effect: Summons an army of fiery ranged skeleton archers that immobile and deal a percentage of Clinkz' damage.
Note: Require drafting Death Path and Aghanim's Scepter to be unlocked.

Strafe
Mana: 100
Cast Range: 900
Duration: 65
Cooldown: 80/70/60
Effect: Targeted enemies or friendly unit is consumed by Clinkz, which gains maximum health and damage as Clinkz remains in Skeleton Walk.
Effective items guides
Early game

Magic Wand
Magic Wand: Protects against foes who can constantly cast spells.

Blight Stone
Blight Stone: Assists with early ganking or pushing, as well as harrying opponents in lane.

Boots of Speed
Boost of Speed: Gives Clinkz a faster rate of movement.
Mid game

Power Treads
Power Treads: On Clinkz, the adaptability of Power Treads is greatly appreciated. His increased attack speed also aids in farming.

Maelstrom
Maelstrom: Clinkz can take stacks and his farming speed is greatly accelerated by Maelstrom. Additionally, it develops Gleipnir, a crucial item to boost Clinkz's ganking abilities.

Gleipnir
Gleipnir: Multiple targets are rooted in an AoE, preventing adversaries from using Burning Barrage on them.

Aghanim's Shard
Aghanim's Shard: When Clinkz breaks Skeleton Walk, he summons Burning Army skeletons, dramatically improving his teamfight presence.
Late game

Orchid Malevolence
Orchid Malevolence: Clinkz's mana problems linked with using Searing Arrows are resolved, and heroes can be silenced. It enables Clinkz to gank more effectively and disable enemy abilities during engagements.

Desolator
Desolator: Stacks with Searing Arrows to increase killing power and speed up the death of heroes with low health pools.

Bloodthorn
Bloodthorn: Is a natural progression from Orchid Malevolence and adds active True Strike and critical damage to Clinkz's ability to shred heroes.

Monkey King Bar
Monkey King Bar: Increases Clinkz's attack damage and Pierce's ability to consistently bring down heroes with evasion.

Black King Bar
Black King Bar: Clinkz can keep dealing damage as Black King Bar counters enemy disables.
Situation items

Butterfly
Butterfly: Gives substantial bonuses to attack speed, agility, and evasion.

Diffusal Blade
Disffusal Blade: Clinkz can quickly burn his target's mana with Dissfusal Blade's mana break while dealing bonus damage. Clinkz's active ability also grants him a slow to keep targets within Burning Army's range.

Daedalus
Daedalus: Clinkz's damage output is greatly increased by Daedalus' critical multiplier.

Blink Dagger
Blink Dagger: Combined with Scythe of Vyse or Nullifier may assist you in capturing some of the game's most elusive heroes. Consider it if your natural mobility is insufficient.

Scythe of Vyse
Scythe of Vyse: Is similar to Orchid Malevolence in that it deals less damage but has a stronger disable.

Solar Crest
Solar Crest: Enables Clinkz to penetrate the opponent's defenses and to better defend himself after the active has expired.

Dragon Lance
Dragon Lance: Keeps adversaries within the Burning Army's line of sight. Additionally, it can be upgraded into Hurricane Pike for more features and mobility.

Eye of Skadi
Eye of Skadi: Stacks with Searing Arrows, enabling you to pursue heroes while enhancing all of your personal qualities.

Linken's Sphere
Linken's Sphere: Help you roam more fearlessly and aggressively, and it provides effective mana regeneration.

Moon Shard
Moon Shard: Will significantly boost Clinkz's raw damage output, which is advantageous if your only goal is to destroy enemy structures.

Nullifier
Nullifier: Gives bonus damage, disables Glimmers, Force staffs, etc., and can significantly aid in killing a hero even when his supports are present to aid them.

Satanic
Satanic: Grants massive Lifesteal, which works well with Clinkz's massive damage output, giving him an advantage in manfights.

Aghanim's Scepter
Aghanim's Scepter: Enables Clinkz to use Burning Army, which increases his damage output in larger battles and enables him to create extensive hazard zones.

Divine Rapier
Divine Rapier: Is your only choice when other items are insufficient in some games. It should be taken for enormous damage, preferably after killing a Roshan. It can destroy both enemy supports and cores when combined with Burning Army and Multishot. It is a risky investment, though.
Enemies & Allies
Allies

Drow Ranger
Her Frost Arrows also cause enemies to slack off, making it easier for Clinkz to attack the target.

She also possesses a powerful silence, which enables Clinkz to conserve his Orchid's power.

Omniknight
Clinkz can become invisible during the laning phase and stand close to enemies so that Purification's damage will definitely hit them, setting up a kill.

The powerful slow of Degen Aura enables Clinkz to attack opponents more frequently.

Vengeful Spirit
Vengeful Spirit can use Wave of Terror to reduce enemy armor. This will increase the power of Clinkz's attacks.

Clinkz does not have crowd control. The Magic Missile of Vengeful Spirit can keep enemies in place so that Clinkz can hit them. She can also use Nether Swap to bring back escaping enemies.

Clinkz's physical damage is increased by Vengeful Spirit's Vengeance Aura.

If Clinkz is cornered by the opposing team, Vengeful Spirit can Nether Swap him to the edge of a teamfight where he can deal damage safely.
Counters

Slardar
With Corrosive Haze, Slardar can reveal Clinkz and make him simple to kill. His Bash of the Deep also deals significant damage to Clinkz's already low health reserve.

The Guardian Sprint of Slardar can overtake the Skeleton Walk of Clinkz.

Slardar's Slithereen Crush can immobilize Clinkz with its stun and slow effects.

Bloodseeker
If he tries to flee using Skeleton Walk while having low health, Thirst reveals Clinkz. Furthermore, it enables Bloodseeker to match or outpace Clinkz's speed.

Skeleton Walk's mobility is negated by Rupture in any attempt to flee or maneuver during combat.

Bloodseeker can quickly create armor, blade mail, and Talisman of Evasion upgrades to combat Clinkz.

Bounty Hunter
If Clinkz uses Skeleton Walk to flee, Track will reveal him, giving the bounty hunter plenty of gold if he manages to kill Clinkz.

Due to Clinkz's low health, Jinada can easily kill him with physical damage items.

Doom
Clinkz sustains damage from Scorched Earth during Skeleton Walk.

Doom completely disables Clinkz because it stops him from using any of his spells and from doing a lot of damage in team battles.

Enchantress
Untouchable slows Clinkz's attack speed so that he can't harass Enchantress in the lane.

Enchantress is supported by Nature's Attendants as a result of Clinkz's lane harassment.

Lion
Clinkz can be held down by Hex and Earth Spike, preventing him from using Black King Bar or Skeleton Walk.

Clinkz's low health allows Finger of Death to kill him quickly.

Morphling
Morphling can counter Clinkz with Burning Barrage and Searing Arrows by using Morph.

Morphling can easily track down Clinkz with the help of Waveform.

Clinkz's low health pool also makes him vulnerable to Morphling's magical nukes, particularly his Ethereal Blade and Adaptive Strike combo.

Spectre
Spectre can quickly flee the Burning Army or use Haunt to track down Clinkz.

Even if he uses Skeleton Walk, Spectre can catch up to him with Spectral Dagger.

Desolate enables Spectre to reach Clinkz via Skeleton Walk.

Dispersion strengthens Spectre while also reflecting some damage back to Clinkz.

Spirit Breaker
Clinkz's worst nightmare. He has a plethora of tools at his disposal to completely destroy Clinkz.

If Spirit Breaker's team spots Clinkz anywhere, Charge of Darkness can be used on him. Through Skeleton Walk's invisibility and movement speed bonuses, this charge will track his location.

When Spirit Breaker attacks Clinkz, he can easily use Dust of Appearance icon.png Dust of Appearance to ensure a reveal on him while stunned.

Spirit Breaker's three spells help him and his team quickly close the gap on Clinkz, even when he is at the edge of his attack range or running away with Skeleton Walk.

Spirit Breaker's high strength and above-average armor allow him to withstand Clinkz's assault; however, Clinkz will be severely threatened if Spirit Breaker procs a Greater Bash.

Treant Protector
Clinkz will frequently roam the map alone, and Treant Protector's Nature's Guise allows him to set up kills on Clinkz with his allies while invisibly.

Treant Protector's high damage allows him to trade hits with Clinkz or contest last hits, while Living Armor can be used to sustain the harass.

Treant's allies who are ganked by Clinkz are protected by Living Armor.

Treant Protector's Overgrowth can disarm Clinkz in teamfights, preventing him from becoming invisible and keeping him in place even if he has a Black King Bar icon.png Black King Bar.

Clinkz is slowed by Leech Seed, preventing him from repositioning or fleeing from danger.

Winter Wyvern
If Searing Arrows is on autocast, Cold Embrace can heal herself or an ally while also protecting them from Clinkz's physical attacks and wasting his mana.

Winter's Curse allows Winter Wyvern to use Clinkz's high damage and attack speed against his allies, or to exploit Clinkz's vulnerability if he is unable to use Skeleton Walk.

Zeus
Zeus' Lightning Bolt can reveal Clinkz.

Because of his low health pool, he is vulnerable to Zeus' magical nukes.
Items Counter

Dust of Appearance
Dust of Appearance, Gem of True Sight and Sentry Ward: Despite the fact that Clinkz still moves quickly while invisible, they are very effective against his invisibility.

Blade Mail
Blade Mail: Clinkz is vulnerable to severe damage from Blade Mail, who lacks the ability to heal during combat or counter it with Black King Bar.

Eul's Scepter of Divinity
Eul's Scepter of Divinity and Heaven's Halberd: While useful in reducing Clinkz's attack output, Eul's Scepter of Divinity and Heaven's Halberd cannot completely shield your team from his Skeleton Archer.
Favorable Matchups

Anti-Mage
Clinkz's physical damage output is unaffected by Anti-Counterspell. Mage's

Clinkz can easily rush an Orchid Malevolence icon.png Orchid Malevolence to stop Blinking, but Anti-Mage can easily dispel it with Manta Style icon.png Manta Style.

Clinkz deals significant damage to towers and can take map control away from Anti-Mage, limiting his early game farming space. If Clinkz is in the lead, he has the ability to end the game before Anti-Mage becomes a threat. He can also match Anti-split Mage's push ability.

Ember Spirit
Clinkz's physical damage output is unaffected by Ember Spirit's Flame Guard.

Because of his low armor and health, Ember Spirit is easy to kill quickly if a teammate can hold him down.

If Clinkz has farmed an item that can disable, he can sneak up to Ember Spirit and hunt him down while farming or splitting pushes alone.

Huskar
Clinkz's physical damage output is unaffected by Huskar's Berserker's Blood.

Huskar has no way to stop Clinkz's attacks and no way to kill Clinkz alone because Clinkz can easily become invisible, teleport away, or fight back.

Clinkz will frequently construct items that counter Huskar's usual constructs. For Heaven's Halberd, these include Black King Bar or Monkey King Bar, or a disable item like Scythe of Vyse or Bloodthorn to prevent him from using Inner Fire to disarm.

Nature's Prophet
Nature's Prophet is frequently alone. Clinkz can use invisibility to track him down and kill him, though he may need a Quelling Blade to cut through his Sprout. Orchid Malevolence may also be required if 3-4 seconds is insufficient to kill him because he can teleport away.

Clinkz can split push as well as Nature's Prophet.

Viper
Clinkz has no passive abilities, rendering Nethertoxin nearly useless.

Clinkz's physical damage output is unaffected by Viper's Corrosive Skin.
Game plan
Early game
You won't be able to participate in team fights in the middle or late game or even get 1v1 kills without the early farm. Use Searing Arrows to last hit and harass opponents . If you have the chance, get a few early kills, but only if you live.
Make sure the support is giving you the last hits, harassing, and setting up simple kills if one is in your lane. Make sure to only enter for last hits if you're playing solo. All in all, stay alive and farm until you get orchid, and avoid drawing too much attention to yourself; otherwise, they'll likely buy dust or wards and target you first.
Mid game
With Searing Arrows, as soon as you find lonely heroes, Orchid them, pop strafe and auto attack away. Just rinse and repeat until you get the kill. After a team fight breaks out, take out the poorly placed heroes or supports in case the enemy team doesn't have invisible reveal items and remember not to attract any attention in this time.
Late game
You most likely have the tools and knowledge necessary at the late game to use strafe to kill heroes in 2 to 5 seconds. Focus on the weaker heroes after taking out the supports with orchid. Eliminate the other enemy team's primary team battle contributors either before the team fight even begins. You no longer need to worry about staying off to the side and can simply go beast mode with some logic once you get BKB.