Lore & Bio
"Once is not enough!" "It's just as high as we can count."
The common ogre is probably the origin of the expression "Impossible with a plume". In its natural state, an ogre is barely capable of performing normal operations or deciding anything. Ogre dressed in filth, sometimes even accidentally wrapping the skin of dead animals on the roadside after eating them. Not a particularly social creature, ogres are often seen in close association with a rock or tree stump that they mistake for their own (an explanation for the rate of reproduction). their low). However, every generation or so, the ogre species is blessed with the birth of a two-headed Ogre Magi, who is quickly endowed with the true name Aggron Stonebreak, the title of the first intelligent ogre. and perhaps unique in ogre history.
With two heads, Ogre Magi can reach a level of perception on par with other single-headed creatures. Although the Ogre Magi cannot win any arguments (even when arguing with himself), he still enjoys a divine talent known as Red Numbers – a tendency to spawn random luck. nature through a puzzling chain of effects that allows ogre species to proliferate despite hostile forces, extreme weather or an inability to feed themselves. It seems that the Goddess of Luck felt sorry for this poor stupid species, so she wrapped the Ogre Magi under her wings. Who can blame her? Ogres are just pitiful creatures.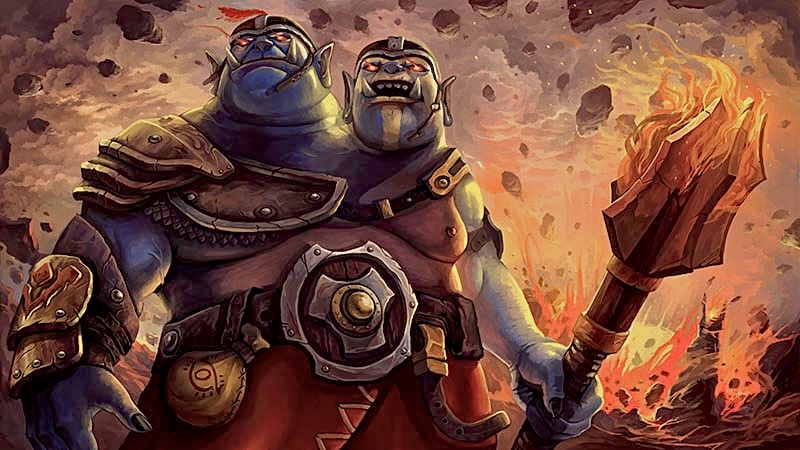 Attribute & Stats
Level: 0 1 15 25 30
Health: 200 660 1580 2480 2840
Health regen: +3.25 +5.55 +10.17 +14.67 +16.52
Mana: 75 255 675 1119 1287
Mana regen: +0 +0.75 +2.5 +4.35 +5.08
Armor: 5 7.33 10.83 15.33 16.92
Damage Block: 16 (50%)
Magic Resistance: 25%
Status Resistance: 0%
Damage: 34‒40 49‒55 84‒90 121‒127 135‒141
Attack Rate: 0.59/s 0.67/s 0.79/s 0.95/s 1.01/s
Attack Range: 150 (600)
Attack Speed: 100 (1.7s BAT)
Attack Animation: 0.3+0.3
Projectile Speed: Instant
Movement Speed: 290
Turn Rate: 0.6
Collision Size: 24
Vision Range: 1800 • 800
Legs: 2
Gib Type: Default
Ability Upgrades:
Upgradable by Aghanim's Scepter - Unrefined Fireblast

Upgradable by Aghanim's Shard - Fire Shield
Abilities & Talents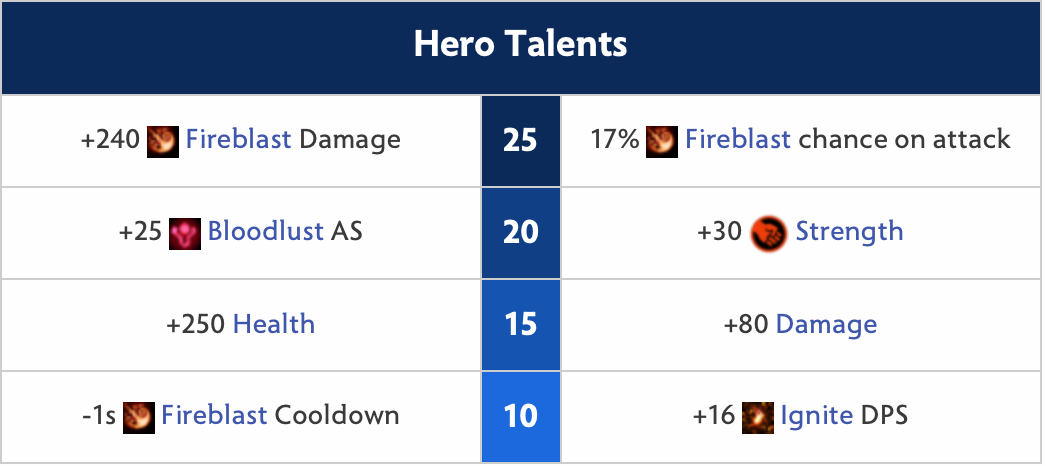 Skills building guide
Since the Ogre Magi's damage depends mainly on the Fireblast skill, you should maximize this skill first. Bloodlust and Ignite should only increase by one point at first, then you should max out Ignite first and Bloodlust last. Ultimate Multi Cast should be leveled properly to increase the chance of being cast continuously.
Abilities

Fireblast
Cost: 75/85/95/105 mana.
Cooldown: 12 seconds.
Cast range: 475 distance.
Effect: hits enemy with a fiery blow, dealing 55/110/165/220 damage and stunning them for 1.5 seconds.
Multicast interval time: 0.4 seconds.

Ignite
Cost: 95/105/115/125 mana.
Cooldown: 15 seconds.
Casting Range: 700
Effect: Throws a flaming pot on the target enemy, burning them causing them to take 26/34/42/50 damage per second and slow them by 20%/22%/24%/26% Movement Speed transfer.
Multicast radius: 1400

Bloodlust
Consumption: 75
Cooldown: 20 seconds.
Casting Range: 600
Effect: Causes the target ally to boil, granting them 10%/12%/14%/16% Movement Speed and 30/40/50/60 Attack Speed. This move can be used on buildings and turrets.
Multicast radius: 575
Duration: 30 seconds.

Multicast
Effect: When using a skill, Ogre magi has a chance to cast more shots of that skill while also adding some effects to his skills.
x2: 40%/50%/60% chance.
x3: 0%/20%/25% chance.
x4: 0%/0%/12.5% chance.
Fireblast cooldown reduction: 2/4/6 seconds.
Fireblast mana cost: increased by 20/40/60
Ignite: now explodes dealing damage and spreading to enemies within a 150/300/450 radius and increased cast range by 150/300/450
Bloodlust cooldown reduction: 5/10/15 seconds.
Upgraded by Aghanim's Scepter:
Effect: has 1 more Fireblast skill.
Note: if Bloodlust and Ignite are Multicast, the multi will jump to surrounding units.

Unrefined Fireblast
Consumption: 60% of available mana
Effect: Fireblast skill's current level

Fire Shield
Cast Animation: 0.2+0.6
Cast Range: 600
Multicast Radius: 1000
Number of Attacks: 3
Incoming Attack Damage Reduction: 85%
Fireball Damage: 125
Shield Duration: 25
Effect: Creates a barrier around the target ally that absorbs 85 percent of the next three attacks' damage. Fireballs are launched towards the attacker, doing 125 damage.
Effective items guides
Early game

Boots of Speed
Boots of Speed: Boots of Speed boosts movement speed, allowing Ogre Magi to catch up to their foes.

Magic Stick
Magic Stick: Magic Stick may be used to augment your low mana pool, allowing you to cast more spells; it can also be converted into a Magic Wand later.
Mid game

Magic Wand
Magic Wand: Magic Wand is a straight enhancement over Magic Stick in terms of burst health and mana.

Arcane Boots
Arcane Boots: Arcane Boots provide lots of mana for all of your spells, as well as assisting other teammates who are mana-hungry.

Force Staff
Force Staff: Force Staff provides Ogre with much-needed mobility, allowing him to keep up with adversaries or flee conflicts while also modestly boosting his mana pool.
Late game

Aghanim's Scepter
Aghanim's Scepter: Aghanim's Scepter boosts your nuking and disabling power in the form of Unrefined Fireblast, as well as giving you a nice attribute boost.

Aether Lens
Aether Lens: Aether Lens increases the casting range of all of your abilities and equipment, allowing you to stay in the back of battles while still casting spells, as well as giving you additional mana.

Ghost Scepter
Ghost Scepter: Later in the game, the Ghost Scepter defends Ogre Magi from physical assaults while also providing extra qualities.
Situation items

Orb of Venom
Orb of Venom: Orb of Venom boosts the amount of damage you do when zoning foes and makes it more difficult for them to flee.

Soul Ring
Soul Ring: The Soul Ring may be picked up in lane to offer extra mana when needed, and Ogre's enormous health pool for an intelligence hero reduces the danger of activating it.

Urn of Shadows
Urn of Shadows: If you're getting a lot of roaming kills early on, Urn of Shadows is a good option.

Drum of Endurance
Drum of Endurance: Drum of Endurance is a low-cost item with good characteristics. Bloodlust stacks with the increased movement speed.

Veil of Discord
Veil of Discord: Veil of Discord boosts your armor and health regen, provides much-needed stats, and increases your and your teammates' spell damage.

Hand of Midas
Hand of Midas: Multicast improves Hand of Midas, allowing Ogre Magi to collect money and experience.

Eul's Scepter of Divinity
Eul's Scepter of Divinity: Eul's Scepter of Divinity grants you increased movement speed, increased intelligence and mana regeneration, and an active that may be used to chase, elude, or lock someone out of a combat.

Octarine Core
Octarine Core: While Octarine Core is costly, it will turn Ogre into a monster. The spell lifesteal offers you a great amount of health and mana, and it reduces the cooldown on your skills even more. It gives you a huge amount of health and mana, and it lowers the cooldown on your abilities even more.

Shiva's Guard
Shiva's Guard: Shiva's Guard offers you even greater AoE slow in battle and boosts your already impressive armor to new heights. Furthermore, the additional intelligence boosts your mana and spell damage by a significant amount.

Scythe of Vyse
Scythe of Vyse: Scythe of Vyse provides an extra disable, several qualities, and excellent mana restoration. The hex may be used in conjunction with Multicast to disable numerous foes at the same time.
Enemies & Allies
Allies

Earthshaker
Earthshaker cannot escape and/or initiate with Blink Dagger if Ignite is present.

Earthshaker's combo may be thwarted if he uses Fireblast and Unrefined Fireblast after scoring an Echo Slam.

Io
Fireblast is an effective way to stop Io from escaping through Tether.

Ignite is one of the few abilities that can do enough overall damage to outweigh the persistent healing that Io delivers to its laner.

Other supports that focus less on the laning phase, on the other hand, are often a superior choice versus Io.

Nature's Prophet
Ignite or Multicast can remove Nature's Prophet threats.

Nature's Prophet is unable to use Teleportation due to Fireblast and Unrefined Fireblast.

Templar Assassin
Ignite may be used to burn down Refraction damage block instances.

If Fire Shield is cast before a Meld-charged ambush from Templar Assassin, it effectively decreases the burst damage from the ambush.

Weaver
Weaver can be stopped from escaping with Shukuchi and even Time Lapse with a well-timed Fireblast with Multicast.

Early on, Ignite's high damage puts a lot of strain on Weaver's little health pool.

The slow from Ignite, on the other hand, is often ineffective against Shukuchi, and Time Lapse can dispel it if necessary.

Sven
Multicast Fireblasts are a good way to slow down Sven's huge damage output throughout the course of a fight.

The movement speed disparity provided by Bloodlust and Ignite allows Ogre Magi's squad to chase and/or escape from Sven and his Warcry.

Ignite inflicts sustained damage on Sven early in the laning phase, keeping his health low and delaying his transfer into the jungle. Ignite is also a simple technique to sabotage Sven's most common initiation method, Blink Dagger.

The presence of Ogre Magi in the laning phase puts a lot of pressure on Sven in lane, both in terms of damage and durability.

The purchase of an Aghanim's Shard allows Ogre Magi to substantially restrict Sven's burst damage, since Sven prefers to construct weapons that focus on damage per hit rather than attack speed.
Counters

Chaos Knight
Ignite is dispelled by Phantasm, making it considerably more difficult to find the genuine Chaos Knight.

Doom
Ogre Magi are less disruptive thanks to Doom.

Ogre Magi's durability is effectively negated by Infernal Blade.

Aghanim can deactivate Multicast using his Scepter.

Lifestealer
Rage has no effect on Ogre Magi, and his large health pool increases Feast.

Meepo
Ogre Magi does single-targeted magical damage, disables Meepo's clones, and is less effective against them.

Phantom Lancer
Ogre Magi has no spells that deal undispellable AoE damage or disables, and it has no way of dealing with Phantom Lancer's illusions.

Ignite is disjointed and dispelled by Doppelganger.

Omniknight
Heavenly Grace decreases the duration of the Fireblast stun and dispels Ignite.

Purification can help heal heroes who have been injured.

Oracle
Fate's Edict provides complete protection from Ogre Magi's largely magical attacks.

When used on allies, Fortune's End can remove Ignite and Bloodlust (when used on enemies).

Ignite and Fireblast are also affected by False Promise.

Slark
Ignite's slow and Fireblast stun are both removed by Dark Pact.

Even when Ignite and Fireblast damage Slark, Shadow Dance lets him regain HP.

Viper
Multicast is broken by Nethertoxin.

Ignite and Fireblast damage are reduced by Corrosive Skin.
Items Counter

Black King Bar
Black King Bar and Pipe of Insight: Ogre Magi's damage output is reduced by magic resistance equipment like Black King Bar and Pipe of Insight.

Orchid Malevolence
Orchid Malevolence and Hurricane Pike: Ogre Magi are rendered entirely worthless by Orchid Malevolence and Hurricane Pike.

Silver Edge
Silver Edge: Multicast can be broken by Silver Edge.

Manta Style
Manta Style: Ignite is dispelled by Manta Style.

Lotus Orb
Lotus Orb: Fireblast and Ignite are reflected by Lotus Orb.
Favorable Matchups

Grimstroke
When Soulbind binds two targets, Ogre Magi's multicast rolls on each of the two targets separately. This substantially enhances your chances of getting a 4x multicast, from 15% to 27.75 percent of at least one 4x multicast each spell/item used.

Juggernaut
Bloodlust increases Juggernaut's attack and mobility speeds, helping him to do greater damage in team battles.

During the laning phase, Juggernaut's Blade Fury, when paired with Ignite and Fireblast, poses a danger of early kills.

Sniper
Sniper's attack speed and movement speed are both increased by Bloodlust, with the former allowing him to farm quicker and do more damage in teamfights, especially with Take Aim, and the latter allowing him to maneuver at the edge of teamfights and stay safe.

Sven
Bloodlust's attack speed enhancement boosts Sven's natural high damage output and rapid farming.

Sven's movement speed is virtually hastened when he uses Warcry and Bloodlust together.

Ignite and Fireblast work well with Storm Hammer, making it much more difficult for foes to kite Sven. They also provide solid lane pressure, allowing Sven to move safely into the jungle.

Wraith King
Sven's innate high damage output and speedy farming are boosted by Bloodlust's attack speed improvement.

When Sven uses Warcry and Bloodlust combined, his movement speed is almost doubled.

Ignite and Fireblast work nicely with Storm Hammer, making kiting Sven much more difficult. They also provide strong lane pressure, allowing Sven to enter the jungle safely.
Game plan
Early game
You can stick to the lane or go Roam depending on the ability of your teammates to pick what hero. With going Roam, you need to use Smoke of Deceit reasonably to be able to accurately time it to arrive and discharge skills in the enemy's face (remember to ping your teammates first).
Going Roam is quite risky in the game, because if there is no life for your team, you and that lane teammate will be extremely lost. As for the fact that you are determined to stick to the carry lane, it's not as hard work as Roam but only requires you to fully ward, pull creeps and support when needed. Remember to bring the Town Portal Scroll to support other lanes.
Mid game
Still don't forget the task of warding and going with your teammates, because Ogre Magi is a support that doesn't need to farm too much, it is essential that you are always present with your teammates to perform turret push, small combat, and odd catch. (If you have a farm, then Ogre magi will follow the support farm path.) Your job in teamfight is to keep losing the leopard to fly straight to your team and throw Fireblast (Q) with Ignite (W) (Ignite if multicast, it will automatically spread to other guys) to protect. teammates safely. Bloodlust (E) you prioritize buffs for champions that are prone to hand damage (especially Carry).
Late game
By now you have quite a lot of furniture already, and so does your team. This stage is the stage where both factions will easily forget about warding to control the map (because there is already quite a lot of occupied equipment). Don't forget that and spend 1-2 slots for wards and Town Portal Scrolls. In teamfight your task is the same as in the midgame that is standing and releasing skills, preventing the enemy from hitting your team.
With 2 Fireblast skills when you have Aghanim's Scepter you can lock 2 targets at once (not to mention the other equipment you build) or if your team has teammates with good self-defense ability, you spend Your ability to deal damage hits the muzzle of the weakest enemy, ending his life quickly to turn the combat into 4vs5 quickly, bringing the best benefits to your team.