Lore & Bio
"I am the intermediary between life and death."

Born in the Bleeding Hills, Rhasta was just a tiny creature that was starving to death as it was carried by a con man who happened to be passing by. With only two coins, the swindler will tell you your luck. Pay three dollars, he will castrate pigs for you, pay five dollars, he will circumcise your son. If it's a good meal, he will put on a shaman's outfit, chant spells from ancient books and curse enemies for you. The strange little creature with the shaman's name, carrying half of the mountain troll blood, the other half... is what breed, no one knows, acting as an assistant and contributing to the strange appearance of fake spells.
Always one step ahead of the customers who ate the donkey, before the guests aggressively pursued a village, the two teachers and students traveled together through the barren lands until one day, the con man recognized the child. farming can actually do what he pretends to show the world. It possesses a special ability – an ability that the con artist's clients appreciate very much. From there, Rhasta was brought out to perform in front of a crowd, and so the nickname Shadow Shaman was born. The two continued to travel from town to town, casting spells to earn money while Shadow Shaman's fame spread far and wide.
In the end, the old trick-or-treating guests found their whereabouts, and the two were ambushed by an aggressive mob who were scammed for money. The con man was murdered, and for the first time in his life, Rhasta's power was clouded by darkness as he used it to massacre his attackers. He buried his beloved teacher, and now, using his powers to destroy anyone who dared to pursue him.
Attribute & Stats
Level: 0 1 15 25 30
Health: 200 660 1300 2000 2260
Health regen: +1 +3.3 +6.52 +10.02 +11.37
Mana: 75 375 963 1527 1755
Mana regen: +0 +1.25 +3.7 +6.05 +7.03
Armor: 2 4.67 8.4 13.07 14.73
Damage Block: -
Magic Resistance: 25%
Status Resistance: 0%
Damage: 46‒53 71‒78 120‒127 167‒174 186‒193
Attack Rate: 0.53/s 0.62/s 0.76/s 0.92/s 0.98/s
Attack Range: 400 (800)
Attack Speed: 90 (1.7s BAT)
Attack Animation: 0.3+0.5
Projectile Speed: 900
Movement Speed: 285
Turn Rate: 0.6
Collision Size: 24
Vision Range: 1800 • 800
Legs: 2
Gib Type: Default
Ability Upgrades:
Upgradable by Aghanim's Scepter.

Upgradable by Aghanim's Shard.
Abilities & Talents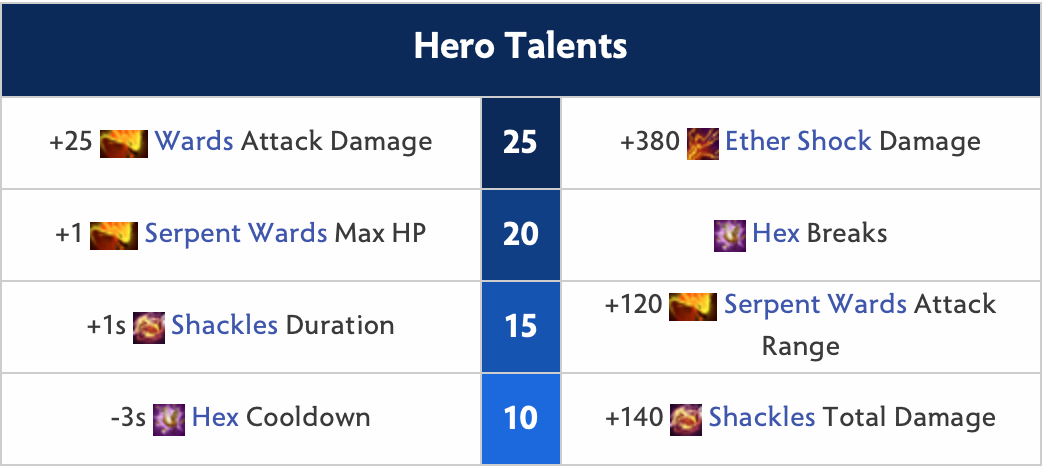 Skills building guide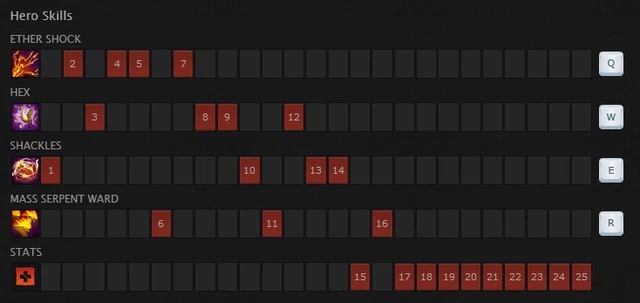 Get 1 point of Shackles (E) at the first level to have a hard control skill (up to 2.75 seconds, when your team hits the crate, it's hard for anyone to survive).
Maximize Ether shock (Q) first to get the source of damage (ks is also good), then maximize Hex (W), because this is a super control skill, lock the opponent's passive as well, then Shackles max lift (E). Ultimate get the correct level.
Abilities

Ether Shock
Cost: 95/105/135/160 mana.
Cooldown: 8 seconds.
Range of use: 600 distances.
Effect: Creates energy waves that deal 140/200/260/320 damage to main target and jump to nearby enemies if available.
Number of targets taking damage: 1/3/5/7

Hex
Cost: 110/140/170/200 mana.
Cooldown: 13 seconds.
Usage range: 500
Effect: Turns the enemy into a chipmunk, removing their ability to attack and cast skills (including passive skills).
Transformation Time: 1.25/2/2.75/3.5 seconds
Note: If SS casts this move on an enemy clone, that clone will be destroyed immediately.
Shackles
Cost: 110/130/155/185 mana.
Cooldown: 16 seconds.
Usage range: 400
Effect: Cast a spell on 1 target enemy, during which time SS will immobilize the target and deal damage over time until the duration of the effect or when SS cancels the spell (actively cancels or eats it). stun, silent will be canceled).
Bracing Duration: 2.75/3.5/4.25/5 seconds.
Damage per second: 44/52/56/60

Mass Serpent Ward
Cost: 200/350/600 mana.
Cooldown: 110 seconds.
Cast Range: 550 range.
Effect: Summons solid stakes at a selected location to attack enemies and structures within their attack range, dealing spreading damage. The Snake Pillar is a ward that can only be destroyed by basic attacks.
Number of piles: 10
Max splash radius: 50/75/80 around hit target.
Splash Damage Radius 40%: 75/100/110 around hit target.
Splash Damage Radius 20%: 150/200/220 around hit target.
Solid Pillar Duration: 45 seconds or until destroyed.
Damage per snake: 39-43/54-58/69-73
Upgraded by Aghanim's Scepter:
Piles Damage: 85-90/105-110/125-130
Effective items guides
Early game

Magic Stick
Magic Stick: Shadow Shaman's Magic Stick guarantees that he has burst regen when he needs it. If Hex is level 2 or lower, 150 mana is sufficient to cast it, as is Shackles.

Boots of Speed
Boots of Speed: Shadow Shaman's Boots of Speed are essential for closing the distance on a target and disabling them. Getting Boots ahead of your opponents might mean the difference between a kill and a loss.
Mid game

Magic Wand
Magic Wand: Magic Wand has all of the advantages of Magic Stick, plus more stats and more burst regen. It makes a difference if Shadow Shaman is used as a core or support character.

Arcane Boots
Arcane Boots: Shadow Shaman's mana pool is increased, and he gains some burst mana regen; Shadow Shaman frequently performs spells in a combo, thus he runs out of mana rapidly if he isn't equipped with a means of mana regen.
Late game

Blink Dagger
Blink Dagger: No matter what position Shadow Shaman is played in, Blink Dagger should be considered an essential item. Shadow Shaman may use Blink Dagger to swiftly climb on top of a gank target and use Hex to disable them, preventing them from reacting during ganks. As a core, it should be hurried as soon as possible, and obtaining it as a support should be prioritized.

Aghanim's Scepter
Aghanim's Scepter: Aghanim's Scepter is a must-have item for a farming Shadow Shaman, but a luxury item for a support Shadow Shaman. Mass Serpent Ward's upgrade dramatically increases the amount of damage they can do, allowing Shadow Shaman to annihilate heroes who have been boxed in or demolish towers at an alarming rate.

Refresher Orb
Refresher Orb: Mass Serpent Wards may be used twice using the Refresher Orb, which is extremely handy for siege damage and confrontations.
Situation items

Urn of Shadows
Urn of Shadows: Over a Bracer, Urn of Shadows might be effective on a ganking Shadow Shaman. It offers him the same level of strength while also making him less squishy, and the mana regen helps him keep his mana pool up to date. Shadow Shaman can roam and gather charges easily since he is a good ganker. He may use them for more Pure damage in subsequent ganks or to maintain himself and his teammates at full health for more pushing potential.

Tranquil Boots
Tranquil Boots: As a support Shadow Shaman, Tranquil Boots are a situational alternative to Arcane Boots. They are not only less expensive, but they also allow for faster positioning for casting disables on the adversary. Shadow Shaman's passive health regeneration also ensures that he is at full health at the start of battles.

Medallion of Courage
Medallion of Courage: Because Mass Serpent Wards give physical damage, the Medallion of Courage is a particularly helpful equipment. Using the armor debuff on an enemy after boxing them in with wards will kill practically any hero in a matter of seconds. The active may also be utilized on teammates to increase their armor or on Roshan to make the Aegis easier to get. It may also be upgraded to a Solar Crest to increase its benefits even more.

Ghost Scepter
Ghost Scepter: On squishy casters like Shadow Shaman, Ghost Scepter is a good pick. If an attacker tries to focus down Shadow Shaman with physical strikes, giving him invulnerability to physical damage might grant him time to react with disables and nukes.

Glimmer Cape
Glimmer Cape: The Glimmer Cape is a powerful utility item that helps Shadow Shaman in a variety of ways. It may be used to aid initiation by allowing Shadow Shaman to approach foes unseen, and it can also be utilized to shield allies caught off guard by casting invisibility on them. Shadow Shaman can also use invisibility to shield himself while channeling Shackles on an enemy, minimizing the risk of being disabled by unit-targeted spells.

Force Staff
Force Staff: Force Staff is a weaker but still effective replacement for Blink Dagger. Shadow Shaman gains more mana as a result of the increased intellect, and the active may be used on both foes and friends, not only Shadow Shaman. It may also be used to shatter Linken's Sphere on a particularly slippery opponent player, or on Roshan before casting other disables, if purchased as a complement to Blink Dagger.

Aether Lens
Aether Lens: In the hands of a Shadow Shaman, Aether Lens is highly strong, and it is readily obtained by deconstructing Arcane Boots. Aside from providing some mana regeneration, the increased cast range allows Shadow Shaman to disable foes from a greater distance, making him a far more dangerous menace in ganks and engagements.

Eul's Scepter of Divinity
Eul's Scepter of Divinity: Shadow Shaman's Eul's Scepter of Divinity is a strong item. The item itself offers Shadow Shaman better mobility, compensating for his slow base movement speed, as well as increased intellect and strong scaling mana regen to fuel his expensive and spammable spells. The active may also be utilized to quickly cripple an opponent from range and then install Mass Serpent Wards on top of them, effectively boxing them in.

Rod of Atos
Rod of Atos: The Rod of Atos is a useful thing to have. It increases Shadow Shaman's intellect, allowing him to cast spells more frequently, and it reduces his squishiness by increasing his HP. Shadow Shaman may also use the active's extended range to root foes from a considerable distance, giving him another disable.

Scythe of Vyse
Scythe of Vyse: Scythe of Vyse is an extremely potent late-game equipment. In addition to the increased stats, greater mana pool, and scaling mana regen, the instant Hex may be used in conjunction with the Shadow Shaman's inherent spell to hard-disable a single target for up to 12 seconds.
Enemies & Allies
Allies

Huskar
Huskar's inadequate armor allows Mass Serpent Ward to take him apart swiftly.
If Huskar does not have Black King Bar, he will be vulnerable to Shadow Shaman's disables as soon as he enters.

Nature's Prophet
If played defensively, Mass Serpent Ward can kill a lot of treants.

A Nature's Prophet attempting to utilize Teleportation will be caught and killed by Mass Serpent Ward, Hex, and Shackles.

Spirit Breaker
If Spirit Breaker is charged, hex may simply interrupt and disable it.

Templar Assassin
Refraction is instantaneously destroyed by Shackles and Mass Serpent Ward.

Terrorblade
Terrorblade is completely destroyed by Shadow Shaman's abilities: Ether Shock destroys his illusions, Hex prevents him from using Sunder or Manta Style in dangerous situations, Shackles not only prevent him from using Sunder but also prevent him from canceling it, and Mass Serpent Ward can help Shadow Shaman push faster than Terrorblade even in Metamorphosis.

Weaver
Weaver may be rendered immobile by Shadow Shaman's several disables. Weaver may not be able to escape even with Linken's Sphere if Shadow Shaman uses Shackles fast enough after Hex.

Once Weaver is pinned down, Mass Serpent Ward can make quick work of him.
Counters

Dragon Knight
All of Shadow Shaman's Serpent Wards may be tanked and destroyed by Dragon Knight.

Mirana
Mirana can disrupt your channeling even if you're invisibly shielded owing to Sacred Arrow.

Mirana wielding the Aghanim's Scepter has a reputation for swiftly bursting down heroes, particularly supporters. Bullying can last the entire match if Ethereal Blade is present.

Morphling
Morphling is able to evade Mass Serpent Ward thanks to Waveform.

Shadow Shaman's Adaptive Strike can be interrupted by Morphling while he is shackling an ally (Strength).

Ethereal Blade Morphling may instantly blast him down before he has time to respond.

Meepo
All of Shaman's wards will be dealt with fast now that all 5 Meepos are accessible.

All of Shaman's disables are predicated on single target control, and he can only disable two Meepos at a time, letting the others to simply lay waste to him, whether during the Shackles channel length or by utilizing Earthbind.

Riki
Riki is well-known for being a skilled support assassin, and it's not just for show. By repeatedly picking you off and/or pushing you to keep close to the rest of the squad, he can give you a hard time.

Shadow Shaman is extremely vulnerable to Smoke Screen. Shadow Shaman is typically dead if he doesn't have his multiple disables or a large health pool. If you find yourself in this situation, consider using a force staff (to push yourself out of the cloud before shackling Riki) and purchasing sentry wards if you have the funds.

Wraith King
Wraith King is able to withstand Shadow Shaman's initial chain of disables and Serpent Ward strikes because of reincarnation.

Wrathfire Blast's short cooldown is great for disrupting Shackles.

Visage
Summon Familiars will easily destroy Mass Serpent Ward because of their fast attack speed, providing Visage a large sum of cash.
Items Counter

Phase Boots
Phase Boots: If caught, an opponent using Phase Boots can escape a ring of Mass Serpent Wards.

Force Staff
Force Staff: Force Staff manages to get out of Mass Serpent Ward but not Shackles.

Lotus Orb
Lotus Orb: Hex and Shackles are reflected in the Lotus Orb.

Linken's Sphere
Linken's Sphere: Although Shadow Shaman may just pop it out with his toolkit, Linken's Sphere precludes Hex and Shackles.

Dragon Lance
Dragon Lance: Ranged heroes can use Dragon Lance to safely demolish Mass Serpent Wards from afar.

Abyssal Blade
Abyssal Blade: The basic approach to disrupt Shackles is using Abyssal Blade's stun.
Favorable Matchups

Juggernaut
In the early game, Shadow Shaman's long-lasting channeled stuns can work well with Blade Fury.

Ursa
Shadow Shaman, like Juggernaut, may hinder opponent heroes long enough for Ursa to feast on them.

Troll Warlord
Troll Warlord may utilize his Fervor ability to get the full amount of attack speed if a hero is Shackled.

Pugna
Most heroes can be taken down by Shackles and Life Drain at any time throughout the game.

Legion Commander
Shackles will keep an adversary immobilized long enough for Legion to Duel and get additional damage.

Monkey King
Shackles will keep an adversary in place long enough for Monkey King to obtain Jingu Mastery stacks and additional damage with ease.
Game plan
You can trap enemies in solid piles with the use of Hex, you do this better with Eul's Scepter of Divinity

Combo capture and finish a common target in SS that is Hex, plug snakes, shock and tie up the hit stake (if you are quick). Otherwise, just Hex, plug the snake, tie and finally electrocute to finish.

Phase boots' activation will help you, your ally or your opponent run through the snake poles.

When planting poles to push poles, you should put them on either side of the turrets or behind the poles, so your stakes can both clear the enemy team's creeps from the base quickly and still ensure push work, moreover plug like So enemy heroes will also be afraid to step up due to the presence of stakes in that position.

When pushing into the inner pole and the racks, you should put the stakes in the middle of the 2 racks, because that way, when you lower the poles, the stakes still have enough range to hit the racks and the outbuildings inside, note that it should not be plugged in. under the hill because the stake will have a chance to miss. The same applies to 2 Ancient turrets.
Early game
Smoke ganking, going around the jungle and then getting behind the enemy to gank are common for supports when roaming, but SS is quite thin, so you should avoid the lane creeps if you don't want to get caught council creeps (believe me, 4 creeps focusing on you alone will make your blood drop like pants). SS can also act as a support lane, your task is to pull (lure) and stack jungle monsters, from time to time run to the lane to tie up some idiot to help your teammates get kills or let it run away in some fields, a dangerous case.
If you have money, buy a Town portal scroll to switch lanes quickly. One more thing is that when ganking, you should pull the enemy's blood with an electric shock first and then tie it, but save the shock, you can always eat bricks.
Mid game
At this time, you should work with the gankers and tankers to put pressure on the opponent by pushing the tower, also to prolong the time for your carry team to farm important items. It is not necessary to use solid stakes to push, when the team fight breaks out, the fact that you stick the stakes in the correct positions so that the stakes can do the most damage, when the enemy is exhausted or retreats cleanly, they do not dare to come out lane, you and your teammates can push without stake. Don't forget the ward quest during this phase, and of course don't forget to follow the Town portal scroll.
Late game
This is when SS is quite weak, because with the enemy's equipment, SS will easily evaporate quickly, it's best to go with your teammates, try to put a lot of pressure on the turret, SS is born to roam, gank in the early game and push the turret towards the end of the game, that's his unique trait. Choosing the right stake placement in teamfights or turret push is the most important thing you have to know.