Lore & Bio
Beatrix Snapfire and her frog-dragon Mortimer are good news for the destitute people struggling to make a living between the desert roads to the scattered oases across Nanarak, the unvisited rainy threshold leading to the Outlands).
As famous for his reputation for making weapons as unmatched as for his gifts of education, fun, and even the world's most flaming cookies, Beadie lived to a ripe old age in a Keen trade. This youthfulness is due to quick wits, and even quicker hands when shooting.
And it was true, the Outlands were littered with the bones of bandits and unpaid workers, thinking they could abuse her small stature and kind heart.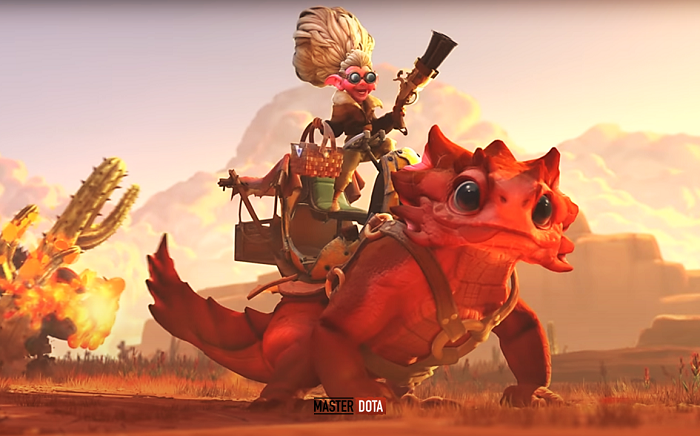 Attribute & Stats
Level: 0 1 15 25 30
Health: 200 600 1580 2520 2900
Health regen: +0.75 +2.75 +7.65 +12.35 +14.3
Mana: 75 327 687 1095 1251
Health regen: +0 +1.05 +2.59 +4.29 +4.94
Armor: 1 3.67 8.1 13.27 15.18
Damage Block: -
Magic Resistance: 25%
Status Resistance: 0%
Damage: 26‒32 46‒52 95‒101 142‒148 161‒167
Attack Rate: 0.63/s 0.73/s 0.89/s 1.09/s 1.16/s
Attack Range: 500 (800)
Attack Speed: 100 (1.6s BAT)
Attack Animation: 0.35+1.23
Projectile Speed: 1800
Movement Speed: 300
Turn Rate: 0.6
Collision Size: 24
Vision Range: 1800 • 800
Legs: 2
Gib Type: Default
Ability Upgrades:
Upgradable by Aghanim's Scepter.
Upgradable by Aghanim's Shard.
Abilities & Talents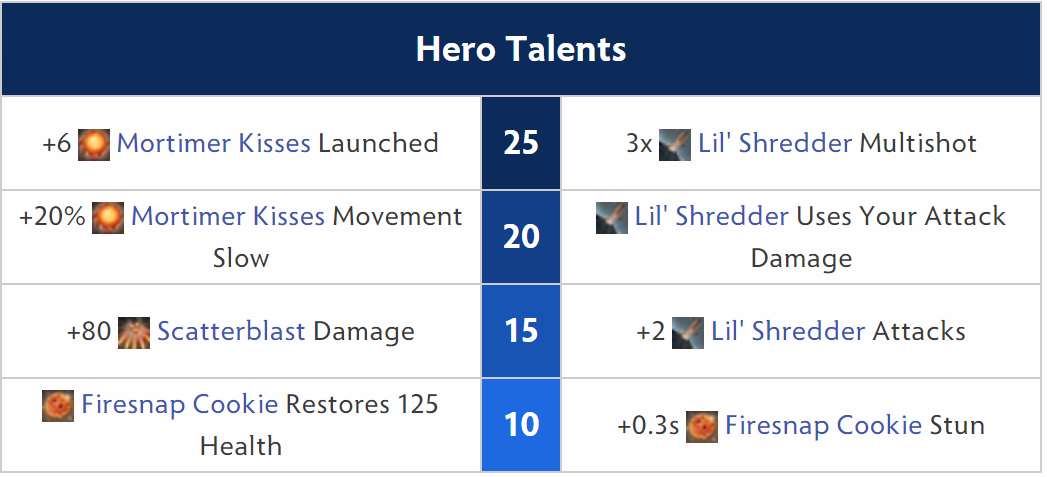 Skills building guide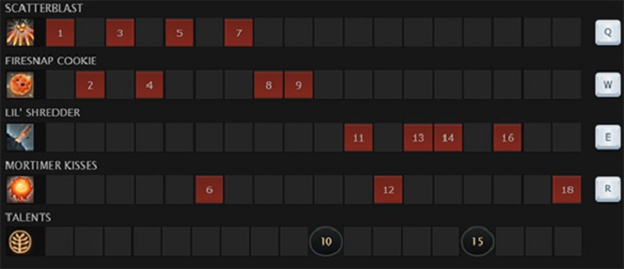 A good skill boost shows how to play SnapFire DOTA 2 correctly, unleashing the full power of this champion from the very beginning of the game. You should add one point to the Scatterblast skill to get the required amount of damage, especially when going mid or lane.
Then max out and Lil' Shredder skill to increase the damage done, but before that you should increase one point for Firesnap Cookie skill to be able to run away in case of need. And the Mortimer Kisses skill is maximized when it is allowed to increase the level to be able to gank more strongly in combat.
Abilities

Scatterblast
Damage dealt: 81/151/221/291.
Movement speed reduced: 90%.
Influence Range: 460.
Effect: This skill helps Snapfire shoot a barrage of bullets at low and near damage and significantly slow down the enemy hit. In particular, allied generals standing around will receive up to 50% more damage dealt to the enemy.

Firesnap Cookie
Space thrown out: 460.
Impact Range: 400.
Damage Range: 91/161/231/301.
Quick in time: 1.5/1.7/1.9/2.1.
Effect: With this skill, Snapfire himself and his allies can move to a certain location on the map. If there are enemies while moving there, they will immediately take a sufficient amount of damage, and will be significantly slowed. This is a unique skill, especially useful for those who already know how to play SnapFire DOTA 2.

Lil' Shredder
Damage per shot: 31/46/61/76.
Attack Range: 76/151/226/301.
Enemy's attack speed is reduced: 15/20/25/30.
Hold for: 3 seconds.
Effect: The Lil' Shredder skill allows Snapfire to deal physical damage to enemies. When it is first activated, Snapfire's range and rate of fire are significantly stacked, dealing physical damage and slowing the enemy's movement. This skill is especially useful in combat, it is really beneficial if you know how to play SnapFire DOTA 2.

Gobble Up
Mana Cost: 150
Cooldown Time: 40
Effect: Mortimer swallows a monster or allied champion, then spits at the enemy. Allies can stay in Mortimer's belly for up to 3.0 seconds.
Spit Out
Impact Radius: 400
Impact Damage: 160 / 240 / 320
Burn Dps: 100
Enemy Movement Slow: 25%
Firespit Pool Duration: 3.0
Stun Duration: 1.5
Cast Point 0.3
Mana Cost: 150
Effect: Mortimer spits out the unit in his mouth, producing a broad area of impact damage and stun. The glob creates a firespit pool that slows down and does damage over time.

Mortimer Kisses
Number of shots fired: 8.
Impact Range: 276.
Each shot deals damage: 176/251/326.
Ignition: 50/85/110.
Movement speed reduced: 16%.
Effect: This ability is activated causing the dragon toad to deal a lot of damage at a very long range. From there, it deals damage and slows down the enemies hit.
Effective items guides
Early game

Boots of Speed
Boots of Speed: Boots of Speed are used to increase movement speed.

Infused Raindrops
Infused Raindrops: Raindrops that have been infused with mana and are resistant to magical harm.

Headdress
Headdress: In dual lanes, a headdress is an excellent sustain item. It also contributes to Mekansm.
Mid game

Arcane Boots
Arcane Boots: Snapfire and her friends get mana from Arcane Boots.

Mekansm
Mekansm: In a teamfight, Mekansm keeps Snapfire and his comrades alive.
Late game

Guardian Greaves
Guardian Greaves: Guardian Greaves provides excellent team fighting and pushing sustain.

Glimmer Cape
Glimmer Cape: Snapfire may use Glimmer Cape to conceal herself while channeling her ultimate.

Force Staff
Force Staff: Snapfire and her comrades are positioned by Force Staff.

Aghanim's Shard
Aghanim's Shard: Snapfire gains additional AOE-stun at an extremely cheap cost when he uses Aghanim's Shard.
Situation items

Javelin
Javelin: At a minimal cost, Javelin allows each Lil' Shredder to deliver more damage. Stacking Javelins increases the likelihood of a proc during Lil' Shredder.

Scythe of Vyse
Scythe of Vyse: Scythe of Vyse is a powerful disable that comes at a high cost.

Vladmir's Offering
Vladmir's Offering: Vladmir's Offering bestows a potent lifesteal aura on your squad.
Enemies & Allies
Allies

Chen
Chen's creeps will be destroyed fast by Mortimer Kisses, and the Hand of God may be squandered.

Clockwerk
Firesnap Snapfire or an ally captured inside the Power Cogs can be fed Cookie.
Snapfire can aim more easily with a poorly positioned Power Cog. On Clockwerk, Mortimer Kisses

Phantom Lancer
In general, Snapfire's AoE skills are excellent at dispelling Phantom Lancer's illusions.

Phoenix
Supernova will be dispatched by Lil' Shredder in a flash.
Sun Ray can easily strike a Phoenix with Mortimer Kisses.

Omniknight
In teamfights, Mortimer Kisses can limit Omniknight's effect. Multiple stacks of Mortimer Kisses cannot be purged by Omniknight's Heavenly Grace. Because the damage is magical, Omniknight's ultimate, Guardian Angel, is rendered worthless.

Faceless Void
During Chronosphere, Mortimer Kisses can inflict a lot of damage to Void, either killing him or driving him out before he can kill any friends trapped in his ultimate.
Counters

Anti-Mage
Snapfire's already limited mana pool is reduced by Mana Break.
Anti-Mage can escape being attacked by Lil' Shredder and Mortimer Kisses by blinking.

Silencer
Snapfire's Mortimer Kisses are stopped by Global Silence.
Snapfire won't be able to perform any more spells if he uses Last Word.

Nyx Assassin
Snapfire's Mortimer Kisses are stopped by Spiked Carapace.
Vendetta will do a considerable amount of damage due to Snapfire's poor armor and agility increase.

Ancient Apparition
While channeling her Mortimer Kisses, Ice Blast, Cold Feet, and Ice Vortex are easier to land on Snapfire.

Juggernaut
Blade Fury renders Juggernaut immune to all of Snapfire's spells, allowing him to approach him.
Juggernaut is able to avoid Snapfire's spells thanks to a well-timed Omnislash, and she has no method of dealing with it.

Abaddon
Snapfire's Mortimer Kisses slow you down, but Aphotic Shield protects you.
During Snapfire's Mortimer Kisses, Abaddon gains HP thanks to Borrowed Time.

Pudge
Because Snapfire is required to stay in position, Meat Hook can be used just after Mortimer Kisses.
Items Counter

Blade Mail
Blade Mail: Due to their slow and steady damage output, Blade Mail is easier to time versus Lil' Shredder and Mortimer Kisses.

Black King Bar
Black King Bar: Snapfire's spells are all protected by Black King Bar.

Diffusal Blade
Diffusal Blade: Snapfire's already limited mana pool is reduced by Diffusal Blade, and the slow stops her from simply leaving.
Favorable Matchups

Clockwerk
Mortimer Kisses may be easily set up using Power Cogs.
Rocket Flare may detect opposing heroes inside Roshan's Pit, allowing Snapfire to cast Mortimer Kisses to scatter them.
Clockwerk may be pushed a great distance with Firesnap Cookie.
Scatterblast may send an enemy hero to the edges of Power Cogs (Aghanim's Shard is required).
Clockwerk may be thrown right on top of an opponent hero or saved from a poor fight with Gobble Up (needs Aghanim's Scepter).

Faceless Void
Chronosphere provides a fantastic opportunity to use Mortimer Kisses in a combination.
Snapfire can assault a target that has been locked down by Time Lock.
Faceless Void may be pushed a great distance with Time Walk and Firesnap Cookie.

Oracle
After she dives in with Firesnap Cookie, Snapfire can utilize Fortune's End to root foes.
Snapfire is protected from magic damage while channeling Mortimer Kisses by Fate's Edict and False Promise.

Warlock
Upheaval holds foes in place, allowing Snapfire to use Mortimer Kisses on them.

Mars
Many foes are kept in position in Arena Of Blood for easier Mortimer Kisses.
Game plan
Early game
In terms of laning, whether you're a pos 4 or a pos 5, harassing the opponent core/support with right clicks combined with Scatterblast may do a lot of damage and dissuade adversaries from trading with you. Combine Scatterblast with Firesnap Cookie on the opponent while they are down or out of position to secure a kill, either by cooking yourself or preferably your allied melee hero to ensure they stay on top of the enemy.
Having enough mana for your spells will give you lane presence and let you dominate your lane. Because you don't have the greatest right-click range (500), make sure you're not being harassed by other range supports like Lina (670). Using the woods as cover might help here.
With your low base damage of 49, you won't be able to trade very well with only right clicks; combine with your Scatterblast to maximize your harassing potential.
Identify in your game who you can kill with your strong burst skills from maxing Scatterblast and Firesnap Cookie, and give gank danger to the opposition. Most of the time, this will be a mid/offlane with high levels who can use your skill set to set up kills all across the map. Having a Teleport Scroll on ready to go to any and all team battles that occur throughout the map, as well as your Mortimer Kisses, to single-handedly turn team fights with the immense damage it gives, is essential.
Mid game
Roshan will be a natural target for your team or the opposing team to seize, but you may contest and secure Roshan for your team with your Mortimer Kisses. Because there are numerous "choke spots" where people congregate for a short area, your pp mortimer kisses will be more potent and effective, as each glob has a 275 radius AoE.
Due to the lifesteal for your carry, having Vladmir's Offering here from your core items also helps to secure Roshan easier so he doesn't suffer too much damage from striking Roshan, etc.
Teams tend to gather together more in the middle of the game and are less likely to be picked off, thus lanes will be unattended. This is a good moment for you to secure some farm, and with Scatterblast and Firesnap Cookie maxed out, you can clear creep waves swiftly and efficiently from range. Giving you some much-needed money and experience, but also putting pressure on the opponent team by forcing creep waves towards their side of the map, essentially giving you additional map vision and pressure on their outer towers.
Late game
Due to your utility and damage, opposing cores will seek you out in late game team battles to kill first, therefore playing even farther back to guarantee your safety while still being valuable in team fights with your ppmortimer kisses(artillery covering fire:D) is highly recommended. And that's where you may help out by cookieing allies to get into and out of team fights.
With towers and siege on your mind in the late game, making sure you utilize your Lil' Shredder on towers (along with Roshan) to limit their damage output while maintaining your creeps and friends in good health will aid in the demolition of their towers and, ideally, the game's victory!