Lore & Bio
"Knocked ya back to the stone age."
Starting with life from a small stone, Tiny's origin is a mystery he has always been searching for. Although he was now a giant stone man, the question of his former self was still lingering in his mind. Is a small stone detached from the Golem's heel? Or a crumb left after sculpting Gargoyle? Or just a fragment of Visage from Garthos' prophecy? That curiosity was ingrained in Tiny's mind, prompting him to travel around the world to learn about his own origins, learn about his family, learn about his tribe. In that endless journey, Tiny grew bigger and heavier, the small stones were absorbed and attached to his body became one, and so on and so on. Tiny grew bigger and never stopped.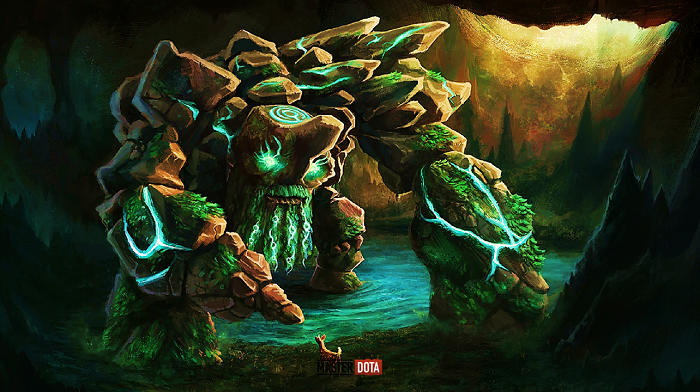 Attribute & Stats
Level: 0 1 15 25 30
Health: 200 800 1920 2960 3400
Health regen: +1.5 +4.5 +10.1 +15.3 +17.5
Mana: 75 279 639 1047 1203
Mana regen: +0 +0.85 +2.39 +4.09 +4.74
Armor: 0 0 0 2 2.33
Damage Block: 16 (50%)
Magic Resistance: 25%
Status Resistance: 0%
Damage: 31‒37 61‒67 117‒123 169‒175 191‒197
Attack Rate: 0.53/s 0.53/s 0.53/s 0.6/s 0.61/s
Attack Range: 150 (600)
Attack Speed: 90 (1.7s BAT)
Attack Animation: 0.4+0.7
Projectile Speed: Instant
Movement Speed: 295
Turn Rate: 0.6
Collision Size: 24
Vision Range: 1800 • 800
Legs: 2
Gib Type: Stone
Ability Upgrades:
Upgradable by Aghanim's Scepter;
Upgradable by Aghanim's Shard.
Abilities & Talents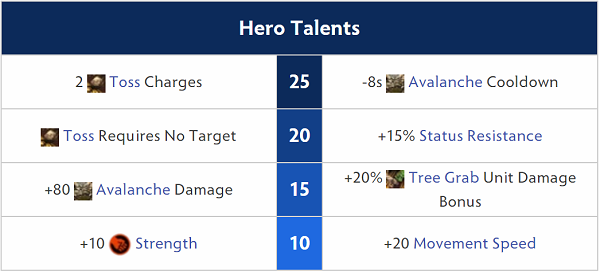 Skills building guide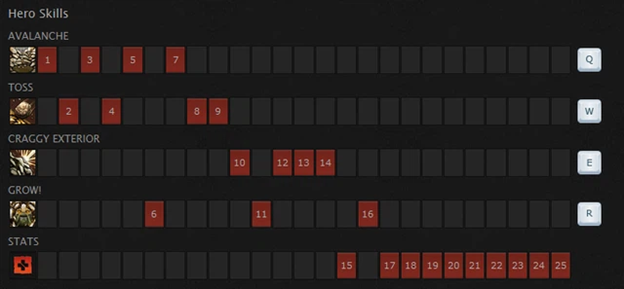 Firstly, get the maximum Toss (W) with Avalanche (Q) for damage, convenient for combos to defeat the opponent and then get the ultimate and passive skills, this build applies to most games. Tiny's role. Building skills for Tiny is very simple and doesn't have to be explained as much as other heroes. For ultimate, you can get the correct level or after you have maxed 2 damage skills.
Abilities
Avalanche
Cost: 120 mana.
Cooldown: 17 seconds
Usage range: 600
Effect: Creates an avalanche in the target area, dealing 100/180/260/300 damage and stunning enemy units in the area for 1 second.
Rockslide duration: 1.25 seconds
Effective radius: 275

Toss
Cost: 120 mana
Cooldown: 9 seconds
Usage range: 1200
Effect: throws any nearest unit around yourself (including allies) to 1 target unit (minions, heroes, runes, buildings,...) and deals 75/150/225/300 damage to nearby enemies when the thrown unit hits the ground (including damage if the thrown unit is an enemy). Thrown units take 20% more damage if they are enemies
Throw radius: 275
Damage radius: 275
Time in the air to impact: 1.3 seconds

Tree Grab
Attack Count: 5
Bonus Unit Damage: 20%
Bonus Building Damage: 70% / 100% / 130% / 160%
Attack Range: 350
Splash Damage: 40% / 60% / 80% / 100%
Throw Splash: 150%
Effect: At the penalty of mobility speed, grabs a tree to smack adversaries in the head. Increases the range of your attacks. Attacks deliver extra damage (up against structures) and splash on nearby troops. The tree may be tossed to do damage to a unit from afar.

Tree Volley
Target AOE: 400
Tree Grab Radius: 525
Throw Interval: 0.4
Max Channel Time: 2.4
Mana Cost: 200
Cooldown Time: 15
Effect: Tiny tosses trees in the direction of the targeted aoe. Each tree tossed deals Tiny's attack damage plus a bonus to opponents in that area.
Craggy Exterior
Effect: slightly increases Tiny's armor and enemies that attack Tiny within a 300 radius around him have a 10/15/20/25% chance to be stunned and take damage (including attacking by skill)
Stun Duration: 1/1.25/1.5/1.75 seconds
Damage: 25/35/45/55
Bonus Armor: 2/3/4/5

Grow
Effect: Absorbs rock from nature and becomes bigger. Increases speed, movement speed, damage, but in return he has a reduced attack speed.
Bonus Damage: 50/100/150
Bonus Movement Speed: 40/50/60
Loss speed: 20/35/50
Toss damage increased: 35%/50%/65%
Upgraded by Aghanim's Scepter: bonus tree as a weapon, increasing some stats
Bonus Attack Range: 107
Toss damage increased: 50%/65%/80%
Spread radius: 400
Splash Damage: 50% around main target
Damage dealt to buildings: increased by 75%

Tree Throw
Cast Range: 1200
Speed: 900
Bonus Damage: 20%
Splash Radius: 250
Splash Damage: 40% / 60% / 80% / 100%
Effect: The remaining Tree Grab charges are consumed, and the tree is thrown towards the target unit, priming your attack and spraying damage around it.
Effective items guides
Early game

Magic Stick
Magic Stick: Tiny's health and mana are restored by Magic Stick, allowing him to take more damage in lane or use his abilities in a hurry.

Boots of Speed
Boots of Speed: Tiny can get close to targets and utilize skills on them because of the movement speed increase provided by Boots of Speed.

Bottle
Bottle: Tiny may use the bottle to get regeneration and mana to power his abilities by storing runes, which can significantly increase his effectiveness when roaming or going mid.

Bracer
Bracer: Tiny's characteristics are padded by Bracer, which gives him a cheap boost to both his damage and his mana pool for fighting.
Mid game

Magic Wand
Magic Wand: Tiny's general qualities are boosted, and its charge storage capacity is increased, restoring health and mana.

Power Treads
Power Treads: Attack speed and suitable qualities are provided by Power Treads. Tiny's skills are sustained when he switches to intelligence, while going to agility gives him extra attack speed to go along with his high attack damage.

Echo Sabre
Echo Sabre: Tiny's poor attack speed is compensated by Echo Sabre's double attack, which works well with his high attack damage and adds even more burst damage to his arsenal. It also provides much-needed mana restoration and is a relatively inexpensive purchase.

Blink Dagger
Blink Dagger: The Avalanche and Toss combination is aided by Blink Dagger, which does enormous burst damage to one or more opponent heroes.

Hyperstone
Hyperstone: Hyperstone is a less expensive alternative to Echo Sabre, allowing you to go straight to Moon Shard or Cuirass. You can choose a steady attack frequency by postponing your initial ultimate.

Arcane Boots
Arcane Boots: Arcane Boots will offer enough mana for numerous casts of Toss and Avalanche without depleting your mana pool. An alternative to Power Treads that focuses on gank-caster gameplay.
Late game

Assault Cuirass
Assault Cuirass: Assault Cuirass increases Tiny's attack speed and provides protection to assist Tiny withstand physical strikes. The aura reduces the armor of structures and opponents, complimenting the additional attack damage of Tree Grab and Grow.

Daedalus
Daedalus: Due to his outrageous attack damage from Tree Grab and Grow, Daedalus assists Tiny in inflicting tremendous critical strike damage.

Black King Bar
Black King Bar: Tiny may move and strike foes freely for several seconds, delivering constant damage in team battles, thanks to Black King Bar's strength and damage, as well as spell immunity.

Moon Shard
Moon Shard: Tiny gains a large attack speed boost from Moon Shard, which complements his tremendous attack damage and Tree Grab's splash. Tiny can also ingest the shard to earn an attack speed boost while also freeing up an inventory space for a later game item.
Situation items

Soul Ring
Soul Ring: Tiny may use Soul Ring instead of Bottle as a mana source, making it easier for him to cast his pricey spells for a minimal health cost.

Phase Boots
Phase Boots: Phase Boots increase attack damage and movement speed, allowing Tiny to approach an opponent more quickly before using Blink Dagger, which is ideal for an aggressive playstyle.

Drum of Endurance
Drum of Endurance: At a cheap cost, Drum of Endurance provides attack speed, movement speed, and attributes.

Mask of Madness
Mask of Madness: Mask of Madness provides a significant attack speed boost as well as cheap lifesteal, allowing him to break teams apart with Tree Grab, while the armor loss is mitigated by Grow.

Sange and Yasha
Sange and Yasha: Tiny's attack speed is increased, allowing him to do more damage. Sange and Yasha give movement speed, strength, and much-needed agility.

Shadow Blade
Shadow Blade: Attack speed and attack damage enhancements are provided by Shadow Blade, which may be used instead of or in addition to Blink Dagger. When Tiny attacks while in Shadow Walk, he gains invisibility, speeds up his mobility to get in position faster, and does burst physical damage.

Heart of Tarrasque
Heart of Tarrasque: Tiny becomes a genuine tank after using Heart of Tarrasque, which grants him a lot of strength, health, and health regeneration.

Aghanim's Scepter
Aghanim's Scepter: Tiny gains considerably more area-of-effect damage from Aghanim's Scepter, allowing him to soften adversaries or kill them outright, especially if he already possesses his damaging items.
Enemies & Allies
Allies

Broodmother
Tiny's active powers and cleave allow him to easily eliminate Spiderlings.

Meepo
Meepo's Poof can't escape or use the town portal scroll because of Avalanche and Toss.
While grasping the tree, he doesn't need to target the weakest clone.

Naga Siren
Naga Siren's illusions are quickly dispelled using the Avalanche, Toss, and Grab Tree combination.
Counters

Bristleback
Tiny's strong burst damage versus Bristleback is reduced by Bristleback.
Tiny's high damage causes Bristleback to proc numerous times.
Grow's additional armor can be countered by using Viscous Nasal Goo.

Juggernaut
Blade Fury shields Juggernaut from all of Tiny's magic burst damage and does magic damage that bypasses Grow's armor.

Lifestealer
Tiny's enormous health pool will take a lot of damage from Feast.
Lifestealer is protected against Tiny's magical burst damage by Rage.

Lion
Lion will Mana Drain Tiny on a regular basis, draining his meager mana pool.
Tiny won't be able to use his high-damage spells or attack damage because of Hex.

Necrophos
Tiny's high health will be used against him by Reaper's Scythe.
Tiny takes a lot of damage from Heartstopper Aura because of his high maximum health.

Slardar
Corrosive Haze helps Tiny combat Grow's extra armor while also providing real vision, which counters Shadow Blade as a frequent item on Tiny.

Viper
Tiny's mobility and attack speeds are also sluggish, leaving him vulnerable to Viper's delays.
Tiny's magic burst damage is reduced by Corrosive Skin's magic resistance.
Items Counter

Black King Bar
Black King Bar: If the adversary is quick enough to activate Tiny's burst potential, Black King Bar fully negates it.

Desolator
Desolator and Assault Cuirass: Tiny's already poor armor is reduced by Desolator and Assault Cuirass, leaving him vulnerable to physical damage.

Shiva's Guard
Shiva's Guard: Tiny's already poor attack Speed is reduced by Shiva's Guard, and its active aids in killing him in a battle.
Favorable Matchups

Pudge
Tiny can use Toss to engage by flinging Pudge onto an adversary or tossing an enemy onto Pudge so Pudge can get a Dismember off.
Another excellent reason is that Tiny can Toss Pudge into a position where he can get a nice hook and kill an enemy or save an ally (if you really want to be tactical with Toss and Meat Hook).

Tidehunter
Tidehunter is an excellent hero to toss into confrontations since he can immediately unleash Ravage.

Enigma
Tiny can burst foes with his AOE nukes thanks to Black Hole, notably Tree Volley (after constructing Aghanim's Scepter).

Slardar
Slardar is a fantastic hero to toss into battles since he has the ability to shock the adversary he falls close to.
Tiny will also be able to eliminate adversaries quickly thanks to Corrosive Haze.

Earthshaker
Earthshaker is an excellent hero to toss into combat since he can immediately utilize Echo Slam.
Earthshaker's various stuns also assist Tiny knock down adversaries by keeping them in place.

Io
Tiny works well with Io because of Io's ultimate Relocate and Overcharge's attack speed increase, both of which are excellent for ganking.
Game plan
Early game
You have to wait until level 3 to have enough energy to use it, so don't be aggressive or waste mana in the first levels (unless you are sure the enemy will die when you Toss them into your team's turret). Toss (W) is a rather difficult skill to use if you want to hit the person you want to throw, it is best to lure the enemy to a place where there are no creeps and then use it if you want to deal more damage. Tiny's usual combo is Avalanche (Q), timing and surrounding units to use Toss (W) to throw the enemy to the desired location.
Mid game
At this stage, you need to manage your mana appropriately to balance farming, pushing, and ganking. Once you have equipped yourself with Shadow blade or Blink dagger, you should gank and push often, not farm in one place, it will be a waste of your skill set. Tiny has the ability to farm very quickly after getting on Aghanim's Scepter, so don't worry too much, but when you go ganking you should pay attention to use Toss (W) so that it's reasonable, lest there will be teammates. Unfortunately, it happened. Town portal scroll is an item you must always carry during this phase.
Late game
The goal to achieve at this stage is to end the game with the opponent's Ancient collapsing, and Tiny with Aghanim's Scepter is a true pusher. You can split push 1 lane or participate in a full push with teammates and you push very fast. Try not to get caught alone or unnecessarily aggressive. If you have good support from your teammates, you can fly into the middle of the enemy's formation, use skills and equipment to deal damage then stand to fight, making sure no enemy can stand it. your awesome hand damage.