Lore & Bio
" Friend or foe, in the wake of the confluence, you will follow where I lead."
Even the other spirits deny having a grasp on Inai the Void Spirit, the oldest among them, and his thoughts and schemes. The Void Spirit, who is in possession of knowledge that would astound a mortal, observes the workings of the universe from a position of unknowability and chooses to delegate his will to well-trained servants. He only leaves his Hidden Temple and enters the physical plane when he believes that he alone is capable of directing reality in the right direction. With a broad view of reality, Inai is intensively focused on a moment in time that he cannot see beyond, at which the threads of several realities are destined to converge. He now emerges from the aether to personally put an end to the fight amongst the Ancients and get his friends ready for what he believes will be a bigger conflict.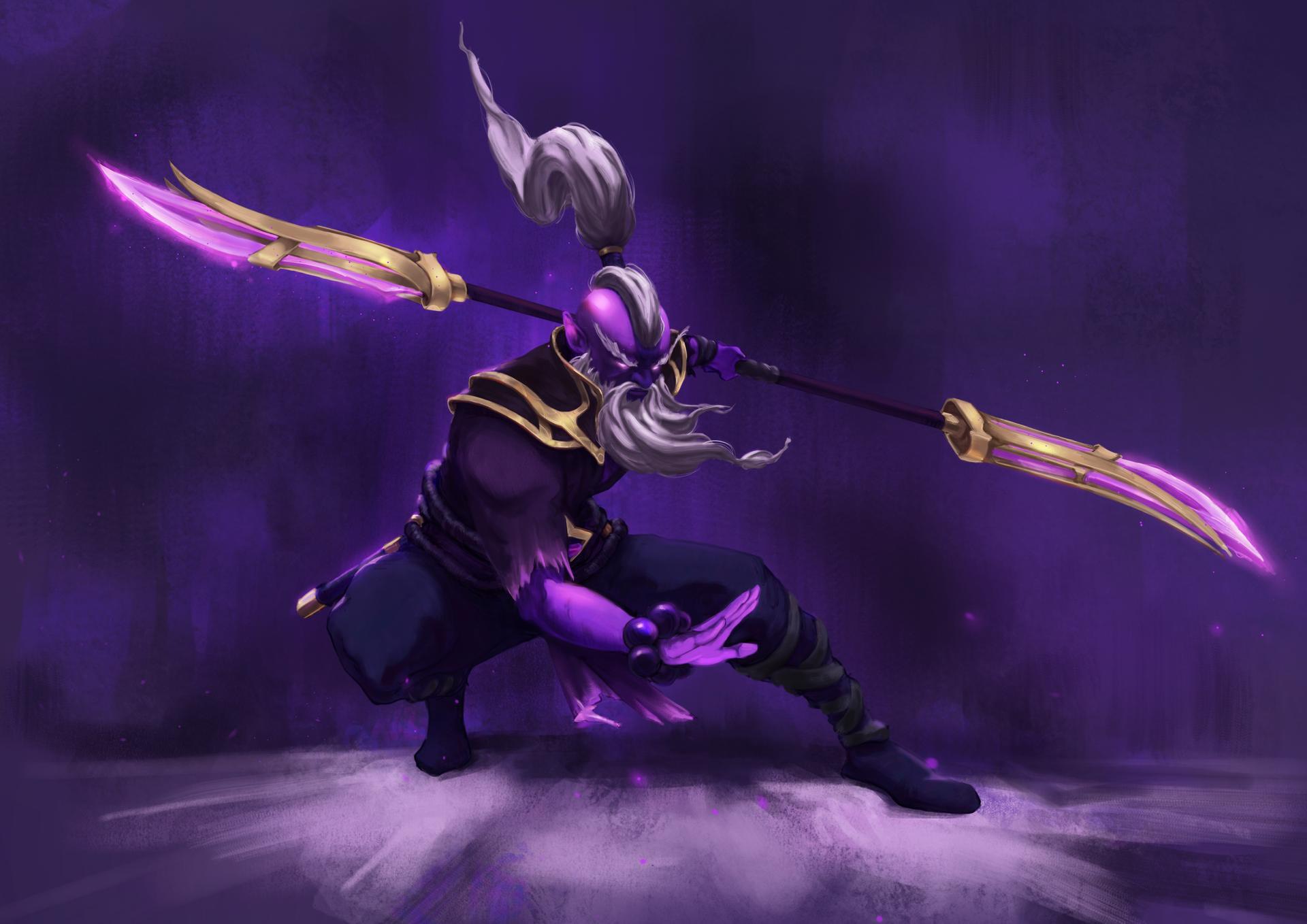 Attribute & Stats
Level: 0 1 15 25 30
Health: 200 640 1360 2120 2420
Health regen: +0.25 +2.45 +6.09 +9.89 +11.39
Mana: 75 363 879 1395 1599
Mana regen: +0.6 +1.8 +3.97 +6.12 +7
Armor: -1 2.17 7.3 12.97 15.13
Damage Block: 16 (50%)
Magic Resistance: 25%
Status Resistance: 0%
Damage: 30‒34 54‒58 97‒101 140‒144 157‒161
Attack Rate: 0.59/s 0.7/s 0.88/s 1.08/s 1.16/s
Attack Range: 200 (600)
Attack Speed: 100 (1.7s BAT)
Attack Animation: 0.35+0.78
Projectile Speed: Instant.
Movement Speed: 295
Turn Rate: 0.7
Collision Size: 24
Vision Range: (G) 1800 • 800
Legs: 2
Gib Type: Ethereal.
Ability Upgrades:
Upgradable by Aghanim's Scepter - Resonant Pulse.
Upgradable by Aghanim's Shard - Dissimilate.
Abilities & Talents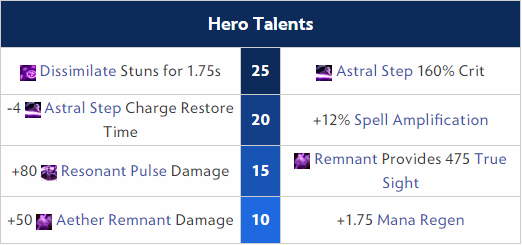 Skills building guide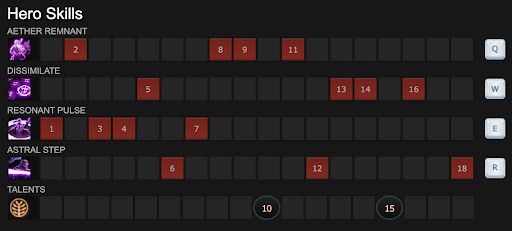 In general, your leveling priority of R>E>Q>W remains the same regardless of the position you are playing. When you level what ability in what order in the first 1-6 levels determines the biggest difference between leveling courses. What level you take your [W] and the first two skills you level are the key points of dispute. You will be taking creeps in the wave as a Pos 1/2/3. As a result, increasing your [E] level one is essential because, if you are facing a ranged champion, you will need it to secure the ranged creep, and, if you are facing a melee champion, you will need it to secure creep and give you an advantage in the early #v# clashes.You have an edge while battling in creep waves or against physical heroes because your [E] grants you absorption.
Abilities
Aether Remnant
Cast Animation: 0+0.53
Cast Range: 850
Damage: 80/130/180/230
Distance Moved: 44%/50%/56%/62%
Pull Duration: 1.4/1.6/1.8/2
Remnant Duration: 20
Talent True Sight Radius: 475
Cooldown: 17/15/13/11
Mana: 75/80/85/90
Effect: Targeted by vector. A remnant is sent by the Void Spirit to the destination. With his back to his vector, the remnant keeps watch over the area. A unit that crosses in front of the remnant is drawn in and hurt.

Dissimilate
Cast Animation: 0.3+0
Portals Radius: 275
First Ring Radius: 520
Number of First Ring Portals: 6
Damage: 100/180/260/340
Phase Duration: 1.3
Talent Stun Duration: 1.75
Cooldown: 20/17/14/11
Mana cost: 100/110/120/130
Effect: In order to rebuild himself, Void Spirit creates a multitude of portals while he momentarily fades into the aether. He deals damage to all around adversaries after emerging from a portal.

Resonant Pulse
Cast Animation: 0+0
Radius: 500
Damage: 70/120/170/220
Base Physical Attack Damage Blocked: 40/80/120/160
Bonus Block per Hit Hero: 30/45/60/70
Shield Duration: 10
Cooldown: 18 seconds.
Mana cost: 115/120/125/130
Effect: Void Spirit envelops himself in a defense that deflects physical harm and sends out a single devastating pulse. For each enemy hero the pulse strikes, the shield's ability to absorb damage increases.

Astral Step
Cast Animation: 0.2+0
Cast Range: Global
Path Width: 170
Move Speed Slow: 40%/60%/80%
Debuff Damage: 150/250/350
Talent Critical Damage: 160%
Cooldown: 0
Mana: 100
Effect: In order to reach the desired place, Void Spirit creates a rift in the astral plane and attacks every foe in its route. A void mark is inflicted by this strike, which slows for two seconds before detonating.
Effective items guides
Early game

Phase Boots
Phase Boots: Make Void Spirit even more capable of fending off blows while aiding in the pursuit of his adversaries.

Bottle
Bottle: Is practical for maintaining Void Spirit in the middle lane and for holding runes.

Null Talisman
Null Talisman: Increases Void Spirit's damage potential and lowers the mana requirements for all of his abilities. It also gives him some extra qualities.
Mid game

Kaya
Kaya: Provides Void Spirit with greater attack and spell damage, as well as lower mana requirements to maintain his spellcasting. This can be be upgraded to Kaya and Sange, which add further status resistance to disables and improve the sustainability of his performance.

Eul's Scepter of Divinity
Eul's Scepter of Divinity: Is a wise choice for fighting heroes with silences that can stop you in your tracks or mobile targets. It not only offers a way to get away from these heroes, but it can also be a prelude to Aether Remnant.
Late game

Black King Bar
Black King Bar: Is a good defensive item for him because silences and magical blasts can silence him.

Aghanim's Scepter
Aghanim's Scepter: Creates an area of quiet from Resonant Pulse, providing Void Spirit a potent initiation tool.

Shiva's Guard
Shiva's Guard: Is a useful tool for you and your group. The armor and Resonant Pulse work in concert (armor is calculated before the shield HP). Additionally, it provides excellent stats, and your strong mobility allows you to distribute the slow to every member of the opposing squad.
Situation items

Boots of Travel
Boots of Travel: Gives the Void Spirit a wide-ranging presence across the map and rather fast movement.

Aghanim's Shard
Aghanim's Shard: Delivers more mobility and more damage because to its Dissimilate enhancements.

Orchid Malevolence
Orchid Malevolence: Gives you a lot of mana regeneration so you may use it to repeatedly utilize your skills on a single target while also giving you a silence and damage amplification. If you have the gold, you can simply upgrade this later to become a Bloodthorn.

Veil of Discord
Veil of Discord: Increases the area of effect spell damage dealt by Void Spirit, enabling him to take out enemy teams more quickly.

Desolator
Desolator: Increases Astral Step's damage, which might distribute the armor debuff to numerous foes.

Octarine Core
Octarine Core: Improves mana and health for sustainability. In order to maintain his health, Void Spirit might use the Cooldown Reduction.

Scythe of Vyse
Scythe of Vyse: Allows the usage of more abilities by the Void Spirit by granting characteristics, intellect, and mana regeneration. The active hex neutralizes a potentially harmful target and activates Dissimilate.

Bloodstone
Bloodstone: A fantastic choice for upgrading your Kaya icon.png Kaya. It is not only efficient in terms of item slots, but it also increases spell damage and lets you spam spells more frequently.

Linken's Sphere
Linken's Sphere: Prevents Void Spirit from dying before activating Black King Bar by protecting him from immediate, single-target disables (like Scythe of Vyse).

Abyssal Blade
Abyssal Blade: Is a good item because it gives you both a guaranteed stun and a damage block, both of which can be followed by a dissimilation for escape or damage. By perhaps provoking the passive bash, your Astral Step complements this item's functionality.

Maelstrom
Maelstrom: Is a good item for pushing and farming, and it also raises your damage output when using Astral Step.

Radiance
Radiance: As long as Void Spirit is utilizing Dissimilate, damage is still being dealt. Before employing Dissimilate, Void Spirit was in the location where the damage came from.

Refresher Orb
Refresher Orb: Increases Void Spirit's mobility while doubling his damage output. Most beneficial late in the game.
Enemies & Allies
Allies

Keeper of the Light
Void Spirit will be able to deal damage quickly and effectively thanks to Keeper of the Light's Chakra Magic's reduction of mana and cooldown.

Pudge
Despite the difficulty of landing his talents, Void Spirit deals a ton of damage. Through its lockdown, Dismember can resolve those problems.

Pudge's Rot and Dismember will produce extra damage because an Ethereal Blade is one of the primary equipment for Void Spirit.

An adversary can be dragged through a Dissimilate portal or an Aether Remnant using a strong meat hook.

Pugna
Pugna's Decrepify gives an adversary a slow and lowers their magic resistance, increasing the potency of Void Spirit's spells.

Bane
Locking down adversaries is made possible by Bane's Fiend's Grip, which also works well with Veil of Discord.

The Void Spirit's Aether Remnant and Dissimilate may be landed with ease using Nightmare.

Enfeeble increases the magical damage dealt by Void.

Bloodseeker
Enemies will be compelled to remain where they are, which will make it incredibly simple for Void Spirit to damage them.

Void Spirit is the ideal type of hero for Bloodseeker to rely on as he eliminates heroes because he enjoys upsetting confrontations.
Counters

Bane
Void Spirit may be restrained effectively with the help of Fiend's Grip and Nightmare.

In the laning stage, Brain Sap can be challenging for Void Spirit to defeat.

Bloodseeker
Rupture will completely damage Void Spirit during his ultimate, taking away both his primary method of escaping from battles and his ability to severely disrupt them.

Void Spirit will be forced to utilize Dissimilate or Astral Step or be silenced by Blood Rite. It can be risky when paired with Rupture in the latter situation.

Death Prophet
His Resonant Pulse shields are vulnerable to damage from Spirit Siphon and Exorcism.

Void Spirits cannot escape or participate fully in battles if there is silence.

Bounty Hunter
Most of the time, one strike from Jinada should be enough to break the shield of the Void Spirit.

By revealing his location and preventing him from rotating effectively, Track undermines several of Void Spirit's escape strategies.

Doom
Every hero is vulnerable to Doom, and Void Spirit is no exception. His effect is completely negated by the 16 second spell or item casting ban during battle.

Doom has a very adaptable build and has the ability to consume creeps, which have stun or additional magic resistance-granting skills.

The strong strength growth and item flexibility of Doom can be useful against the magical damage of Void Spirit.

Ember Spirit
In Fire Remnant, Ember Spirit is far more mobile than Void Spirit.

The majority of the spells cast by the Void Spirit cause magical damage, making Ember's Flame Guard effective against them.

Dissimilate and Astral Step are not usable by Void Spirit thanks to the root from Searing Chains.

Meepo
Void Spirit can be readily restrained by Meepo's Earthbind.

The Resonant Pulse of the Void Spirit can be readily burst by Meepo and his clones.

Puck
Dream Coil stops Void Spirit from using his escape skills and substantially reduces his damage output during combat.

When they acquire a Phase Shift, a Blink Dagger, and an Eul's Scepter of Divinity, killing Puck in the late game becomes challenging.

Queen of Pain
Queen of Pain has the ability to begin onto Void Spirit and blink away.

She also frequently carries Orchid Malevolence, which can hinder the fight-winning abilities of Void Spirit.

Slardar
Void Spirit's shield can be swiftly destroyed by Slithereen Crush and Bash of the Deep's devastating physical damage, leaving him temporarily stunned.

While rushing away, Void Spirit can be seen by Corrosive Haze, and Guardian Sprint enables Slardar to close the distance fast.

Templar Assassin
All of Void Spirit's burst damage is canceled out by Refraction.

Resonant Pulse swiftly burns through Meld.

Viper
Void Spirit finds it challenging to lane against him because of Poison Attack.

Corrosive Skin lessens the magical harm caused by the spells of the Void Spirit.
Items Counter

Orchid Malevolence
Orchid Malevolence: With the silence, entirely turn off Void Spirit.

Hood of Defiance
Hood of Defiance: Will aid in lowering the burst damage of Void Spirit.

Black King Bar
Black King Bar: With the exception of his ultimate spell, none of his spells pierce spell immunity, hence Black King Bar is a useful weapon against him.
Favorable Matchups

Broodmother
The AoE damage from Void Spirit quickly decimates the spiderlings of Broodmother.

Even in her webs, the Broodmother cannot escape the movement of the Void Spirit.

Terrorblade
Terrorblade finds the incredible mobility of Void Spirit annoying.

The magic attack arsenal of Void Spirit is excellent against Terrorblade's weak physical defense.

There are no disables on Terrorblade to stop Void Spirit from escaping.

Gyrocopter
Dissimilate helps Void Spirit easily avoid Gyrocopter's Homing Missile.

Dissimilate allows Void Spirit to partially avoid Call Down, and Astral Step allows it to leave its area of effect.

Gyrocopter can't flee, which is advanMOtageous given Void Spirit's great mobility.

Morphling
For a hero who requires a lot of space, Void Spirit can put a lot of pressure on Morphling's farm.

Waveform's mobility is not any more superior than Astral Step's.

Morphling could be crushed by Void Spirit before he can react if he focused all of his strength on agility.

It is extremely challenging to use an Ethereal Blade combination on Void Spirit because he has the ability to dissipate or evade the projectile using Astral Step and Dissimilate.

Monkey King
It can be quite difficult to keep Void Spirit inside Wukong's Command, especially in the early and midgame. Aether Remnants can also quickly remove Monkey King from the ring if he is in a precarious position.

When fighting Void Spirit, it can be challenging to obtain stacks of Jingu Mastery.

Windranger
In the early stages of the game, Void Spirit completely ignores Windrun's evasion while doing magical damage.

A Void Spirit with quick reflexes can avoid Powershot by using Dissimilate or Astral Step.
Game plan
Early game ( 0:00 - 12:00)
You shouldn't worry about trading in the early game; instead, concentrate on leveling up to 6, as there is a large power surge and there aren't many heroes that can compete with you in a fight between levels 5 and 6 or even 6 and 6. Please be aware that this will differ depending on whether you are playing solo or in a duo lane, and that when fighting you must take into account the abilities of your teammates as well as the enemies. To the best of your ability, concentrate on using [E] and [Q] to farm + poak and trade damage with the enemy. Even in a melee combat, you don't have the best fighting potential, but with enough skill and gut instinct, you can fight before 6 [in a solo, it depends on your pair's power spikes and the enemy's blunders in a duo situation]. The best course of action in a conflict is to simply flee to a high point, or if you're set on trading.
Mid game (12:00 - 25:00)
When you reach level 6, you have a lot more room for both creating potential and killing potential. To enable your Pos 1/2/3 to farm and gather items so they can carry you late, you should be able to kill your lane opponents and then roam to stack camps, clear camps, clear unpushed lanes, kill unsuspecting enemy side laners, and generally just create the space needed. In the infrequent team fights that occur at this time in the game, the backline supports to the fact that you divide up the team as I mentioned before. As your post six, you have that nice mobility, and you can dive in and out [CC allowed, use your mind, not your tilt] taking kills on enemy side laners. Your combination will continue to be a version of [R] engage using [Q] or [E], depending on whether you believe you need the [Q] for the pursuit. However, keep in mind that using the [Q] after [R] allows almost 100% hit probability if you can aim, as they are slowed off of [R] after which you can attack them with AAs and use items' CD abilities.
Late game (25:00-75:00)
As you get into the late game, your role changes from an early game carry who clears the lane and pushes the opposition back so you can farm with Pos 1/2/3 to a diving space carry who creates space in team fights. Then, after letting the initiators take the initiative, you would move into the backline, use your orchid to quiet the most crucial backliner, then use orchid damage to finish them off. Afterward, depending on the fight, you might [R] out or switch targets on a different backliner. If you do have euls or bkb and used them properly, you would continue to split the other team or reassemble with your team to eliminate anyone in the 4v3 or 4v4 situation, enabling you to win the battle. When you eliminate the CC/backline in a combat, your influence can be enormous. Remember that you can Eul's or orchid a powerful carry, like Orchiding a Storm Spirit or Eul'sing a blademail pos 3. As your base damage sans actives can typically burst through soft supports, you must be aware of who requires certain equipment and who you should concentrate on.