Lore & Bio
"Measurements made." "Bombs built." "Powder's dry." "Okay, let's blow something up!"
In the anecdotes of Dredger's Bight, Techies' vandalism tops the list of the worst insults. However, Dredger's Blight is now defunct. Both Toterin and the town of Trapper suffered the same fate. In fact, if one were to turn the pages of Techies vandalism, it wouldn't be hard to see that after the arrival of Techies, towns and cities tended to be wiped out.
Like the inevitable catastrophes caused by Techies, the End of Dredger's Bight begins with an invention. Tasked with figuring out how to safely detonate the mines in the mines beneath the city, three bomb-making geniuses Squee, Spleen, and Spoon create the weirdest device ever: a push button. , when used, activates a remote device to ignite the fuse.
Eager to test their new invention, the trio stacked containers filled with explosives, filling every nook and cranny of the tiny workshop with a pile of remote-controlled bombs. From this stockpile, they took out a bomb and buried it in a distant field. After lying under the protective moat, Spleen pressed the detonation button. A moment passed, and everything was still completely silent. Confused, he stood up, pressing the button again and again until an explosion occurred, tearing a hole in the ground. Elated, Squee and Spleen were just about to return home when a shock wave and impulse knocked them over.
The trio was bewildered, their ears still ringing from the sudden explosion, through the black dust, they saw smoke rising from the ruins of what was once a small workshop. Wood and stone fell into the huge crater that was widening. The whole Dredger's Bight shook and began to slide down the mine shaft below while the townspeople fled in panic.
Sitting on the edge of the hole where their home was once, the trio giggled, unconcerned with their neighbors' scorn, and exhilarated by their own potential. There was only one question in their heads now: How to make an explosion bigger than this?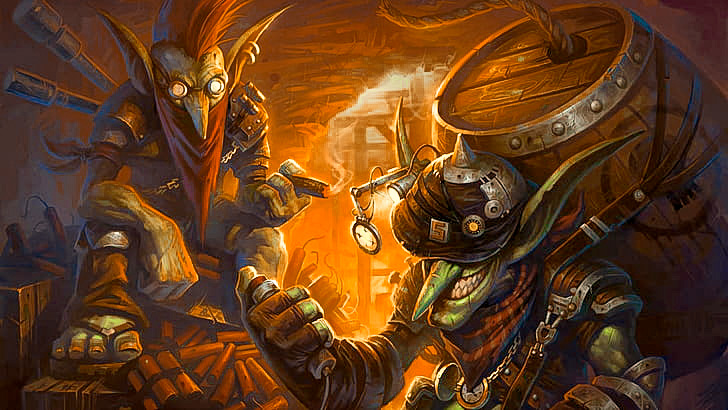 Attribute & Stats
Level: 0 1 15 25 30
Health: 200 580 1280 2020 2300
Health regen: +0.25 +2.15 +5.65 +9.35 +10.8
Mana: 75 375 927 1467 1683
Mana regen: +1 +2.25 +4.56 +6.81 +7.74
Armor: 5 7.33 10.37 14.53 15.95
Damage Block: -
Magic Resistance: 25%
Status Resistance: 0%
Damage: 9‒11 34‒36 80‒82 125‒127 143‒145
Attack Rate: 0.53/s 0.61/s 0.72/s 0.87/s 0.92/s
Attack Range: 700 (800)
Attack Speed: 90 (1.7s BAT)
Attack Animation: 0.5+0.5
Projectile Speed: 900
Movement Speed: 320
Turn Rate: 0.6
Collision Size: 24
Vision Range: 1800 • 800
Legs: 6
Gib Type: Default
Ability Upgrades:
Upgradable by Aghanim's Scepter - Proximity Mines/Stasis Trap/Minefield Sign/Remote Mines

Upgradable by Aghanim's Shard. - Blast Off
Abilities & Talents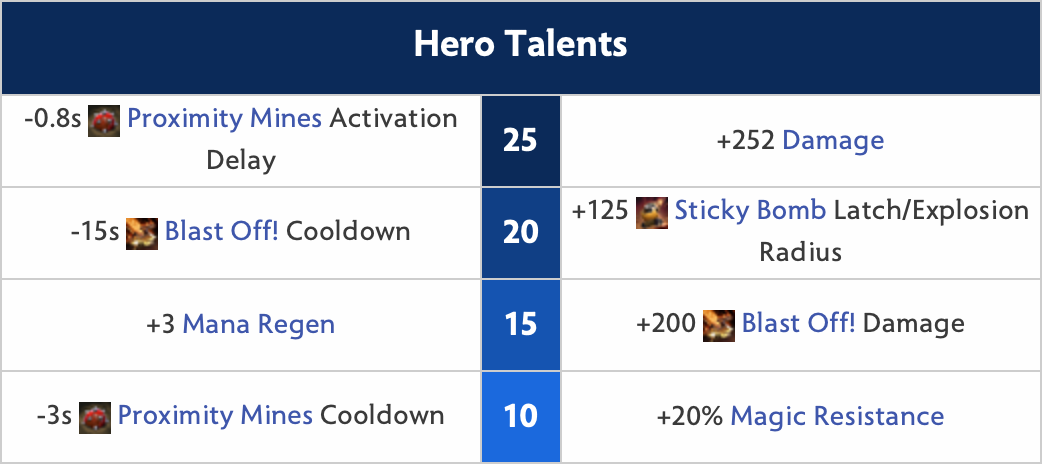 Skills building guide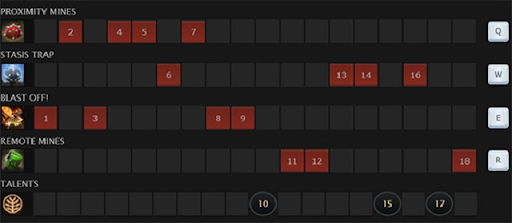 In the early game, the main weapon for Techies is Land Mines (Q) which needs to be maxed first. The large number of mines and the large source of damage instantly kill or cause the unlucky heroes to stomp on them. Next, you should go to Attack (E), Suicide Squad, one of the few skills with high damage. Can be used to get first blood.
In addition, in the mid game, you can go gank with your teammates, use it to deny yourself if caught by the enemy, block them to make money when killing you. Even drag someone to die together. Up behind Stasis Trap (W) does no damage. And Ultimate Remote Mines (R) only get the correct level.
Abilities

Proximity Mines
Cast Animation: 0+0.47
Cast Range: 100 (With Aghanim's Scepter 400)
Trigger Radius: 400
Damage Radius: 400
Activation Delay: 1.75
Detonation Delay: 1.6
Damage: 200/380/560/740
Building Damage Percentage: 30%
Number of Charges: 3
Charge Replenish Time: 23 (Talent 20)
Effect: Plant an invisible mine that is undetectable by True Sight but visible if an opponent within the mine's active 400 AoE. If an adversary stands inside the active AoE for 1.6 seconds, the mines will detonate. The blast does full damage in the blast radius and 30 percent damage to structures.

Stasis Trap
Cast Animation: 1+0
Cast Range: 150 (With Aghanim's Scepter 450)
Trigger Radius: 400
Root Radius: 600
Activation Delay: 2
Root Duration: 2/3/4/5
Effect: Plant an unseen trap that, when triggered, instantaneously roots adjacent enemy units.

Blast Off!
Cast Animation: 1+0.9
Cast Range: 1000 (With Aghanim's Shard 1300)
Damage/Silence Radius: 400
Max Health as Self Damage: 50%
Area Damage: 300/400/500/600 (Talent 600/700/800/900)
Leap Duration: 0.75
Silence Duration: 4/5/6/7
With Aghanim's Shard Stun Duration: 1.75
Effect: Techies slam into the adversary, detonating charges that cause huge area of effect damage and silence adversaries as they do so. The attack deals Techies damage equivalent to 50% of their maximum health when it lands.

Focused Detonate
Cast Animation: 0+0.53
Cast Range: Global
Search Radius: 700
Effect: All remote mines in the target region must be detonated.

Minefield Sign
Cast Animation: 0+0.53
Cast Range: 10
Max Signs: 1
Duration: 180
Effect: Plant a warning sign to advise your adversaries to tread carefully. At any one time, only one sign may exist. This video is 180 seconds long.

Remote Mines
Cast Animation: 0.75+0.46
Cast Range: 500 (With Aghanim's Scepter 800)
Damage Radius: 425
Activation Delay: 0
Detonation Delay: 0.25
Fade Time: 2
Damage: 300/450/600 (With Aghanim's Scepter 450/600/750)
Mine Duration: 600
Effect: When triggered, plant an invisible bomb that will only detonate after a brief interval. Buildings are not harmed.
Effective items guides
Early game

Null Talisman
Null Talisman: They get mana, damage, and health from the Null Talisman. To gain extra mana out of Soul Ring's active, place Null Talisman on the ground for a minute.

Soul Ring
Soul Ring: The Soul Ring transforms health into mana, allowing Techies to plant mines for longer periods of time.

Arcane Boots
Arcane Boots: Arcane Boots work nicely with a Soul Ring to compensate for the mana cost of Techies' mines, or to provide mana for them to utilize Blast Off! without risking dying/getting killed before they can deny themselves. It may be dropped before activating Soul Ring's active to earn additional mana, much like Null Talisman. Techies may also deconstruct it to obtain Energy Booster, which can be used to create Aether Lens or Bloodstone.

Town Portal Scroll
Town Portal Scroll: Techies may lay traps in unexpected places because of the Town Portal Scroll, which gives them worldwide mobility. Because of their high defensive potential, techies may build a tower's defenses, preventing the opponent from pushing.
Mid game

Aether Lens
Aether Lens: Aether Lens restores mana and extends Techies' cast range, allowing them to utilize items and abilities, particularly Proximity Mines, from a safe distance.

Force Staff
Force Staff: Force Staff provides Techies with additional mana and mobility, as well as the ability to force teammates to flee or foes, particularly Gem bearers, into mines and traps.

Eul's Scepter of Divinity
Eul's Scepter of Divinity: Techies gain a larger mana pool, increased mana regeneration, and increased basic movement speed with Eul's Scepter of Divinity, allowing them to be more mobile and install mines more frequently. In addition, the active ability temporarily disables an adversary, allowing Techies to install mines and traps beneath their feet, or grants temporary invulnerability and a self-dispel.
Late game

Aghanim's Scepter
Aghanim's Scepter: Techies' qualities, health, and mana are all improved by using Aghanim's Scepter. Due to their increased damage, Remote Mines become a much more dangerous menace, and Techies can place them from a greater distance, allowing them to be employed tactically in team battles and allowing Techies to plant traps more safely. Minefield Sign also becomes a viable ability, allowing Techies to utilize it to construct guaranteed undetected traps or deceive the adversary into avoiding an area without mines.

Octarine Core
Octarine Core: The cooldown on all Techies' abilities is reduced by Octarine Core, allowing them to lay traps and mines more often.
Situation items

Sentry Ward
Sentry Ward: Observer Wards and associated Sentry Wards are revealed by Sentry Ward. By removing their Sentries from the game, you may install traps in locations that they previously thought were secure, and the supports will be forced to acquire more Sentry Wards, which will significantly hinder their item progression.

Bottle
Bottle: As they frequently pass by runes on their route to set up traps, the Bottle allows wandering Techies to recharge their mana and HP.

Kaya
Kaya: Kaya gives you more intellect and mana. Additionally, the increased mana regen allows them to place more mines on the map. Kaya can level up to Yasha and Kaya for higher perks and faster mobility.

Ghost Scepter
Ghost Scepter: When the adversary focuses on Techies, they become briefly invulnerable to physical damage, perhaps giving them more time to utilize Blast Off! or lure the enemy into mine traps.

Veil of Discord
Veil of Discord: Techies and allies' magical damage is amplified by Veil of Discord.

Blink Dagger
Blink Dagger: The Techies' mobility is greatly improved by Blink Dagger.

Bloodstone
Bloodstone: Techies gain a lot of life and mana from Bloodstone, as well as a lot of regeneration, which allows them to deploy mines more often. Furthermore, the active healer may provide enough time for Techies to Blast Off! away.

Scythe of Vyse
Scythe of Vyse: In team fights, Scythe of Vyse gives a lot of mana and a strong disable to lock down threatening adversaries.

Shiva's Guard
Shiva's Guard: Shiva's Guard provides Intelligence and Armor to Techies. In team engagements, the aura and active may be utilized to stymie the opponent by limiting their ability to spread out from your area-of-effect nukes.

Bloodthorn
Bloodthorn: For late-game carry Techies looking to improve their physical assaults, Bloodthorn provides mana regeneration, attack speed, silence, and crit.
Enemies & Allies
Allies

Ember Spirit
Ember Spirit enlists the help of his Fire Remnant to maintain a continuous push before retreating to a safe distance. Keeping two or three Remote Mine patches on a lane will drastically limit his ability to push that lane without endangering his life.

Meepo
Techies can limit Meepo's movement with mines due to the nature of Divided We Stand and the playstyle of splitting up multiple Meepos across the map, forcing the Meepo player to either keep all Meepos together or be extra cautious when moving each individual Meepo because clones cannot carry any True Sight-providing item.

If a mine blast isn't enough to kill a Meepo, he can Poof to another Meepo's safety.

Monkey King
Techies can use his tree-jumping ability against him by laying Proximity Mines/Stasis Traps that detect him near trees, then using Blast Off! to demolish the trees surrounding him, stunning him and delivering heavy damage, as well as silencing him after the stun expires.

Monkey King's mobility is also severely hindered near Techies' mines, since the cooldown period between tree jumps means he will almost always trigger them. Monkey King will be forced to either suffer my damage or use Primal Spring to flee.

Morphling
Morphling's max health is generally low owing to his ability to convert strength into agility, making him an easy target to blow apart.

Tinker
Tinkers will frequently use Boots of Travel to teleport to a lane creep and then blink into the forest to cast March of the Machines. If Techies can anticipate where said Tinker would blink after teleporting, he can deploy strategic Proximity Mines or even Remote Mines in such locations. Tinker cannot blink or teleport away while trapped in a stasis trap.
Counters

Abaddon
The automatic activation of Borrowed Time will let Abaddon survive a big Remote Mines explosion, but even a single one can kill him if his HP is low enough.

Anti-Mage
Counterspell allows Anti-Mage to take on Techies head-on and trip several mines once the late game arrives.

Beastmaster
Call of the Wild Hawk has the ability to scout Techies while they lay mines.

Proximity Mines may be cleared using Call of the Wild Boar.

Primal Roar's stun generally suffices to deal with the squishy Techies before they try to commit suicide with Blast Off!

Chen
Mines may be cleared using Holy Persuasion creeps.

Chen may send his Ancient creeps to defuse visible Remote Mines with minimal chance of losing their bounty if he has an Aghanim's Scepter since their magic resistance is exceptionally strong.

Death Prophet
When Death Prophet goes near Exorcism's ghosts, they will immediately eliminate all Proximity Mines that have been disclosed, assuming the ghosts do not have a specific target at the moment.

Juggernaut
While in Blade Fury, Juggernaut can strike Remote Mines and trigger Proximity Mines.

Lifestealer
He can clear Remote Mines and Proximity Mines with good eyesight thanks to Lifestealer's Rage.

Night Stalker
Night Stalker receives clear vision during the night with Dark Ascension, allowing him to quickly identify mines if he has a Gem of True Sight, but as a melee hero, he must be spell immune to safely detonate Remote Mines and Stasis Traps.

Night Stalker may also fly above Proximity Mines without activating them thanks to Dark Ascension.

When it comes to preventing Techies from employing Blast Off, Crippling Fear is really powerful! Void is successful in preventing them from fleeing to the shelter of their mines.

Oracle
Fate's Edict grants 100 percent magic resistance, preventing most Techies' damage, and Fortune's End removes the root of the Stasis Trap.

Templar Assassin
Refraction can let you securely navigate choke areas and rune spawns that have been mined. When many mines are detonated at the same time, no charges are consumed.

Visage
Summon While Techies are installing mines, Familiars can scout them. They can even set off the Stasis Trap. Gravekeeper's Cloak allows them to absorb the majority of mine damage.

Wraith King
He can survive at least one big Remote Mines stack or Blast Off! thanks to Reincarnation and his general tankiness.

Zeus
Zeus is able to disclose the location of Techies' distant mines because of the True Sight granted by Lightning Bolt. Due to the Lightning Bolt's mini-stun, he may also cancel Blast Off!
Items Counter

Infused Raindrops
Infused Raindrops: Infused Raindrops can aid in the early detection of certain mines.

Sentry Ward
Sentry Wards and Gem of True Sight: Sentry Wards and the Gem of True Sight are essential for defeating Techies.

Observer Ward
Observer Wards: Because Techies seldom emerge on lane, Observer Wards are essential for capturing them.

Black King Bar
Black King Bar: If a Remote Mine/Stasis Trap defense is apparent, Black King Bar can be effective in securely pushing a high-ground.

Orchid Malevolence
Orchid Malevolence/ Bloodthorn or Scythe of Vyse: Techies can be taken down with Orchid Malevolence/ Bloodthorn or Scythe of Vyse before they commit suicide.

Heart of Tarrasque
Heart of Tarrasque: The passive regeneration of the Heart of Tarrasque not only gives a character greater bulk versus Techies' mines, but it also allows that hero to rejoin another mine pit in less time than Techies can produce another pit.

Hood of Defiance
Hood of Defiance, Glimmer Cape and Pipe of Insight: Techies' skills are greatly reduced by the Hood of Defiance, Glimmer Cape, and Pipe of Insight.

Helm of the Dominator
Helm of the Dominator: Helm of the Dominator has the ability to control creeps and utilize them to disarm explosives or as live wards.

Aeon Disk
Aeon Disk: Aeon Disk can be used to protect against proximity and distant mine damage.

Eul's Scepter of Divinity
Eul's Scepter of Divinity: The active ability "Cyclone" on Eul's Scepter of Divinity can fully halt Blast Off! when techies leave the ground and are in the air, squandering his ability and placing it on cooldown. You'll need a rather rapid response time, especially if you don't know where he'll be coming from. Force Staff does the same thing, but moves him in the same way as any other use of force staff would.If you use Eul's, he will continue to charge up and leap without a cooldown penalty, so don't use either while he is charging up and hasn't left the ground. If you use Force Staff while he is still charging, it will not delay the leap or modify his intended destination; instead, it will assist him reach his destination a little quicker, or he will simply jump backwards if you push him past his target destination.
Favorable Matchups

Batrider
The Flaming Lasso has the ability to draw opposing heroes into mines.

As they strive to dismantle them, Sticky Napalm's turn-rate debuff allows Techies' mines and traps to detonate quickly.

Crystal Maiden
Arcane Aura comes in handy because planting mines takes a lot of mana.

Magnus
Magnus has the ability to Skewer a large number of foes onto mines.

It's easy to build up a devastating Blast Off using Reverse Polarity!

Pugna
When used with Proximity Mines, Nether Blast may rapidly bring down an opponent tower.

Decrepify can be used to stop an opposing hero from attacking the Techies' mines. As an added bonus, it enhances their overall damage.

Decrepify slow gives a good setup for Blast Off! and increases its damage. If everything else fails, use decrepify on Techies when he's on low HP to ensure he can successfully suicide with this ability.

Pugna can install a Nether Ward near to a minefield, making it risky for opposing heroes with low attack ranges to approach it and assault it. Techies can also place his mines near a Nether Ward to safeguard it.

A Stasis Trap's root immobilizes an opponent hero long enough for Pugna to successfully channel Life Drain on it.

Tusk
It's easy to set up a Mine on top of a stunned adversary by putting Techies in a Snowball.

Over long distances, Walrus Kick may be used to kick adversaries into mines.
Game plan
Early game
In the early stages of the game, how to play Goblin Techies Dota 2 is quite simple. You just need to buy the starting items and go to Bot lane or Top lane. Then, use the skill Proximity Mines to place as many mines as possible. Wait for the cooldown to finish and continue to order. Put until the creeps come out then you get out of there quickly and good luck.
With this approach, you will be able to farm creeps pretty quickly and a lot. Or you can also place mines in the middle of the road, then lure enemy creeps to just put them in the circle. However, Creep must have less health than Bomb's damage or it will be wasted.
Mid game
Towards the middle of the game, this will be the moment of glory for Goblin Techies. Thanks to the advantage of farming and pushing turrets. So you will continue to promote these 2 strengths. Place Remote Mines in front and Proximity Mines in the back. When the creeps arrive, that's when Proximity Mines explode. At this point, activate Remote Mines and the creeps will definitely be destroyed.
In addition to farming creeps as above, you also need to use skills skillfully. Especially try to use traps effectively.
Late game
In the late game, Goblin Techies are not difficult to complete items in the late stage because of the ability to farm creeps very quickly. However, unlike the mid-game phase, your task is to attack and defend at home. Your Proximity Mines skill can also attack the enemy's hut, so make sure the number of towers that the enemy team is now is not much. You still use the same old tricks, plant lots of bombs and end them with Remote mines damage.